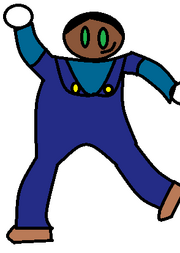 Max is another plumber, and is the rival of Willy...
Appearance
Max is a teal mario bro that has dark skin and green eyes....
Notes
Max is a good character, but is Willy's rival.
Appearances
Max is the main rival, however, you often beat him to beat a boss... He defeats Master Coloura when you get to her final castle...
Baby Max is playable. He can pick up enemies and toss them by a button... Baby Max is the only baby that cannot beat an enemy by jumping...
Trivia
Other than Lily (Mighty Willy), he is the only dark-skinned Mighty Willy Universe character.