Maw-Ray of the Deep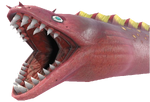 Maw-Ray of the Deep, as she appears in New Super Mario World.
GENERAL INFO

GENDER

♀

Female
SPECIES
Maw-Ray
CURRENT STATUS
Alive
PERSONAL INFO

WEAPONS
sheer power and size
MISCELLANEOUS INFO

CANON APPEARANCES
Maw-Ray of the Deep is an enlarged female Maw-Ray that will first appear in the upcoming Wii U game New Super Mario World, where she guards the third tower of the game.
History
Super Mario series
Maw-Ray of the Deep will first appear in this upcoming game, where she'll guard the third fortress of the game, placed in the water-themed world, Fruity Seaside. At first, she'll appear no different from any Maw-Rays; but upon being struck by Kamek's magic spell, she'll become absolutely gigantic. The player(s) will have to escape from her wrath in a vertical section full of obstacles, until a giant flush, that will flush her down with her fortress. Maw-Ray of the Deep is the largest boss of the game, and is the only one not known to have any weaknesses.