Master Zik is not from Fantendo. However, this article may include related fan ideas.

These external sources may have official, more accurate information:

This article is free to edit. Please follow the article standards and respect good-faith contributions.
'"'"
—
Master Zik's first battle theme
'"'"
—
Master Zik's second battle theme
Master Zik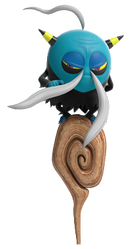 Master Zik, as he appears in Sonic Lost World.
GENERAL INFO

GENDER
♂ Male
SPECIES
Zeti
AGE
1036
BIRTHDAY
Unknown
ALIGNMENT
Evil
MISCELLANEOUS INFO

SERIES
Sonic the Hedgehog
CANON APPEARANCES

Sonic Lost World (2013)

VOICE ACTOR(S)

Kirk Thornton
Mugihito (Japanese)
Master Zik, also known as just Zik, is one of the main villains of Sonic Lost World from the Sonic the Hedgehog series. Master Zik is the eldest known Zeti from the Lost Hex, and the original founder of the Deadly Six.
Zik was one of the strongest warriors among the Zeti, and even in semi-retirement, he's strong enough to match up against someone about a quarter of his age. He also educated a number of disciples, including Zavok, the former leader of the Deadly Six. Master Zik is wise and calm, remaining as an adviser to the younger Zeti.
Appearance
Master Zik is a small, round, demon-like being in sky blue and black. Zik has big, round eyes with yellow sclera, purple irises, blue eyelids and black bags. He also has a white ponytail and mustache, as well as a wrinkled forehead and mouth. He also has two small horns atop of his head, each with a yellow stripe.
Zik's limbs are small as expected. He appears to wear a tattered robe over his black torso, and also carries a wooden staff around. He has small blue claws on his fingers, and two blue talons on his feet, and another one on his heel.
He looks younger in Sonic Trials, having a blue ponytail, no facial hair, muscles, and black fingerless gloves.
Quotes
"
You're time is almost over,
brash hedgehog
! I'll think I'll give you a lesson in respect! A painful lesson!
"
—
Master Zik
"It'll be good to stretch these old bones"
—
Master Zik
"Correct! Revenge is a dish best served cold!"
—
Master Zik
Gallery
Navigation Templates
Playable Characters
Base game:







Post-release:














Non-Playable Characters