Marx did not originate from fanon, and more information can be found on their respective wiki(s). You may read more about it on the following wiki(s):
Marx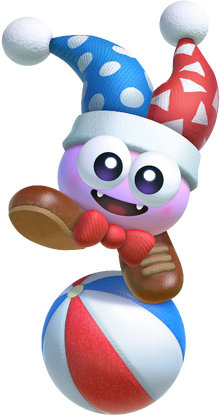 Marx's official artwork from Kirby Star Allies
GENERAL INFO

GENDER
♂ Male
CURRENT STATUS
Alive
MISCELLANEOUS INFO

CANON APPEARANCES

Kirby Super Star
Marx is a character who appears in the Kirby series. First appearing in the Milky Way Wishes sub-game from Kirby Super Star, where he asks Kirby to assist him in stopping a fight between Mr. Shine & Mr. Bright, he is later revealed to be the main antagonist of the mode.
Personality
At first, Marx seems somewhat friendly and willing to help Kirby stop the Sun and the Moon from fighting and lures him into summoning Nova, a mechanical being which can grant anyone a wish. After Kirby summoned Nova, Marx revealed his true colours by knocking Kirby out of the way and making himself one of the most powerful begins in existance through a wish granted by Nova. He becomes sadistic and demanded power over every being that lived on Pop Star, his desperate hunger lead to his downfall when he was destroyed by Kirby twice, once in his regular form and another as Marx Soul.
Abilities
Prior to obtaining his powers from Nova, Marx is shown to be powerless, though shown capable of balancing atop a large circus ball. After gaining power from Nova, he gains two wing-like appendages and, appropriately, the ability to fly, as well as teleport. Nova also grants him a number of additional powers that serve as offensive and defensive techniques, which he uses to fight Kirby.
In his Kirby Super Star boss battle, Marx has very predictable, yet powerful, attacks: shooting out four large crescent blades, drop four seeds that grow into large thorny vines, performing an electric-enhanced tackle, firing a laser, summoning a rain of arrows, and create a large ball of ice. Once sustaining enough damage, Marx demonstrates the ability to split himself in two and create a black hole.
For his cameo appearance in Kirby: Mass Attack's Kirby Brawlball mode, he is about 5 times larger than he normally is though is ironically shown to be somewhat weaker than in previous appearances. In this mode, it is also shown that he can create copies of his original appearance, which Kirby can defeat to gain extra lives.
Appearances
Marx makes his debut in the Crazy Party series in Crazy Party: Extreme Gear Ride! as the opponent in the fourth and final Boss Bash mission in mission mode.
Two of Marx's forms appear in Kirby Air Ride 3D: Marx Soul, and Marx's evil form.
Marx Soul is the final boss in The True Arena. During the battle, the you race on a straight, endless course while Marx fires lasers at you, which you must swerve around. Every little bit there is a ramp, with a power panel on it. When you go up the ramp, you must swerve into Marx (who will now fly away from you) and use your attack. Eventually, Marx will die in the same way as he does in Kirby Super Star Ultra.
Marx's normal, evil form is a playable character, which you unlock after beating The True Arena. There is nothing special about him, like the other character, and he is merely there for people who like playing as different characters.
It is, oddly, possible to battle Marx Soul as Marx.
Marx returns in Kirby: Nova Zoo as a surprise ally to Kirby, being persuaded to work with him as a friend by Susie as opposed to trying to defeat him for a third time and absolutely get destroyed again. That said, he's not above his old tricks like lying, as he lies to Kirby as to where his cake is, saying Daroach has it- when Kirby finds Daroach, all Daroach has is Sectonia's magic book.
As a Dream Ally, Marx fights with many of the attacks he had in both of his boss fights, able to teleport, create arrows, create pillars of thorns, and even create a black hole by splitting his body in half. While powerful, his most powerful attacks don't have a ton of range and are prone to missing.
Dream Ally Moveset
In Kirby: Nova Zoo, it is possible for a second player to play as Marx and control him, allowing players to use a wide movepool of moves for him.
| Move | Controls | Description | Element | Damage |
| --- | --- | --- | --- | --- |
| Crescent Blades | B | Marx shoots out four crescent blades of light, throwing them in a boomerang-like arc in front of him before they return back to him. | Cutter | 15 |
| Thorn Tower | Up + B | Marx projects a column of thorns near him, pushing opponents up into the sky with spiky thorns. These columns briefly stay before twisting away. | Nature | 22 |
| Rainbow Teleport | Dash + B | Marx teleports forward across the screen, damaging opponents when he reappears in a spot. | ESP | 10 |
| Electric Shadow | Hold B | Marx creates a moving, electrical shadow under his foe, shocking them for as long as he holds it or when it fades away. | Zap | 5 per second |
| Arrow Stream | B (near enemy) | Marx releases a flurry of arrows from himself which fly in a vertical direction before vanishing. | Archer | 19 |
| Light Laser | Side + B (Midair) | Marx releases a powerful laser from his mouth that reaches across the screen, although it's size is not that great. | Laser | 25 |
| Splitting Sides | Up + B (Midair) | Marx splits his body in half, creating a small black hole that can damage foes sucked in. | Void | 5 per second |
He's one of the victims of the Kirthar's Snap Finger.
Gallery
Navigation Templates
Playable Characters
Assist Characters
Obstacles
Other Characters
Alolan Grimer · Amul · Ann Takamaki · Big Urchin · Blizzy · Bravoman · Buzz-Buzz · Cutiefly · Don-chan · Dragoneel · Fierce Deity · Gil · Happy Mask Salesman · Judge · King · Kissy · K.K. Slider · Litwick · Lloyd · Mappy · Mareanie · Mii · Missile · Morgana · Perry · Pidgit · Pooka · Rabbid Luigi · Rabbid Yoshi · Red Baron · Ribbon · Rowlet · Runner · Ryuji Sakamoto · Sandy · Smasher · Rusty Slugger · Servbot · Sima Zhao · Swanna · Tarosuke · Timmy Nook · Toadsworth · Tommy Nook · Tron Bonne · Valkyrie · Wonder Momo · Ziggy
Collectibles

Trophies

Stickers

Boolossus · Boo Mario · Bowser · Captain Toad · Cat Peach · Chain Chomp · Cloud Mario · Fire Mario · F.L.U.D.D. · Koopa Clown Car · Mega Mushroom · Mario · Penguin Mario · Peach · Propeller Mario · Rock Mario · Toad · Toadette · Waluigi
Birdo · Boo Buddies · Blooper · E. Gadd · Fuzzy · Metal Form · Waluigi · Whomp

Candy Kong · Lord Fredrik

9-Volt · Fauster

Ball and Chain · Deku Leaf · Majora's Mask · Mipha

Abra · Drifloon · Spinarak

Katrina · Mr. Resetti

Adam Malkovich · Arachnus

Nightmare · Noddy · Prank

Mr. Chicken

Back Shield · Centurion · Eggplant Wizard

Disco Kid · Doc Louis · Donkey Kong · Giga Mac · Glass Joe · King Hippo · Little Mac · Von Kaiser

Blue Falcon · Captain Falcon · Pico · Rick Wheeler · Wild Goose

Louie

Pyra

Franklin Badge · Negative Man

Apollo Justice · Franziska von Karma · Miles Edgeworth · Larry Butz · Judge · Phoenix Wright

Dr. Wright · Hammer Slam Bowser
Devil · Dr. Wright · F-Type · Rusty Slugger · Zethia
Community content is available under
CC-BY-SA
unless otherwise noted.