Marvel United
Developer(s)
Publisher(s)


Platform(s)
Release Date(s)
November 3, 2014
November 2, 2014
November 2, 2014
November 3, 2014
Mode(s)
Single player
Age Rating(s)
Genre(s)
Role-playing
Media Included
3DS cartridge
Marvel United is a turn-based role-playing game published by Fantendo and Activision for the Nintendo 3DS. It was released on November 2, 2014. It is the first installment of the Marvel United series.
The game centers around a vast number of heroes in the fictional Marvel Universe. In the game, players take control of a new S.H.I.E.L.D. agent who leads a group of superheroes. Players start out with only a few heroes, but as they progress through the story, they gain more an more characters. Players can train their heroes by raising their stats and gaining them new moves, all by leveling up. The S.H.I.E.L.D. Agent never does any battling and only acts as their leader.
Blurb
"The Universe Is in Your Hands! Gather all of your favorite characters from the Marvel Universe and send them into battle in this pulse-pounding RPG! Form the greatest alliance ever! Train your heroes and become all-powerful!"


— Boxart blurb
Gameplay
Marvel United is a turn-based RPG. It involves the recruitment and training of many superheroes found in Marvel comics. As a S.H.I.E.L.D. agent, the player leads them and uses them to battle enemies, bosses, and other players. Up to eight characters can be a part of the player's team, or party. When the S.H.I.E.L.D. Agent touches an enemy, the screen changes to a battlefield (which has the same them as the Area) with the playable character on the left and the enemies on the right. The player can only have up to three battlers out fighting. They can be switched in with other heroes in the party but will use up their turn in doing so. In battles, playable characters have four options: using a Combo, unleashing one of their Special Moves, using an item, or fleeing. Combos are quickly executed attack strings that will damage any foe. Special Moves have base power and range in effects. Each Special Move's use is limited by Energy. If a Special Move's energy runs out, an item must be used to restore it. Combos do not have Energy and can be used an unlimited number of times. There are many types of items heroes can use. Most items only affect player characters. The player can also have his or her team flee the battle if things are not going well.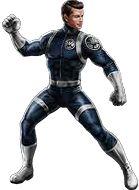 Every character has his or her own type. The types are
Bruiser
,
Acrobat
,
Ranged
, and
Skill
. Each type has its own strength and weakness.
Bruiser
-type heroes are weak against attacks from
Acrobat
-type heroes,
Acrobat
-types are weak against attacks from
Ranged
-types,
Ranged
-types are weak against attacks from
Skill
-types, and
Skill
-types are weak against attacks from
Bruiser
-types.
Characters can be affected by status conditions. The six status conditions are: bleeding, blazed, paralyzed, frozen, poisoned, and confused. Characters that are bleeding steadily lose HP with no secondary effects. Blazed characters catch on fire and lose HP each turn and cannot move until they take enough damage. Characters that are paralyzed and frozen are like characters that are blazed, except they do not lose HP. Poisoned characters lose HP and get their Power stat cut in half. Confused characters have a chance of hurting themselves instead of attacking. Some characters are naturally immune to some status conditions (for example, Human Torch is immune to being blazed, and Iron Man is immune to bleeding). The use of items will cure most status conditions.
Heroes, enemies, and bosses have four stats: health (measured in Hit Points, or HP), Power, Defense, and Speed. Each stat is self-explanatory. HP is a measure of how long characters can be in battle before they're killed by attacks. Power determines the strength of a character's Combos and Special Moves. Defense reduces the damage a character takes from attacks. Speed determines the order at which characters use their turns. After defeating enemies and bosses, heroes earn experience points. After enough Exp. Points have been gathered, the hero levels up, increasing his/her stats, and occasionally allowing him/her to learn a new Special Move. The player is also allowed to further increase a stat by a random value (ranging from 1 to 5), similar to the Mario & Luigi series.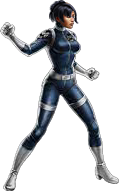 The overworld consists of sprawling maps that the S.H.I.E.L.D. Agent must traverse. The player's heroes are not out in the overworld, but often the S.H.I.E.L.D. Agent will have to "send out" a hero and use his/her powers to move an obstacle, destroying something blocking the path, etc. The biggest goal of the game is to find and recruit all playable characters. Characters that are not recruited as a result of story progression must be purchased using Hero Coins. This type of currency is scattered throughout the overworld. Other ways to achieve Hero Coins include completing missions, defeating bosses, receiving them from the player's heroes, and converting it from money, the game's base currency. Money is based off of the U.S. dollar system.
Another feature of the game is Friendship. This is the relationship the S.H.I.E.L.D. Agent has with the numerous heroes. Players can grow Friendship between the two simply by having them on the Agent's team, but there are other ways, such as having long conversations with them at Stark Tower, using them and winning with them in boss battles, and leveling them up. There are six stages of Friendship that a hero can share with the Agent: Only a Soldier, Acquaintance, Star Player, Friend, Good Friend, and Close Friend. The level of Friendship affects the hero's HP and Speed stat (heroes that have low Friendship with the Agent have average or normal HP and Speed, while those with high Friendship have higher than average HP and Speed). Each hero has his/her own unique Personality, so the player must take different approaches to building Friendships between the Agent and the heroes.
Stark Tower acts a hub that the player goes to in between missions. There, the player can upgrade his/her heroes' Special Moves. Bios of each character can be read. Heroes' HP is automatically restored when the S.H.I.E.L.D. Agent enters the tower. Trivia games can be played and distribute Exp. Points to all the player's heroes when questions are answered correctly. The player can also have the Agent talk to the many heroes (s)he has recruited.
Players can pit their heroes against each other in battles over Nintendo Wi-Fi Connection. Status conditions and type matchups play a much bigger role here. Players can recruit heroes by winning enough player-vs.-player battles.
Characters
Heroes
Starter Characters
Name
Type
Level-up Moves
Stats

Black Widow
Acrobat

Stun Cuffs




Gun Shoot




Agility




Black Attack

HP:
Power:
Defense:
Speed:

Captain America
Bruiser

Shield Ram




Shield Throw




American Spirit




Raise Shield

HP:
Power:
Defense:
Speed:

Hawkeye
Skill

Arrow Shoot




Continual Arsenal




Bow Stab




Trick Arrow

HP:
Power:
Defense:
Speed:

Iron Man
Ranged

Repulsor Blast




Energy Field




Fly




Missile Storm

HP:
Power:
Defense:
Speed:

Spider-Man
Acrobat

Web Hang




Spider-Sense




Web Shot




Flying Kick

HP:
Power:
Defense:
Speed:
Unlockable Characters
Most playable characters in the game have to be unlocked, either by recruiting them, completing certain tasks, or purchasing them.
Name
Type
Level-Up
Moves
Stats
How to
Unlock

Angel
Skill

Wind Gust




Wing Attack




Divinity




Benediction

HP:
Power:
Defense:
Speed:
Purchase for 10 Hero Coins

Ant-Man
Skill

Shrink




Giant Punch




Ant Attack




Ant Armor

HP:
Power:
Defense:
Speed:
Recruit in Statue of Liberty

Anti-Venom
Bruiser

Rage




Scratch




Ravage




Cure

HP:
Power:
Defense:
Speed:
Purchase the
"Symbiote Control"
DLC pack

Beast
Bruiser

Pounce




Stealth Attack




Enlightenment




Beast Strike

HP:
Power:
Defense:
Speed:
Recruit in
X-Mansion

Bishop
Ranged

Gun Shoot




Shock Wave




Gun Fire




Energy Absorb

HP:
Power:
Defense:
Speed:
Purchase for 15 Hero Coins

Black Panther
Skill

Cat Stance




Daggers




Wakandan Spell




Black Attack

HP:
Power:
Defense:
Speed:
Purchase for 10 Hero Coins

Captain Britain
Bruiser

Barmy Punch




Jammy




Fly




For England

HP:
Power:
Defense:
Speed:
Recruit in London

Colossus
Bruiser

Steel Guard




Metal Punch




Defense Shatter




Colossal Attack

HP:
Power:
Defense:
Speed:
Win 10
player-vs.-player
battles

Cyclops
Ranged

Optic Blast




Optic Charge




Optic Shoot




Optic Sweep

HP:
Power:
Defense:
Speed:
Recruit in
X-Mansion

Daredevil
Acrobat

Club Attack




Agility




Swift Strike




Sound Radar

HP:
Power:
Defense:
Speed:
Recruit in Hell's Kitchen

Deadpool
Skill

Chatterbox




Gun Shoot




Slash




Heal

HP:
Power:
Defense:
Speed:
Purchase for 10 Hero Coins

The Destroyer
Bruiser

Steel Guard




Body Rush




Fire Beam




Annihilation

HP:
Power:
Defense:
Speed:
Defeat and recruit in Asgard

Domino
Ranged

Pocket Bomb




Gun Shoot




Suppress




Gun Blast

HP:
Power:
Defense:
Speed:
Purchase for 10 Hero Coins

Dr. Strange
Skill

Mystic Pulse




Magic Jolt




Voltorr Rush




Sorcerer's Might

HP:
Power:
Defense:
Speed:
Recruit in Statue of Liberty

Elektra
Acrobat

Wheel Kick




Slash




Agility




Sai Throw

HP:
Power:
Defense:
Speed:
Recruit in Hell's Kitchen

Emma Frost
Skill

Possession




Psychic Blast




Diamond Defense




Power Draw

HP:
Power:
Defense:
Speed:
Recruit in Asteroid M

Fandral
Skill

Charm




Agility




Slash




Power of Three

HP:
Power:
Defense:
Speed:
Recruit in Asgard

Gambit
Skill

Staff Attack




Card Draw




Kinetic Burst




Card Flurry

HP:
Power:
Defense:
Speed:
Purchase for 15 Hero Coins

Ghost Rider
Bruiser

Rev Up




Charge




Chain Swing




Penance Stare

HP:
Power:
Defense:
Speed:
Purchase for 15 Hero Coins

Hogun
Acrobat

Focus




Agility




Mace Throw




Power of Three

HP:
Power:
Defense:
Speed:
Recruit in Asgard

The Hulk
Bruiser

Rage




Slam




Gamma Punch




Hulk Smash

HP:
Power:
Defense:
Speed:
Defeat and recruit in the Baxter Building

Human Torch
Ranged

Flame On!




Flame Shoot




Fly




Fire Stream

HP:
Power:
Defense:
Speed:
Recruit in the Baxter Building

Iceman
Skill

Icicle Blade




Deep Freeze




Chill




Cold Rush

HP:
Power:
Defense:
Speed:
Recruit in
X-Mansion

Invisible Woman
Skill

Barrier




Energy Spheres




Force Field




Catch and Return

HP:
Power:
Defense:
Speed:
Recruit in the Baxter Building

Kitty Pride
Acrobat

Wheel Kick




Stealth Attack




Intangibility




Lockhead

HP:
Power:
Defense:
Speed:
Exceed 5 hours of playtime

Magik
Bruiser

Flame Shoot




Soul Charge




Slash




Teleport

HP:
Power:
Defense:
Speed:
Win 5
player-vs.-player
battles

Mockingbird
Acrobat

Staff Attack




Analyze




Swift Strike




Dodge

HP:
Power:
Defense:
Speed:
Recruit in S.H.I.E.L.D. Helicarrier

Moon Knight
 ???

Power Adopt

HP: ???
Power: ???
Defense: ???
Speed: ???
Purchase for 15 Hero Coins

Mr. Fantastic
Skill

Elastic Punch




Bifurcation




Arm Sweep




Fist Hammer

HP:
Power:
Defense:
Speed:
Recruit in the Baxter Building

Ms. Marvel
Ranged

Energy Blast




Shock Wave




Energy Field




Photon Shoot

HP:
Power:
Defense:
Speed:
Recruit in Statue of Liberty

Omega Sentinel
Bruiser

Plasma Arm




Analyze




Mega Tech




Missile Storm

HP:
Power:
Defense:
Speed:
Defeat and recruit in London

Phoenix
Ranged

Psychic Pulse




Phoenix Power




Flame Shoot




Dark Phoenix

HP:
Power:
Defense:
Speed:
Recruit in Asteroid M

Psylocke
Acrobat

PsyKnives




Mental Focus




PsySword




PsyShield

HP:
Power:
Defense:
Speed:
Recruit in London

Punisher
Ranged

Target Lock




Gun Shoot




Gun Fire




Gun Blast

HP:
Power:
Defense:
Speed:
Win 15
player-vs.-player
battles

Quicksilver
Acrobat

Duble Punch




Vibration




Mad Dash




Silver Kick

HP:
Power:
Defense:
Speed:
Purchase for 15 Hero Coins

Rescue
Skill

Repulsor Blast




Barrier




Energy Field




Fly

HP:
Power:
Defense:
Speed:
Recruit in Hall of Armor

Rogue
 ???

Power Adopt

HP: ???
Power: ???
Defense: ???
Speed: ???
Purchase for 10 Hero Coins

The Scarlet Witch
Ranged

Chaos




Magic Jolt




Suppress




Hex

HP:
Power:
Defense:
Speed:
Purchase for 15 Hero Coins

She-Hulk
Bruiser

Stomp




Agility




Gamma Punch




Thunder Clap

HP:
Power:
Defense:
Speed:
Purchase for 15 Hero Coins

Sif
Skill

Sword Thrust




Inspiration




Dimension Rend




Counter

HP:
Power:
Defense:
Speed:
Recruit in Jotunheim

Spider-Woman
Acrobat

Venom Shock




Swoop Kick




Fly




Swoop Punch

HP:
Power:
Defense:
Speed:
Purchase for 5 Hero Coins

Squirrel Girl
Acrobat

Squirrel Defense




Acorn Throw




Squirrel Attack




Squirrel Raid

HP:
Power:
Defense:
Speed:
Purchase for 5 Hero Coins

Storm
Ranged

Wind Gust




Lightning Bolt




Deep Freeze




Thunder Storm

HP:
Power:
Defense:
Speed: