Marth is not from Fantendo. However, this article may include related fan ideas.

These external sources may have official, more accurate information:

This article is free to edit. Please follow the article standards and respect good-faith contributions.
Marth
マルス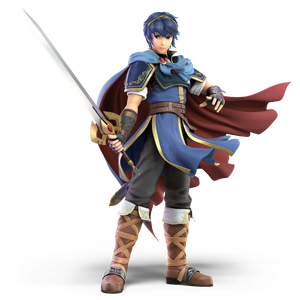 Artwork from Super Smash Bros. Ultimate.
GENERAL INFO

GENDER
♂ Male
SPECIES
Human
CURRENT STATUS
Alive
BIRTHPLACE
Altea
PERSONAL INFO

RELATIONSHIPS
CLASS
Hero-King
WEAPONS
Falchion
MISCELLANEOUS INFO

CANON APPEARANCES
VOICE ACTOR(S)

Hikaru Midorikawa (Japanese; current, anime and games)
Yuri Lowenthal (English; games)
Spike Spencer (English; other media)
— Marth's catchphrase
Marth is a character in Nintendo's Fire Emblem series. He was the main character of the first, third, and eleventh Fire Emblem games, as well as being in many Super Smash Bros. games, beginning with Super Smash Bros. Melee. He was also the first DLC revealed for the latest Fire Emblem installment on the 3DS.
History
Marth was the son of King Cornelius of Altea and the younger brother of Princess Ellis. However, when Altea was invaded by a neighboring country, Doula, his father was killed and his sister was taken hostage. He was then exiled to the island kingdom of Talis. Two years later, Talis was overrun by pirates. The princess and Marth's longtime friend, Sheeda, seeked Marth and his army for help. He agreed, and after they sent the pirates packing, he went on a quest to win back Altea. In the end, he obtained the Fire Emblem and the Falchion sword, both of which were weld by Marth's ancestor Anri, defeated the Dark Sage Garnef as well as the Dark Dragon Medius, rescued Ellis, and liberated his kingdom.
Five years later, an ally of Marth's, Hardain, betrayed him by taking over and ruling the entire continent of Akaneia with an iron fist. He then gathered up his remaining allies and set off to defeat Hardain. When he did, Hardain revealed that he was possessed by Medeus, who was still alive. Afterwards, he got back the Fire Emblem and Falchion, and defeated Medeus again. This time for good. Afterwards, Marth, now king of Altea, married Sheeda and restored Akaneia to it's former glory.
Appearances
Super Smash Bros. Collide
Marth will be in the game Super Smash Bros. Collide as the Swordsman in Samus' Crew.
Marth appears in the first Sonic Speedball RPG game as a playable character but does not appear in any other games in the series.
Star Team Heroes
He's one of the victims of the Kirthar's Snap Finger.
amiibo
| | | |
| --- | --- | --- |
| | An amiibo figure of Marth exists! For more info about this amiibo, see this page. | |
Gallery