Marth did not originate from fanon, and more information can be found on their respective wiki(s). You may read more about it on the following wiki(s):
Marth
マルス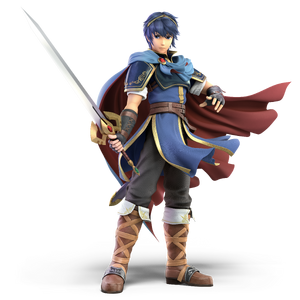 Artwork from Super Smash Bros. Ultimate.
GENERAL INFO

GENDER
♂ Male
SPECIES
Human
BIRTH LOCATION
Altea
PERSONAL INFO

RELATIONSHIPS
CLASS
Hero-King
WEAPONS
Falchion
MISCELLANEOUS INFO

CANON APPEARANCES

Fire Emblem: Shadow Dragon and the Blade of Light'Super Smash Bros. Ultimate

VOICE ACTOR(S)

Hikaru Midorikawa (Japanese; current, anime and games)
Yuri Lowenthal (English; games)
Spike Spencer (English; other media)
— Marth's catchphrase
Marth is a character in Nintendo's Fire Emblem series. He was the main character of the first, third, and eleventh Fire Emblem games, as well as being in many Super Smash Bros. games, beginning with Super Smash Bros. Melee. He was also the first DLC revealed for the latest Fire Emblem installment on the 3DS.
History
Marth was the son of King Cornelius of Altea and the younger brother of Princess Ellis. However, when Altea was invaded by a neighboring country, Doula, his father was killed and his sister was taken hostage. He was then exiled to the island kingdom of Talis. Two years later, Talis was overrun by pirates. The princess and Marth's longtime friend, Sheeda, seeked Marth and his army for help. He agreed, and after they sent the pirates packing, he went on a quest to win back Altea. In the end, he obtained the Fire Emblem and the Falchion sword, both of which were weld by Marth's ancestor Anri, defeated the Dark Sage Garnef as well as the Dark Dragon Medius, rescued Ellis, and liberated his kingdom.
Five years later, an ally of Marth's, Hardain, betrayed him by taking over and ruling the entire continent of Akaneia with an iron fist. He then gathered up his remaining allies and set off to defeat Hardain. When he did, Hardain revealed that he was possessed by Medeus, who was still alive. Afterwards, he got back the Fire Emblem and Falchion, and defeated Medeus again. This time for good. Afterwards, Marth, now king of Altea, married Sheeda and restored Akaneia to it's former glory.
Appearances
Marth will be in the game Super Smash Bros. Collide as the Swordsman in Samus' Crew.
Marth appears in the first Sonic Speedball RPG game as a playable character but does not appear in any other games in the series.
He's one of the victims of the Kirthar's Snap Finger.
amiibo
| | | |
| --- | --- | --- |
| | An amiibo figure of Marth exists! For more info about this amiibo, see this page. | |
Gallery
Navigation Templates
Playable Characters
Assist Characters
Obstacles
Other Characters
Alolan Grimer · Amul · Ann Takamaki · Big Urchin · Blizzy · Bravoman · Buzz-Buzz · Cutiefly · Don-chan · Dragoneel · Fierce Deity · Gil · Happy Mask Salesman · Judge · King · Kissy · K.K. Slider · Litwick · Lloyd · Mappy · Mareanie · Mii · Missile · Morgana · Perry · Pidgit · Pooka · Rabbid Luigi · Rabbid Yoshi · Red Baron · Ribbon · Rowlet · Runner · Ryuji Sakamoto · Sandy · Smasher · Rusty Slugger · Servbot · Sima Zhao · Swanna · Tarosuke · Timmy Nook · Toadsworth · Tommy Nook · Tron Bonne · Valkyrie · Wonder Momo · Ziggy
Collectibles

Trophies

Stickers

Boolossus · Boo Mario · Bowser · Captain Toad · Cat Peach · Chain Chomp · Cloud Mario · Fire Mario · F.L.U.D.D. · Koopa Clown Car · Mega Mushroom · Mario · Penguin Mario · Peach · Propeller Mario · Rock Mario · Toad · Toadette · Waluigi
Birdo · Boo Buddies · Blooper · E. Gadd · Fuzzy · Metal Form · Waluigi · Whomp

Candy Kong · Lord Fredrik

9-Volt · Fauster

Ball and Chain · Deku Leaf · Majora's Mask · Mipha

Abra · Drifloon · Spinarak

Katrina · Mr. Resetti

Adam Malkovich · Arachnus

Nightmare · Noddy · Prank

Mr. Chicken

Back Shield · Centurion · Eggplant Wizard

Disco Kid · Doc Louis · Donkey Kong · Giga Mac · Glass Joe · King Hippo · Little Mac · Von Kaiser

Blue Falcon · Captain Falcon · Pico · Rick Wheeler · Wild Goose

Louie

Pyra

Franklin Badge · Negative Man

Apollo Justice · Franziska von Karma · Miles Edgeworth · Larry Butz · Judge · Phoenix Wright

Dr. Wright · Hammer Slam Bowser
Devil · Dr. Wright · F-Type · Rusty Slugger · Zethia
Community content is available under
CC-BY-SA
unless otherwise noted.