Marshadow is not from Fantendo. However, this article may include related fan ideas.

These external sources may have official, more accurate information:

This article is free to edit. Please follow the article standards and respect good-faith contributions.
Marshadow

Marshadow's artwork for Pokémon Sun and Moon.

Category
Gloomdweller Pokémon
Original Region
Alola
Type(s)
Fighting/Ghost
Ability/ies
Technician
Average Height
2'04"
Average Weight
48.9 lbs.
Evolves From
N/A
Evolves Into
N/A
Marshadow (マーシャドー Marshadow) is a Mythical Pokémon from Alola, bearing the Fighting/Ghost typing. It is set to appear in the 20th Pokémon movie.
Biology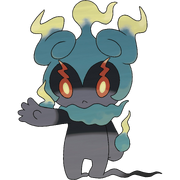 Marshadow is a short, dark gray, bipedal Pokémon. It has stubby legs that seem to remain partly in the shadows, not unlike Mega Gengar's limbs. Its arms have oval bulbs and it usually appears with its fists clenched. Marshadow also has red and yellow eyes, and a single yellow eyelash that turns into a red flaming wisp when it attacks. It also has a smoke-like collar. Marshadow's most notable feature is the gray helmet it's wearing. The headgear is slightly lighter gray than the rest of its body, and is adorned with two swirls (one on each side of its head), and a flame-like wisp atop of it. Its helmet, collar and bulbs actually change color when it attacks, turning into pine-green. The wisp and the swirls on the helmet flare up as well, turning into a light yellow color as well.
Despite being a primary Fighting type, Marshadow is an extremely craven Pokémon, being too cowardly to fight. It usually conceals itself in the shadows of others, being able to copy their movements and powers and never appearing in front of humans.
Fanon Appearances
Marshadow appears as a Tier 5 Summon for Ash in KirbiMiroir's World. He can be obtained by completing a series of sidequests in 8-2 and then defeating him in battle.
Marshadow costs 50 MP to summon. His summon animation displays a fireball, a snowball and a ball of electricity. One or all of these will shine, and shortly after Marshadow appears and uses an attack. Below are the four possible attacks Marshadow can use...
Fire Punch (if the fireball shines): Deals heavy fire damage to one foe.
Ice Punch (if the snowball shines): Deals heavy ice damage to one foe.
Thunder Punch (if the ball of electricity shines): Deals heavy lightning damage to one foe.
Spectral Thief (if all three balls shine): Deals heavy shadow damage to all foes.
Trivia
No other Pokémon has the same type combination as Marshadow.
Origin
Marshadow may be based on shadowboxing, considering it is too cowardly to fight on its own, yet copies the movements of others. It also shares traits with Nightmarchers and Menehune of Hawaiian mythology.
Name Origin
"Marshadow" comes from martial arts and shadow. Concerning the theme of Alola, the Nightmarchers might have been an inspiration as well.
Names in other Languages
Language
Name
Meaning
Japanese
マーシャドー


Marshadow

From martial arts and shadow.
National Pokédex

← #801: Magearna

#802: Marshadow



#803: Poipole →