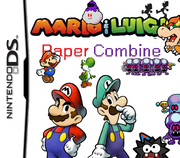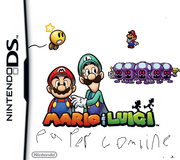 Mario and Luigi: Paper Combine is a game in the Mario and Luigi series for the DS and Wii. It is the first game to have Paper and normal Mario characters in it.. It has items and enemies from the Mario and Luigi games and the Paper Mario series with new characters and bosses.
Plot
The Shroobs thaw out from Bowser's Castle and start to destroy the Paper Mario world and the Mushroom kingdom. Paper characters appear and other villans team up with Mario and Luigi to stop the Shroobs from destroying the world.
Partner
Paper Bowser (with Bowser)

Shrooba

(a Shroob who has betrayed the Shroobs and helps the bros with his knowledge of them)

Petey Jr
Bosses
Shrowser
Ultimate Shrooboid
Shroobek
Death Shroob
Baby Shrowser
Baby Bowser X
Shawful
dark shawful
Shawful Bug

RC Blazer

Dark Shrowser
Shrowser Junior
Baby Shrowser
Ultrawraith
Shroob UFO(with Bowser after he is hypnotised by the Shroobs in the battle)
E. Gadd (possessed by King Shroob Boo)
Destructive Dweevil (hidden ultra boss)
The final bosses are King Shroob and Master Shroob
Paper World Bosses
Dark Luigi
King Shroob Boo
Shroob's Eye
Shroobitu(hidden)
Emperor Fishbone (hidden)
Shadows Sirens and Doopliss
Shrodus
Goomba King
the final PAPER bosses is paper king shrowser and paper king shroob
Giant Bosses
Shroob Castle( in hard mode fought with Yoob)
Yoob
RC Blazer's Tower
Giant Shroob UFO
X-Nautbot
Giant Shrowser
Shexor
Giga Shrooboid
Jetter Shroob
The final giant boss is Destroyer Elite who can also summon up a Giant clone of Bowser.
Gallery
Artwork
Sprites
Music

Meeting a boss(mushroom kingdom)