This is a page YoshiGo99 made,
DO NOT
edit this page unless you are fixing errors or adding categories.
Mario Strikers Unleashed is a Mario spinoff and the third Mario Strikers game in the series. It is created by Cosmic Koopa Company and is a Wii U game. It features many elements such as team captains, sidekicks, items as well as fields from the previous games.
Team Captains
Mario

Character Type: Balanced
Mega Fiery Strike: Mario turns into a fiery Metal Mario before mashing the ball.
Super Ability: Super Mario
Theme: Remix of Super Mario Bros. Overworld theme

Luigi

Character Type: Balanced
Green Fiery Strike: Luigi turns into a fiery Metal Luigi before mashing the ball.
Super Ability: Super Twister
Theme: Remix of Super Mario Bros. 3 Overworld theme

Peach

Character Type: Playmaker
Angel Heart Strike:' Peach grows wings and hearts swirl around her before mashing the ball.
Super Ability: Freeze Frame
Theme: Techno

Daisy

Character Type: Defensive
Power Flower Strike: Daisy grows flowers around her before mashing the ball.
Super Ability: Freeze Frame
Theme: Progressive Rock

Donkey Kong

Character Type: Power
Konga Smack Strike: DK gathers electricity and smacks his hands together before mashing the ball.
Super Ability: Thunder Wham
Theme: African Drums
Sidekicks/Allies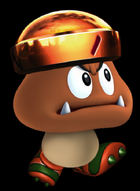 Items