This page was developed by PlayRight Games, and is the intellectual property of LegendaryHero1023.

~Please do not edit this page unless you are correcting a spelling error.
~If you have a suggestion for the page, please leave a comment. LH1023 checks the page fairly often.
~If you want to use an idea in this game, feel free to do so; just don't claim that the idea was yours.
Thanks for visiting, and God bless you all!
Mario Kart: Speed Saga
Franchise
Mario Kart
Platform
New Nintendo 3DS
Genre
Racing/RPG
Developer
PlayRight Games
Description
A racing game set in the Mario Universe. Features a unique item system, a large roster, a track creator, and a large online community.
Mario Kart Speed Saga is the 9th game in the Mario Kart series, developed and published by Nintendo for the New Nintendo 3DS.
Like in previous installments, players control various characters from the Mario franchise. The game features the return of many gameplay mechanics from recent installments, such as gliders, underwater driving, antigravity, and kart customization, and expands upon them. New features include a new item system, a casual story mode, and a track builder in the vein of Mario Maker.
Overview
Mario Kart Speed Saga reintroduces features introduced in past games and expands on them. The game revolves around a new item system using Mix Chips, collectable coins that can be used to upgrade weapons before using them. Many items from past games have been reintroduced using this system. Because items are now more powerful than before, the tracks tend to be wider than in past games.
There are 27 characters in the game- however, each character also has 3 alternate costumes, some of which are completely different characters (E.G. Toadette is one of Toad's alts). This allows many new characters to be added to the roster. 
The game has greatly expanded single player modes, including a story mode, a track builder, and a logo maker. There are new battle modes, and an entirely new online community.
The game also has 2 DLC packs- the White Pack and the Black Pack. Each pack contains 9 new characters (each with 3 alt. costumes), 3 new cups (with 2 new courses, 1 retro course, and 1 battle stage), 9 vehicles and 9 vehicle parts.
Game Modes
Single Player
Mario Kart: Speed Saga reintroduces VS mode in Single player, as well as a new Campaign mode. In addition there are several customization modes such as Mario Kart Maker and  Logo Designer.
Campaign Mode
The story begins when a powerful being, known as Alchemii, emerges from  a hidden dimension. He proclaims himself the greatest racer in all existence, and challenges the main cast to a series of races; however, none of them are able to beat him. Alchemii then sends out six heralds, known as the Spirits of Speed, to possess six of the boss characters from MK DS, and scatters the Mix Chips across the land. He declare that anyone who can defeat The Spirits will be able to challenge him, and that if anyone can beat him, they will be rewarded with his vehicle parts, the Golden Kart, Wheels, and Glider.
Players take control of their Mii of choice as they earn money and buy new vehicles. The game's races are spread out over 6 different worlds, or Tourneys. In order to enter each one (except for the first one), the player must pay a one-time entry fee. Money can be earned by collecting coins in a race, winning a cup for the first time, winning battles, or completing Backstage events.
Money can also be spent at any time at one of Palmer's shops. There is one shop in each Tourney's region. Palmer sells new outfits, which do not change Mii's stats, and vehicle parts and bases. Mii can either buy the new vehicles to make playing the corresponding Tourney easier, or wait until after he/she's won a few cups- if Mii chooses to wait, Palmer will offer discounts proportional to Mii's performance in the cups in return for an endorsement.
Once a player has entered a Tourney, they play through 3 cups, each with 4 courses. Every cup is hosted by a different character, who will be the hardest opponent in that cup. The cups can be played through in any order, although some are harder than others. Unlike in past installments, the courses in each cup can be retried as many times as necessary. Once all four cups are beaten, the cup's host will challenge Mii to a 1 on 1 race. These races are similar to time trials- there are no items on the course, and both racers are only given three boosts. Once Mii beats the rival, the cup is considered complete.
Once all 3 cups in a Tourney have been completed, a Spirit of Speed can be challenged in a boss fight. These boss fights are similar to the ones in MK:DS- the boss's attacks will occasionally drop item boxes which will give Mii a predetermined item. Once a boss has been beaten, Mii can move on to the next Tourney. 
After beating all 6 Tourneys and Bosses, the player will have a chance to face of against Alchemii in a 6 section marathon course. Once Alchemii is beaten in the race, he is revealed to merely be an astral project of the legendary racer. He is impressed by Mii's skills and swears to return in person to challenge him properly; he rewards the player with the Gold Vehicle parts before leaving. Mii returns to the Mushroom Kingdom in glory, but remains prepared to faced Alchemii when he returns...
Conquest Mode​ (Unlocked by beating Campaign Mode)
Conquest mode is a harder version of Campaign mode. The racers are more aggressive and faster in each race, each course is mirrored, and bosses are fought under a time limit.  However, the rival races are replaced with optional missions. Each racer offers two missions, and completing them earns Mii extra money. Because Mii has already paid all the entry fees, Mii can complete the Cups and Tourneys in any order.
Once the player reaches Alchemii a second time, he reveals his true identity as Captain N the Game Master, and challenges Mii to a second race. If Mii wins, Captain N rewards the player with the Legendary Vehicle parts, and Captain N is unlocked as a playable character.
Time Trial
Time Trial is the same as in past installments- players must beat a ghost racer while only using a triple boost. Each course has an easy and difficult staff ghost, and new ghost times can be downloaded from the internet.
Mario Kart Maker
In MK Maker, Players can create their own MK courses. Much like Mario Maker, the process of making a course is streamlined into a simple process. This process is aided by DSi, or Design Supervision Interface, a floating device styled after the Nintendo DSi. Courses are viewed from a top-down perspective, and can have up to three different layers- tracks cross between the three different layers in order to create hills and valleys in the course. Each course can be designed in six different themes- World 1-1, Barrel Mines, Cheepskip Bay, Cloudtop Cruise, Bowser's Castle, and Rainbow Ride. Enemies and stage elements are different for each theme (EG, Mine Carts and Swoopers are only available in Barrel Mines, underwater segments are only in Barrel Mines and Cheepskip Bay, etc.). Slight aesthetic changes, such as the weather, time of day, and background music can also be made. Once a course is completed, DSi will run a simulation with CPU players and propose changes. Once the course is up to code, it can be saved and uploaded.
Logo Designer
Similarly to MK DS, players can create their own logos. There are three different modes- Basic, with preset colors, pencil sizes, and basic shape tools; Pixel, which allows pixel art using square, triangle, or hexagon shaped pixels; and Vector, which features a full color wheel, layers, gradients, textures, and blurring. Logos can be uploaded to the MK 9 community.
Multiplayer
Speed Saga  has a wide variety of modes intended for group play, however each of these modes can also be played alone.
VS Race
In VS Race, players can race without restrictions. This mode allows players to choose any character, vehicle, or course that has been unlocked. Cheats can be activated for use in this mode. The item types, speed class, CPU difficulty, team settings, and track order can all be changed. Unlike past games, racers can be grouped into two, three, or four teams. Any unlocked, downloaded, or custom track can be raced on.
VS Battle
In VS Battle, there are four different modes- Balloon Battle, Coin Battle, Fort Battle, and Gem Battle.
In Balloon Battle, players compete to pop their opponents balloons. Each character starts out with three to five balloons, and are eliminated once all of them are popped. A new item, the balloon, restores one lost balloon. In team mode, the team gains a point for every balloon popped, with a balloon being worth two points if it was the last on the racer had. Players respawn after losing all their balloons. The last racer standing wins in single player, while the team with the most points wins in multiplayer.
In Coin Battle, players try to grab as many coins as possible. If a character is hit with an attack, they drop a percentage of their coins in proportion to the attack's power. The racer or team with the most coins wins.
Fort Battle is a team-only event. Two teams fight to simultaneously protect their fort and destroy their opponents. Each team only uses items of a particular element (EG, the red team will only use fire mix chips). A racer cannot lose balloons unless they are on the opposing half of the arena- if they are KO'd, they are teleported back to their fort. Teams gain points just like in Team Balloon Battle. The team that succeeds in destroying the other fort wins; if time expires and a fort has not been destroyed, the team with the most points wins. This mode can only be played on certain stages.
Gem Battle is also a team-only event. Two to Four teams try to collect gems scattered across the arena. There are three kinds of gems- white, worth one point; pink, worth two points; and gold, worth three points. Only white gems are found on the map- however, if a gem is held for long enough, it will transform into a higher-valued gem (white becomes pink, and pink becomes gold). Up to twelve gems can be held at once. If a racer is hit, half of their gems are dropped, and revert to normal white gems. However, gems can also be stored in the team bank- doing so will cause them to lose one point of value (gold becomes pink, and pink becomes white.). Doing so prevents them from being dropped. Players can also rob the opposing teams bank- up to six pink gems can be stolen at a time, but stealing more gems will make the racer slower as well. If the player is attacked before he can reach his teams bank, half of the gems will be dropped, but will maintain their value. If not recovered in 10 seconds, the gems will be returned to the bank they were stolen from. The team with the most points at the end of the round wins.
World Trial
In World Trial, racers compete in a series of six, eight or ten events. These events range from simple races, battles, and boss fights. Before each event, players have the opportunity to activate a stat boost- the player can choose from either weaker boosts that improve several stats, or stronger boosts that are more situational- especially risky since the next event is not announced until after all boosts have been chosen. Players earn points based on their performance in each event, and the player/team with the most points at the end wins.
Alternatively, in Elimination mode, the player(s) with the lowest score are eliminated after every round. Even if a racer is eliminated they can keep playing, although they only earn half the points. Once there are only four racers left, they compete in a normal race on Alchemii's personal training course. At the end, the racer with the most points wins.
Online Mode
In online mode, players can race and battle with other racers online. Every Multiplayer mode is available, and some single player modes (Time Trial, MK Maker) have online features. The game reuses the same ranking mechanic from Mario Kart 8 to ensure that races are fairly balanced.
A major component of online mode is the Guild system. There are six guilds that players can join; once a player chooses one, they will be unable to switch to a new guild until the month ends. Any points earned in the various online modes are contributed to the player's guild, and the guild that has the most points at the end of the month wins. The members of the winning guild get to choose a small piece of Mario Kart merchandise, such as a T-Shirt or a free download from the E-Shop, while the two runners up get E-Shop coupons and discounts. 
In order to ensure that all guilds have a shot at winning, the top 60 racers world wide are evenly distributed among the guilds. Also, modes that require more skill to win (such as VS races with no items) earn their guild more points, and more points are earned when a lower ranked player beats a higher ranked player.
VS Modes
All the modes available in Multiplayer are also available Online, with no differences. Points earned in VS are added to your Guild's total.
Rainbow Trial
This mode is an endless version of World Trial- players earn coins based on their performance instead of points, and thus no points are contributed to the guild.
Rainbow Tourney
This mode is a daily tournament consisting of a battery of six races and six battles. Players compete against 11 other players to win each event. The winner gets a large coin prize and earns several points for their team.
Event Mode
Tournament Mode returns from MK Wii. In this mode, players are challenged to complete a race or battle under special conditions. The challenge changes every month. Successfully completing the event for the first time earns points for your guild- the 18 players with the best score at the month's end earns a special bonus for their guild.
Extras
Faves
Faves mode allows the creation of preset vehicles, fave cups using existing courses, and creation of custom cups from courses made in MK maker. Preset Vehicles and Custom Cups can be uploaded and downloaded from the internet. Up to 6 fave cups, 6 custom cups, and 18 preset vehicles can be saved at one time.
Achievements
During the single and multiplayer games, the player can complete a series of achievements. There are 54 achievements. While an achievements requirements are hidden at first, they are revealed once both campaign and conquest mode are complete.
Achievement Title
Requirements
Campaign and Conquest Mode
This is an Achievement
Start up the game and create a save file
Start your engines
Rocket start perfectly 15 times
A winner is you!
Win your first cup
Mind the gap
Fall of the track 30 times
Showboating
Execute 20 tricks while floating on the water in one race
Perfect Sweep
Win 3 cups by getting first place in every race
Lucky Streak
Win a race without getting hit by an item (status items do not count)
Lightning Dodge
Dodge the Lightning item by using a boost
King of the Hill
Get first place in all four kinds of battles
Campaign Complete
Defeat Alchemii and complete Campaign mode
Fashionista
Buy all of Palmer's gear in Campaign mode
Fashionista Supreme
Buy all of Palmer's gear in Conquest mode
Generalissimo
Defeat all 6 bosses without taking damage in Campaign mode
Generalissimo Extreme
Defeat all 6 bosses without taking damage in Conquest mode
Employee of the Month
Get the high score in all 6 Backstage events in Campaign mode
Employee of the Year
Get the high score in all 6 Backstage events in Conquest mode
For Glory
Place in the top 3 of a cup without using any items
The disrespect is real
Drive over the finish line in reverse in all four races in a cup, and win 1st in the cup.
Cue Airhorn
Take down a racer just before they cross the finish line and steal the win.
Valhalla bound
Win 50 battles
Dress to Impress
Unlock all the alternate costumes
Dividends
Collect 10,000 coins
Stake your claim
Defeat all the rivals in Conquest mode (even though its optional)
Consolation Prize
Lose a race in Conquest mode
Thou art worthy
Defeat all 6 bosses in Conquest mode
Clean Victory
Defeat Alchemii in the final race without taking a single hit
Conquest Complete
Defeat Alchemii (again) and complete Conquest mode
Casual Solo Modes
CPU approved
Create a course that DSi cannot find any fault with.
Well-Rounded Course
Create a course that is just a circle
Double the game
Fill all 6 custom cups with courses (at least 8 of the courses must be made by the player)
Artist
Create and save an emblem
Emblem Ensemble
Create 15 emblems
Upload Complete
Upload an Emblem to the Online Community
Modder
Create custom vehicle and save it
Full Garage
Create and save 18 vehicles
Roll out
Upload a vehicle to the Online Community
Ghost Hunter
Beat all the ghosts in a cup
Ghost Hunter+
Beat all the ghosts in the game
Exorcist
Beat all the pro ghosts in a cup
High Exorcist
Beat all the pro ghosts in the game
Suicidal
Beat your own ghost
Multiplayer Modes
Ice Cream Social
Play a multiplayer mode... with other people there (gasp!)
Comrade at arms
Win a mode on the same team as a human player
Twinning
Race as the same character and use the same vehicle as another human player.
Battle Royale
Fight a battle with three other players on different teams
Secure connection
Enter the online lobby
Social Butterfly
Join a guild for the first time
Special Event
Participate in an event
+9000
Get a VR rating that is... OVER 8999!
Trials and Tribulations
Win 5 rounds in Rainbow Trial
Jackpot
Earn 1,000,000 coins
And the winner is…
Be on the winning Guild OR be on the losing guild 5 times
Automobile Connoisseur
Browse the Kart Museum for 10 minutes
You've earned it
Play the game for 730 hours (about 1 month)- the time is only counted if the player is actually playing a mode. OR Own the game for a year.
Cheat codes
Cheats can be activated for VS mode to change up the gameplay. A cheat will either change the game visually, enable a mechanic from past games, or do something completely unexpected. Up to three cheats can be enabled, one of each type. While a cheat code can be used before it is unlocked in the game (if, for example, it is found on the internet), it will not be saved into the cheat book, requiring the player to enter the code each time until it is unlocked. A new code is unlocked after completing three achievements.
| | | |
| --- | --- | --- |
| Code | Type | Effect |
| EEEELINE | Visual | Replaces the drift sparks with E's, like in MK 64. |
| HIGHFIVE | Throwback | Replaces all x3 items with x5 items. |
| NO-BOOST | Gameplay | Removes MiniTurbos, instead speeding up vehicles while drifting. |
| FOGLIGHT | Visual | Covers the stage with thick fog, reducing visibility. |
| SEESPEED | Throwback | Adds the speedometer from Double Dash to the HUD. |
| SHOWOFFS | Gameplay | Taunting creates a short speed boost- CPU's taunt more often. |
| PHANTOMS | Visual | Racers fade out over the course of the race (map unaffected). |
| BEEPBEEP | Throwback | MK Wii's chaotic bumping physics return. |
| EZPICKIN | Gameplay | The item roulette is much slower, allowing racers to choose an item. |
| 8BITMINT | Visual | Coins are displayed as 8bit sprites. |
| VOIDZONE | Throwback | Removes the item warning signal. |
| GOLDRUSH | Gameplay | Removes the 20-coin limit, and every coin increases top speed. |
| PAPERCUT | Visual | All items are displayed as flat images, like in MK DS. |
| SERPENTS | Throwback | Enables the snaking-friendly drift engine from MK DS |
| FAIRWIND | Gameplay | Racers can draft much more quickly than before. |
| FLIPFLOP | Visual | Every item's display is replaced with a flip flop. |
| HIROLLER | Throwback | Every vehicle can wheelie. |
| WRONGWAY | Gameplay | All racers appear to be driving in reverse- controls unaffected. |
Backstage Events
Over the course of the single player modes, Mii can earn extra cash by participating in backstage events. There are six different minigames unlocked, one after each tourney, and each has three levels of difficulty.
Camera- Scanitu's game. The player is presented with a series of camera shots of a track, and a map of the track with spaces for each camera. The player must arrange the shots in the order they should play to follow a racer around the track. On higher difficulty levels, there are more shots than spaces, and some shots need to be discarded.
Create- Makeitu's game. The player is presented with a picture of a vehicle, and a selection of parts. The player must assemble the correct vehicle as quickly as possible. On higher difficulty levels the picture is obstructed by track elements, or the photo is damaged. There are also more parts to choose from.
Clean- Scrubitu's game. The player is given a Starman while driving on a track. The player must hit all the items on the track, while grabbing new stars from item boxes. On higher difficulty levels, the track is from more difficult courses, and there are more items.
Carry- Liftitu's game. The player must move boxes onto targets to demonstrate how to use Lakitu's line. There are five rooms in each level: A room with no obstacles, a room with quicksand that makes the boxes harder to lift, a room with water that pushes the boxes around, a room in the air where the boxes are far apart, and a room with fire that destroys the box if it is not moved quickly. On higher difficulty levels, the boxes and targets are color coded, and must be moved to the right spot.
Contain- Boxitu's game. The player is presented with a series of items, which must be placed in the box in order of their probability of appearing (EG, banana > shell > bomb) within a time limit. On higher difficulty levels, there are more items to sort, and less time to sort them.
Compete- Knowitu's game. The player participates in a quiz game and must answer questions about past Mario Kart games, items, characters, and techniques. On higher difficulty levels, the questions are more difficult and obscure.
Cloud- Lakitu's game. This game is unlocked by beating the high score on the highest difficulty for each of the other six games. In Cloud, the player is allowed to float freely through all unlocked courses as Lakitu. There is no objective, but there are easter eggs hidden in some of the courses.
Characters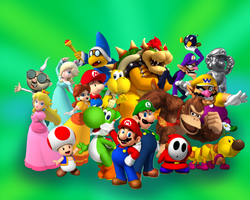 Mario Kart Speed Saga
has a staring roster of 19 playable characters, with 9 unlockable characters, for a total of 28. Each character (except Mii and Bowser Jr.) has three alternate costumes; while some simply change the characters appearance, others are completely different characters. When costumes are taken into consideration, there are actually 82 different characters (83 if you count Lady and Pauline separately). 
Each Character falls into 5 weight classes- Light, Floater, Medium, Cruiser, and Heavy. The only difference among the characters are weight and size. Not all members of a weight class are alike- for example, Metal Mario is very heavy but the same size as Mario, while King Boo is light compared to racers of comparable size. The weight of Mii is determined by the Mii's size, and some costumes are changed depending on the Mii's gender.
Starting Roster
Name (Weight)
Alt. 1
Alt. 2
Alt. 3
Mario (Medium)
Fire Mario
Tanooki Mario
Dr. Mario
Luigi (Medium)
Ice Luigi
Frog Suit Luigi
Mr. L
Yoshi (Medium)
Birdo
Boshi
Alt. Colors
Donkey Kong (Cruiser)
Super Guide DK
Supercharged DK(Skylanders)
Funky Kong
Shy Guy (Light)
Ninji
Subcon
Alt. Colors
Wiggler (Cruiser)
Flutter
Green Wiggler(Sunshine)
Wigalactic(Boss)
Peach (Medium)
Fire/Classic Peach
Cat Peach
Nurse Peach
Daisy (Medium)
Thunder Daisy
Lady (Pauline from DK arcade)
Safari Daisy
Toad (Light)
Toadsworth
Toadette
Captain Toad
Rosalina (Cruiser)
Fire Rosalina
Captain Syrup
Pauline
Baby Mario (Light)
Baby Luigi
Baby Peach
Baby DK
Prof. E Gadd (Floater)
Young E Gadd (M&L PiT)
Yikk
Hiker E Gadd
Wario (Heavy)
Biker Wario
Wario Man
Pirate Wario
Waluigi (Cruiser)
Strikers Gear
Magician Waluigi
Tennis Waluigi
Metal Mario (Heavy)
Gold Mario
Robo Mario (MK GP arcade)
SIlver Luigi
Bowser (Heavy)
Dark Bowser
Dry Bowser
Meowser
Koopa Troopa (Light)
Parakoopa
Dry Bones
Lakitu
Kamek (Floater)
Kammy
Kamella
Alt. Colors
Mii (Varies)




Deluxe Racer Uniform
Formal Outfit
Construction Gear

Knight Armor
Doctor/Nurse Uniform
Samurai Armor

Captain Uniform
Plumber / Princess
Hi-Tech Gear
Unlockable Characters
Note that Bowser Jr.'s costumes are unique. He has nine alts instead of three, and each set of three has a different wieght, but nearly identical size. The weight of each set is listed.
Name (Weight)
Alt. 1
Alt. 2
Alt. 3
King K. Rool (Heavy)
Kaptain K. Rool
Wart
Fredrick
Diddy Kong (Floater)
Professor Chops
Dixie Kong
Cranky Kong
Bowser Jr. (Medium)
Floater Alts.




Medium Alts.




Ludwig
Spike
Bandanna Jr.

Cruiser Alts.




King Boo (Floater)
Dark Moon King Boo
Thunderboolt(Boss)
Grouchy Possessor
King Bobomb (Heavy)
Genie (Mario Land 3)
Metal Bobomb (Boss)
King Whomp
Eye Roc + Thwomp Cutout (Heavy)
Ice Roc + Freezie (Boss)
Tiki Tong
Master/Crazy Hand (SMASH 4)
Goomboss (Cruiser)
Goomblaze (Boss)
Giant Galloompa
Prince Bully
Chief Chilly (Cruiser)
Chief Chillam (Boss)
Big Bully
Baron Brrr
Hammer Bro (Medium)
Fire Bro
Ice Bro
Boomerang Bro
Non-Playable Characters
Name (Species)
Image
Description
Casey Spanner (Toad)

Mii's best friend and trusty assistant. He is a natural with machinery and adept at constructing vehicles.
Appears in Campaign, Conquest, and Challenge mode.
Titus Budget (Bandit)

Mii's "official" agent who manages the team's funding. While it has been suspected that he borrows some of the funds he is entrusted with, he consistently brings in results.
Appears in Campaign and Challenge mode.
DSi (Nintendo DSi)

DSi, or the Design Supervision Interface, exists to make it easier for players to create tracks and logos. What DSi lacks in tact he makes up for in superb advice and excellent results.
Appears in Mario Kart Maker and Logo Designer.
Palmer (Pianta)

Palmer is actually the name of 6 different Piantas, each of which run a different shop. They sell gear like outfits, vehicle parts, and Mario Kart Maker pieces. They may drive a hard bargain at first, but they offer discounts to successful racers in return for endorsements.
Appear in Campaign, Conquest, and Challenge mode.
The Backstage Workers (Lakitu)

Six overworked Lakitus that need a helping hand. While everyone knows about the Lakitu, these guys work just as hard to keep things running behind the scenes. Helping them out in their tasks is a good way to earn extra money.
Appear in Campaign and Conquest mode.

Scanitu- Programs the camera's ahead of time so that the play in the correct order.

Makeitu- Works as a mechanic, constructing the vehicles the main cast use in each prix (not everyone gets a personal mechanic like Casey!)

Scrubitu- Extreme janitor, cleans up the track of used items before they are used again- dangerous work!

Liftitu- Coaches the next generation of Lakitu's in the art of retrieving racers from out of bounds.

Boxitu- The foreman of the item box assembly crew; he makes sure that 1st place doesn't get a Starman, or anything crazy like that.

Knowitu- Runs the Mario Kart Quiz club, which has been poorly attended as of late. Maybe a new celebrity personality will bring some life to the show!

The Spirits of Speed (Ghost?)
The gatekeepers to Alchemii's secret realm. They will not allow anyone to challenge him until they have all been beaten.
Appear in Campaign and Conquest mode.




Rev- The Red spirit of Speed. His feisty personality is matched only by his love of all things speed. Fought as Goomblaze after the Fire Tourney.

Hefty- The Orange spirit of Weight. He is the most level-headed of the group, but will stop at nothing once he has a goal. Fought as Metal Bob-omb after the Earth Tourney.

Torque- The Green spirit of Acceleration. She is perpetually upbeat and "motivated," even when laying waste to entire cities on an MMO game. Fought as Thunderboolt after the Wind Tourney.

Float- The Blue spirit of Handeling. He approaches even the most benign situations with caution and tact; many misintepret his reservedness and formality as arrogance. Fought as Ice Roc after the Water Tourney.

Stella- The Yellow spirit of Boost. His world moves at 60 all the time, and he has no patience for those who can't keep up. Fought as Wigalactic after the Light Tourney.

Nova- The Purple spirit of Offroad. He may seem random and impulsive, but every move he makes has been calculated to reach his goal. Fought as Chief Chillam after the Dark Tourney.

Alchemii (Human)

The mysterious racer from beyond the world. He is such a good racer, not even the Main cast could beat him. He was officially the world's greatest racer until Mii beats him... twice. Later revealed to be Captain N the Game Master.
Appears in Campaign and Conquest mode.
Global Broadband (???)

A sentient... globe... thing. He is the host of all the online modes in the game, and distributes the monthly prizes for each guild.
Appears in Online mode.
Controls and Techniques
Although the game is set up for right handed people by default, the controls can be set for left handed racers under the Options tab.  In addition to the following preset control schemes, a custom set can be made- one for right and one for left.
Controls
Action
R. Hand
L. Hand
Note
Accelerate

X or Y button

L Trigger
Brake

A or B button

R Trigger
Steer
Control stick
Control stick 
Hop/Drift (hold)
R Trigger
A or B button
Item throw/Taunt
L Trigger
X or Y button
Taunt when no item is active.
Item drop
L + 

Control stick (down)

X/Y + Control stick (down)
Item Upgrade
Hold L Trigger
Hold X or Y Button

Only works when a Mix Chip is held.
Techniques
Using these controls, several advanced techniques can be performed.
Rocket Start- By holding the accelerator at just the right time during the countdown, the player can start the race moving at top speed. If the accelerator is held too long, the vehicle will overheat instead, delaying the racer. If it held too early, the boost will not be as strong.
MiniTurbo- By holding a drift long enough, a MiniTurbo can be charged. When releasing the drift button, the racer will recieve a small speed boost.
Super MiniTurbo- By holding a drift after charging the MiniTurbo, the vehicle charges a super MiniTurbo. The boost is stronger when released. While all vehicles charge MiniTurbo at the same rate, different vehicle types charge the Super MiniTurbo at different rates- bikes charge so slowly they rarely get one, while ATV's charge it almost instantly.
Sliding- By steering sharply, a vehicle can enter a semi-drift. While the vehicle can make tight turns this way, and top speed is temporarily increased, no MiniTurbo is charged.
Firehopping- By hopping just after receiving a boost, the length and power of the boost is increased. This works for any boost received except MiniTurbo from drifting, since the hop button is the same as the drift button.
Trick- By hopping just as the vehicle goes over a ramp, the player can execute a trick. If a trick is successfully performed, the racer receives a slight midair boost and a speed boost when landing. While the racer will use one of their three taunts automatically, a specific trick can be used by holding a direction on the control stick while hopping.
Trick Combo- By hopping just as the vehicle leaves a glowing trick ramp, the player initiates a trick combo. The player will be given a series of up to 5 taunts to perform before hitting the ground. Performing each one creates a slight midair boost- performing all of them creates a powerful boost when landing. If the racer does not perform any taunts after performing the initial trick, the vehicle will still receive the usual boost when landing.
Rubbering- By braking while holding the accelerator, the player can swivel the car in place. If used when stationary, the player can also charge a MiniTurbo this way. If used while moving, it can be used to slightly angle the vehicle without slowing down, and can be used to counter some status effects, such as freeze.
U-Turn- By releasing the accelerator while rubbering and turning, the vehicle will perform a 180 degree turn. Mostly useful in battle mode, where it allows players to quickly change direction.
Mastering all these moves is the key to victory! 
Courses
Mario Kart Speed Saga has 18 cups with four courses each, making a total of 72 courses. Of these, 36 are new courses and 36 are returning courses. There are also 18 Battle stages, 12 new and 6 returning. More details about the courses, such as maps and course descriptions can be found on this sub-page.
Fire Tourney
Hammer Cup
Arena Circuit
Mario Castle
Mario Circuit Adv.
Mario Circuit Wii
Vacuum Cup
Luigi's Blimport
Treacherous Mansion
Luigi's Mansion DS
Maka Wuhu 3DS
Egg Cup
Fruity Forest
Yarn Loop
Yoshi Circuit GC
Kalamari Desert 64
Battle Stages
New Nintendo 3DS
Yoshi Island
Double Deck 64
Pipe Plaza GC
Earth Tourney
Barrel Cup
Tugboat Trail
Rocketbarrel Canyon
Sunset Wilds Adv.
DK Mountain GC
Spear Cup
Harmony Bay
Sweet Dream
Delfino Square DS
Electrodome U
Bloom Cup
Mudslide Derby
Cavern Commute
Dino Dino Jungle GC
Thwomp Ruins U
Battle Stages
Sticker-Bush Bowl
Subcon Castle
Funky Stadium Wii
Palm Shore DS
Water Tourney
Peach Cup
Peachy Orchard
Queen Peach
Peach Beach GC
Sky Garden Adv.
Crown Cup
Botanical Garden
Sarasaland
Daisy Circuit Wii
Daisy Hills 3DS
Pickaxe Cup
Mushroom Mountain
Metro Overpass
Toad's Factory Wii
Moonview Highway Wii
Battle Stages
Sunset City
Battle Castle
Delfino Pier Wii
Honeybee Hive 3DS
Wind Tourney
Luma Cup
Starlight Fountain
Celestial Station
Rosalina's Ice Planet 3DS
Rainbow Road Wii
Gameboo Cup
Evershade Valley
Boo's Badlands
Boo Lake Adv
Twisted Mansion U
Stork Cup
Sugar Garden
Lost Grotto
Sweet Sweet Mountain U
Baby Circuit GC
Battle Stages
Rocket Launchpad
Comet Observatory
Luigi's Mansion GC
Tart Pop DS
Star Tourney
Garlic Cup
Lost City
Trawler Warehouse
Wario Colosseum GC
Diamond City GP
Racket Cup
Waluigi Studios
Carnival Hill
Vanilla Lake Adv
Waluigi Pinball DS
Bullet Cup
Robot Metropolis
Oil Outpost
Choco Mountain 64
Rock Rock Mountain 3DS
Battle Stages
Diamond City
Flying Fairground
Skyscraper 64
Tilt-A-Kart GC
Shadow Tourney
Fortress Cup
Bowser's Tower
Magma Mountain
Bone Dry Dunes U
Bowser's Castle GC
Magic Cup
Boo University
Galactic Galleon
Airship Fortress DS
Cloudtop Cruise U
Shell Cup
Skelekoop Pass
Desolate Flats
Dry Dry Ruins Wii
Desert Hills DS
Battle Stages
Grim Garden
Volcano Storm
Battle Course II GBA
Big Donut 64
Black Tourney (DLC)
Smash Cup
Hyrule Circuit U
Dreamstalk Drive
Fourside Street
Battlefield (Arena)
Astro Cup
Corneria Cruise
Mute City U
The Bottle Ship
Final Destination (Arena)
Pokemon Cup
Poke Park Stadium
Pallet Town
Big Blue U
Pokemon Arena (Arena)
White Tourney (DLC)
Legends Cup
Tadpole Pond
Paper Chronicles (Animal Crossing U)
Bean Bean Tour
Star Road (Arena)
Baddies Cup
Bobomb Battlefield
Super Bell Hill
Pirahna Plant Slide 3DS
Airship Armada (Arena)
Guest Cup
Sonic Generations
Robot Museum
Pac-Mountain GP
Pac Maze (Arena)
Items
Note: There are a lot of items, so the details of each one are listed on this sub-page.
In a departure from the traditional item system, MK:SS uses an elemental system to upgrade weak items to more powerful ones. This can only be done while holding a mix chip, which can be picked up from item boxes. Because the items are stronger than most games, most items can be either avoided or blocked by using an item of your own (for example, using a boost can counter the thunderbolt if it is timed right) or by using a special move (For example rubbering reduces the time spent frozen by an Ice flower). There are a total of 64 different items.
Item Gallery
Static Items

Banana

Podoboo

Jacker

Freezie

Thundercloud

DK Barrel

Oil Drum
Dynamic Items

Shell

Fire Snake

Spike Ball

Snowball

Warp Whistle

Gold Shell

Yoshi Egg
Ballistic Items

Bob-omb

Magmaargh

POW Ball

Melon

Bullet Bill

Magic Wand

Doom Boom
Projectile Items

Spanner

Fire Flower

Boomerang Flower

Ice Flower

Cloud Flower

Gold Flower

Void Flower
Mounted Items

UltraPunch

Fire Bar

Piranha Pot

Blooper Box

Spark Magnet

Chomplet

Cannon Box
Boost Items

Mushroom

Nitro Mushroom

Mega Mushroom

Tidal Mushroom

Static Mushroom

Golden Mushroom

Poison Mushroom
Invincibility Items

Starman

Blazing Comet

Metal Box

Chilly Comet

Boo Ball

Launch Star

Boom Box
Status Items

UFO

Angry Sun

POW Block

Shaved Ice

Lightning

Pi'illo

Dark Moon
Other Items

Coin/ Yoshi Coin

Fake Box/ Phantom Box

Rocket Shell/ Spiny Shell

Air Horn/ Super Horn
Vehicles
Each vehicle falls into three categories- Karts, Bikes, and ATVs. Each vehicle can be set to use hard or soft steering- this alters its stats and changes how it behaves while drifting.
Karts- The easiest type of vehicle to use. They have high speed and handling, but poor off-road and acceleration. When they drift they maintain the same trajectory. Soft karts turn wider and have a higher weight stat, and hard karts turn tighter and have a better turbo stat.
Bikes- Take tighter turns, even when no drifting and can also wheelie. Due to their small size they can quickly draft off of opponents and get good airtime off jumps. They have high off-road and acceleration, but poor weight and turbo. Soft bikes turn widely before drifting into the turn and have good handling, and hard bikes have inside drifting and have high speed.
ATVs- Take wider turns, even while drifting. When they drift, the tend to slide and change direction slowly, making navigating tight corners a challenge. However, they can charge a super-mini turbo almost instantly, and boosting will send the vehicle in the direction it is facing. They have high weight and turbo, but poor speed and handling. Soft ATVs turn tightly at first, but gradually slides out wide and has good acceleration, and hard ATV's slide throughout the entire turn and has good OffRoad.
There are six different stats assigned to a vehicle:
Speed- Increases a vehicles top speed.
Weight- Reduces the knock-back from collisions, and reduces time spent prone after being hit with an item.
MiniTurbo- Increases the speed boost received from drifting and boost panels.
Acceleration- Reduces the time needed to reach top speed.
Handling- Increases the sensitivity of the vehicles steering while turning and drifting.
OffRoad- Reduces the effects of driving off the track or on terrain that is not asphalt.
There are 42 vehicles in the game, 21 of which need to be unlocked.
Standard Vehicles

| Name | Vehicle Type | Best Stats | Worst Stats |
| --- | --- | --- | --- |
| Standard Kart | Kart | Handling | OffRoad |
| Pepper Cruiser | Kart | Speed | Acceleration |
| Pipe Frame | Kart | Acceleration,Miniturbo | Handling |
| Motor Manta | Kart | Speed | Handling |
| Landship | Kart | Handling | Weight, OffRoad |
| Kaliente Wagon | Kart | Weight | Acceleration |
| Spellbound Carpet | Kart | Speed, Acceleration | Handling, Weight |
| Standard Bike | Bike | OffRoad | MiniTurbo |
| Dragmaw | Bike | Acceleration | Weight |
| Groll Grinder | Bike | Weight | MiniTurbo |
| Flutter Flier | Bike | Acceleration, Speed | Weight |
| Steel Driver | Bike | OffRoad, Weight | Acceleration |
| Ancient Treasure | Bike | MiniTurbo | Speed |
| Bullet Bike | Bike | Speed, Acceleration | MiniTurbo |
| Standard ATV | ATV | Weight | Handling |
| Bad Bully | ATV | MiniTurbo | Handling |
| Thwomper Stomper | ATV | Weight, Handling | Speed |
| Featherwieght | ATV | Speed, Miniturbo | Weight |
| Cool Sleigh | ATV | Handling | Miniturbo, OffRoad |
| Neon Coaster | ATV | Speed | Weight |
| P-3000 | ATV | Speed, Miniturbo | Acceleration, OffRoad |
Unlockable Vehicles

| Name | Vehicle Type | Best Stats | Worst Stats |
| --- | --- | --- | --- |
| Barrel Train | Kart | MiniTurbo | Acceleration |
| Podobooster | Kart | MiniTurbo | Handling, Weight |
| Rompus | Kart | Weight | Speed |
| Cloud 9 | Kart | Speed | Weight, Acceleration |
| Cheep Skipper | Kart | Handling | OffRoad |
| Arcane Lamp | Kart | Speed, Miniturbo | Handling, Acceleration |
| Mysteride | Kart | OffRoad, Acceleration | Speed, Weight |
| Xtreme Bike | Bike | OffRoad, Speed | Acceleration |
| Hell Rider | Bike | Miniturbo, Weight | Speed |
| Ugly Mutt | Bike | Speed, Acceleration | MiniTurbo |
| Cloudburster | Bike | Acceleration | Weight, Handling |
| EelOut | Bike | Handling, Acceleration | Speed |
| Techno Cycle | Bike | Miniturbo | OffRoad |
| Star Stallion | Bike | Speed, Miniturbo | Acceleration |
| Lucky 7 | ATV | Miniturbo | Acceleration |
| Dire Phoenix | ATV | Speed, Miniturbo | Weight, Handling |
| Wiggler Rig | ATV | OffRoad, Acceleration | Speed |
| Bugabeetle | ATV | Offroad, Speed | MiniTurbo |
| Plessie Power | ATV | Weight, OffRoad | Handling, Speed |
| Spideroller | ATV | Handling, Offroad | Weight |
| Crimson Shuttle | ATV | Speed, Acceleration | Handling, OffRoad |
There are also two different kart parts that can be combined with any of the above frames:
Wheels- Come in three different types- Ranger, Racer, and Booster. Ranger wheels improve OffRoad and reduce Speed, Racer wheels improve Speed and reduce MiniTurbo, and Booster wheels improve MiniTurbo and reduce OffRoad.
Gliders- When not in use, gliders double as spoilers. They also have three types- Drifter, Dodger, and Bruiser. Drifter gliders improve Handling and reduce Acceleration, Dodger gliders increase Acceleration and reduce Weight, and Bruiser gliders increase Weight and reduce Handling.
There are 24 wheels and 24 gliders. For each, there are 12 standard and 12 unlockable alternate forms.
Wheels & Gliders

| Part Type | Normal | Alternate | Part Type | Normal | Alternate |
| --- | --- | --- | --- | --- | --- |
| Racer | Slick | Cyber Slick | Drifter | Parachute | Cloud |
| Racer | Techno | Analog | Drifter | Butterfly | Squawks |
| Racer | White Wall | Mirror | Drifter | Simple | Twin |
| Racer | Steel | Magma | Drifter | Cape | Carpet |
| Ranger | Mushroom | Wood | Dodger | Balloon | Blimp |
| Ranger | Button | Cloth | Dodger | Ancient | Relic |
| Ranger | Bubble | Leaf | Dodger | Flower | Parasol |
| Ranger | Spike | Gear | Dodger | P-Wing | WaddleWing |
| Booster | Barrel | Bongo | Bruiser | Airplane | PaperWing |
| Booster | Shell | Monster | Bruiser | Rocket | Chopper |
| Booster | Ski | Hover | Bruiser | Comet | Meteor |
| Booster | Gyro | Magnet | Bruiser | UFO | Cosmo |
DLC
Speed Saga has two DLC packs- the White pack and the Black pack. Each pack contains 9 new characters (each with 3 alt. costumes), 3 new cups (with 2 new courses, 1 retro course, and 1 battle stage), 9 vehicles and 9 vehicle parts. The White Tourney is themed after other Mario titles, such as the various RPG series, as well as 3rd party franchises such as Sonic and Megaman. The Black pack is themed after Smash Bros., and includes characters from several nintendo properties, such as Earthbound/Mother, Kirby, Starfox, Pokemon, and the Legend of Zelda. Each pack is $5.00. If both packs are purchased, the final campaign mode is unlocked- Challenge Mode. This mode is a mix of Campaign and Conquest mode. Mii has to race through 2 additional tourneys, beating new rivals and earning new gear. There are three new bosses in this mode- Master and Crazy Hand, the bosses of White tourney, Orbulon, the boss of Black tourney, and Master Crown, the boss of Challenge Mode. Master Crown can only be fought if the player has purchased both the White and Black tourneys.
Smash Battle
A new Battle Mode based on the Smash Bros. games. in this mode, players strive to knock their rivals off the stage by ramming into them. Each player starts off with 5 balloons- as they receive attacks, they lose balloons and become easier to launch. A new item, the Smash Ball, replaces the UFO item- instead of being an upgradeable item, like the other items, it unleashes a random Status move when activated. Smash Battle can only be played on the Final Destination and Battlefield stages. In Final Destination, Master Hand and Crazy Hand appear as stage hazards.
DLC Characters
Name (Weight)
Alt. 1
Alt. 2
Alt. 3
Smash Pack
Link (Medium)
Fierce Diety
Dark Link
Zelda
Kirby (Light)
Alt. Colors
Waddle Dee
Meta Knight
Ness(Floater)
Paula
Poo
Lucas
Astro Pack
Fox McCloud(Medium)
Falco Lombardi
Peppy Hare
Wolf O'Donnel
Samus Aran (Power Suit) (Cruiser)
Samus Aran (Varia Suit)
Dark Samus
Zero Suit Samus
Captain Falcon (Cruiser)
Doctor Stewart
Blood Falcon
Black Shadow
Pokemon Pack
Pikachu (Floater)
Rockstar Pikachu
Mew
Jigglypuff
Charmander (Light)
Bulbasaur
Squirtle
Eevee
Mewtwo (Cruiser)
Lucario
Greninja
Blaziken
Baddies Pack
Nabbit (Medium)
Mr. Blizzard
Charging Chuck
Bandit
Goomba (Light)
Octoompa
Blooper
Boo
Chukya (Cruiser)
Wallop
Brolder
Crabber
Legends Pack
Paper Mario(Light)
Paper Luigi
Paper Peach
Paper Kooper
Geno (Medium)
Axem Red
Mallow
Boomer
Brickle (Medium)
Popple
Fawful
Princess Shroob
Guest Pack
Megaman (Cruiser)
Protoman
Roll
Bass
Sonic (Floater)
Tails
Shadow
NiGHTS
PacMan (Medium)
Ms. Pacman
DigDug
Inky
DLC Vehicles
Name
Vehicle Type
Best Stats
Worst Stats
Smash Pack
Master Cycle
Bike
Handling
Acceleration
Warp Star
Kart
Speed
Handling
Chimerage
ATV
Offroad, Acceleration
Speed
Astro Pack
Chozo Mk. II
Bike
Acceleration
Speed
Blue Falcon
Kart
Speed, Acceleration
Handling
Landmaster
ATV
Handling, Offroad
Speed
Pokemon Pack
Acro Bike
Bike
Handling
Speed
Arceus
Kart
Handling, Acceleration
Miniturbo
Rayquaza
ATV
Handling
Speed
Legends Pack
Hooktail
Bike
Speed
Weight, Handling
Drill Digger
Kart
Miniturbo, Offroad
Speed
The Blade
ATV
Handling, Weight
Miniturbo
Baddies Pack
Parabeetle
Bike
Handling, Weight
Speed, Acceleration
Hurricane
Kart
Weight, Speed
Acceleration
Haunted Mount
ATV
Handling, Miniturbo
OffRoad, Speed
Guest Pack
Rush Bike
Bike
Speed, Weight
OffRoad, Handling
Galaga Starfighter
Kart
Speed, Handling
Weight
Tornado Mech
ATV
Handling, Speed
OffRoad
Vehicle Parts
Wheels & Gliders
Name
Type
Name
Type
Name
Type
Smash Pack
Hylian Kite
Drifter Glider
Dynawing
Bruiser Glider
YoYo
Booster Wheels
Astro Pack
G-Diffuser
Bruiser Glider
Sonic
Racer Wheels
Metroid
Dodger Glider
Pokemon Pack
Master Ball
Ranger Wheels
Charizard Chute
Drifter Glider
Shiny
Booster Wheels
Legends Pack
Paper
Ranger Wheels
ZeeKeeper
Dodger Gliders
Sheep
Racer Wheels
Baddies Pack
Boo
Racer Wheels
Swooper
Dodger Glider
Bowser Flag
Drifter Glider
Guest Pack
Scorch
Booster Wheels
Fruit
Ranger Wheels
Chao Glider
Dodger Glider
Community content is available under
CC-BY-SA
unless otherwise noted.