Mario & Luigi: Fabled Melody
Developer(s)
Publisher(s)
Platform(s)
Nintendo NX, Visus Sphere
Age Rating(s)

Genre(s)
Platformer, 3D Adventure, Rhythm, RPG
Series
Mario & Luigi (series)
Predecessor
Mario & Luigi: Paper Jam
Mario & Luigi: Fabled Melody
is an upcoming game for the Nintendo NX, it is part of the
Mario & Luigi Series
and once again focuses on our Plumber Heroes as they explore the peculiar Melodius Islands and a mysterious force that has stolen the Islands, Instruments of Harmony.
Synopsis
The game starts out with Mario & Luigi heading to Peach's Castle however are greeted by Toadsworth who explains that the Princess has decided to take a vacation from the Mushroom Kingdom and is going to visit a set of islands of the Far South of the Mushroom Kingdom, Toadsworth offers the bros to join them and Mario and Luigi happily accept, imagining what the islands could be like. As their plane takes off it is revealed that Bowser has snuck aboard in the luggage compartment, disguising himself as a very large handbag, the plane arrives and the trio walk out to see that the islands seem to have an unnerving sense of gloom about them, the bros go to investigate the predicament.
Gameplay
Gameplay for Mario & Luigi: Fabled Melody has a similar aspect to previous Mario & Luigi games, Mario and Luigi are able to engage enemies in battles through a variety of ways some giving them intial advantages while others hinder them. In addition the game features a melody system, this replaces the previous chase aspects of Dream Team & Paper Jam, in this mode Mario & Luigi perform combinations in unison for both their Bros. Attacks and dodging special enemy attacks, the button prompts are displayed as either the enemies attacks which follow the beat of the music being played or when performing Bros. Attacks as a rainbow band that has each button prompt indicated on the band for the player to press, hold or move when necessary.
All attacks follow the rhythm of each song being played and this includes regular attacks which while not as dynamic as the Bros. Attacks deal extra damage if the player taps certain buttons in between the Bros. attacking.
In addition the game features a large assortment of songs and some songs only occur based on the enemies faced, this means that facing multiple enemies of different types can result in different songs each time, while most enemies have simple variations on their standard theme for that enemy type for example Fire Versions of Enemies tend to have a Timpani added while Thunder Versions have Brass Instruments added. In addition bosses have between two and six themes that could be played, while these themes with the exception of the major bosses of the game only have minor variations this can change how that battle is handled. When performing bros. attacks they also have their own tunes that play when performed, these tunes also have slight variations depending on what Bro performs the attack as well as factors like the Augmentations the Bros. have.
In addition throughout battles if the player performs well they may acquire assistance in later battles from random common enemies such as Goombas, Koopas & Cheep-Cheeps. As long as the brothers pull off their rhythms well enough they will continue to gather assistants to help in their Bros. and Standard attacks.
Characters
| Character | Character Name | Description |
| --- | --- | --- |
| | Mario | The hero of the Mushroom Kingdom, Mario is willing to help anyone who needs his help. With his brother Luigi he has overcome many obstacles in his time and is ready to face whatever dangers will face him on the Melodius Islands. |
| | Luigi | Although not as brave in some manners as his brother Mario, Luigi has proven to be willing to help those who need it. Luigi is a bit of a coward especially towards Ghosts and other supernatural entities although is willing to overcome his fears for his brother and friends. |
| | Princess Peach | The Princess of the Mushroom Kingdom, Peach often finds herself at the center of the conflicts between the Bros. and Bowser, although no one is quite sure why she lets herself get captured so often she always seems to be able to be rescued by the Bros. or some exterior force. |
| | Bowser | The malevolent King of the Koopas, Bowser is a brute who lacks the brain to match, he is instinctive and often aggressive towards the Bros. due to their constant intrusion on his attempts to take over the Mushroom Kingdom. |
| | Toadsworth | The wise assistant of Princess Peach, Toadsworth acts as a bit of a mentor to the Bros. as he believes that between each major conflict they have they seem to lose their memory on fighting, or at least that's what he believes. Toadsworth isn't one to shy away from his duty however as he will fight Cane and Foot to defend the Princess from any kidnapper. |
| | Allegro | This little Musicolo is the daughter of the Leader of Port Crescendo. Her father, Vivace was kidnapped by the vile Vae Ictus and this left her in charge of the Town, although she has difficulty trusting the Mario Bros. as their entrance into the islands was untimely, she eventually grows to trust them and helps them in their quest. |
| | Vae Ictus | A dangerous Musicolo who was banished from all the settlements due to his destructive tendencies, on his banishment, Vae Ictus vowed to strike revenge on those who had wronged him and would turn the people against each other to do so. |
| | Tonitrui | This odd character is Vae Ictus' assistant, a bit of a clutz Tonitrui tries to act evil although moreso just comes off as a goof. Vae Ictus mainly uses him to bring in monsters to guard the Instruments of Harmony. |
Locations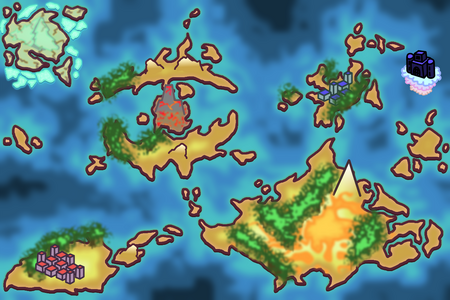 The Melodius Islands, are the location of Mario & Luigi: Fabled Melody. They are a series of 8 major islands with numerous smaller islands surrounding them. There are two developed towns on the South-West and North-East Major Islands, the towns are called Port Crescendo and Diminuendo Valley, in addition to these towns are a large array of small homes and villages scattered among the islands. Floating above the islands however is the ominous Sky Keep, that is said to have been built by a great and powerful Musicolo in times long since past. Other key features of the islands are the numerous forests that dot the landscapes, some of which are visible from a distance, there is also the Harmonius Mountain on the largest Island, the Orchestral Volcano on the middle island of the Red Eye Isles and the Chime Glacier that coats the North-West most Island.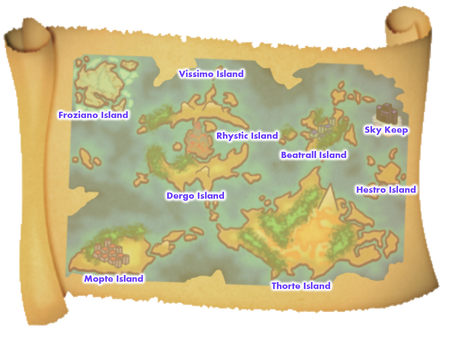 Across the Melodius Islands are the 8 major Islands from which the Melodius islands are formed, though their terrain does differ drastically the islands tend to share a similar climate. The largest Island is Thorte island which is believed to be the oldest while the two islands with towns are Mopte Island and Beatrall Island respectively. Hestro Island is largely barren of both foliage and sentient individuals while; Vissimo, Rhystic & Dergo Island comprise of what is known as the Red Eye Isles, with Rhystic Island being mostly comprised of the Orchestral Volcano. Froziano is the only island with any significant climate difference as the island is in perpetual winter for an unknown reason. Lastly above all of them although not technically an Island is Sky Keep, which commonly floats between Beatrall Island and Hestrao Island.
Places of Interest
Mopte Island
Mopte Island is a large Southern Island in the Melodius Islands. It is the first place Mario & Luigi visit throughout their adventure. Mopte Island is home to one of the two towns of the Melodius Islands, Port Crescendo, the Musicolo of this town are generally up beat and usually speak quite loudly when they have something important to say. Outside of Port Crescendo, Mopte Island is mostly plains with some heavier forests to the North, known as the Forest of Winds, which earns its name from the bizarre trees in the forest that have hollow leaves which resonate sound when a breeze blows through. To the east of the island is a small set of islands which is where one can find the Geometric Outcrop, a series of oddly shaped Rocks surrounding a cliff and cave area. It is said at the top of the Geometric Outcrop lies an Instrument of Harmony. Even further east on the smaller islands are the Stones of Hollow, these giant stones have odd metallic covers to them which when entered cause a crashing sound similar to a gong.
Places of Interest
Port Crescendo
Forest of Winds
Geometric Outcrop
Stones of Hollow
Thorte Island
The largest of all the islands, Thorte Island is a mostly desert island with very fertile flood plains around its coast. It is the second major Island the bros. visit. Thorte Island is mainly inhabited by numerous tribal Musicolos that live in small villages. They are seperated by the vast Raindrop Desert in the center and the Valley of Strings in the South-West. This Valley is Strings is the first major locations the bros. visit on Thorte Island and is an arid valley filled with strange strings covering the valley, creating an accessible, yet twisting path with numerous dead ends. It is suspected some sort of creature created these strings. The Raindrop Desert is the main feature of Thorte Island and is a vast desert known for the odd blue crystals scattered throughout. It is believed some sort of ancient civilization once lived within where the desert now stands and may have been the predecessors of the Musicolo. To the north of the Raindrop Desert is the Harmonius Mountain which shadows all of the Melodius Islands due to its sheer height, despite this however it never snows near the peak. The Mountain is filled with many creatures which throughout the day will create melodies depending on which ones are awake, hence where the Mountain gets its name. Finally around the West of the Harmounius Mountain lies a rugged terrain with few trees between its vast area known as the Hills of Horns. These peculiar hills are mostly hollow throughout and house a mysterious underground creature that makes bizarre horn noises to communicate.
Places of Interest
Valley of the Strings
Raindrop Desert
Harmonius Mountain
Hills of the Horns
Hestro Island
A lonely and small Island in the East of the Melodius Islands, Hestro Island is known for being rather barren of vegetation. At one point the Musicolo attempted to colonize but had no success and thus abandoned the effort. Ruins of this failed attempt still exist on the island to this day including the Cave of Flutes and Ruins of Treble which lie near the center of the Island. To the West is a mysterious bridge connecting the mainland to one of the small islands called the Strung Bridge. This odd bridge has large strings crossing the hole bridge's floor that when stepped on cause the bridge to emit low frequency strums. At the South of the Island is the Lonely Beach which has earnt its name for a single statue of a Musicolo located on the island, it is unknown who the Musicolo is however. To the north of the Island is the Relic Plateau an odd and completely barren plot of land that has cracks surrounding its sides, the plateau appears to have some sort of rocky formation in the shape of a ledger at its center. The Cave of Flutes which is located near the center of the Island was once home to Musicolo although they were driven out by the cave's inhabitants, the Cave now emits an eerie tone from the monsters within, it is believed that there is a curse on the Cave of Flutes. Finally the Ruins of Treble are the main attempt of the Musicolo to inhabit the island, these ruins tell of a town that was overrun by monsters and the Musicolo who fled the town, leaving in boats with few to none of their belongings. There are stories about the Ruins of Treble and while many believe the monsters attacked first, some believe that the rapid expansion of the town caused the monsters to be pressured into attacking.
Relic Plateau
Lonely Beach
Strung Bridge
Cave of Flutes
Ruins of Treble
Beatrall Island
The only other island in the Melodius Islands that has an established town, aside from Mopte Island, Beatrall Island is considerably smaller than Mopte Island and has several small islands surrounding it. The town in the center of the Island is called Diminuendo Valley and its people appear to be more wealthy than those who live in Port Crescendo as their Architecture is more ornate and their houses are more fancy than those found in Port Crescendo. The people however live a much more quite life although something about this quite lifestyle is off as though the people are forced into their tranquility. To the north of the Town is the Shattered Archipelago, this off tune location is said to have once been a sister island to Beatrall Island but due to an unknown force shattered it into many small islands, these small islands lack consistency in their tunes making music from the area off-key and chaotic. Another location, this time to the East of Diminuendo Valley in the jungles of Beatrall Island is the Keynote Chasm, this dangerous and ominous location has a mysteriously lonely tune that seems to only have a single instrument. The Chasm is riddled with monsters of varying dangers and it is said something mysterious lurks at the bottom. Finally, located on the island to the West of Diminuendo Valley lies the Splintered Fortress, a huge fortress that is completely made of wood, the fortress was once the home of a noble Musicolo although was abandoned and has since been overrun by the native wildlife.
Diminuendo Valley
Shattered Archipelago
Keynote Chasm
Splintered Fortress
Vissimo Island
One of the three Red Eye Isles, Vissimo is the Northern-most of the three and is the only one without a significant fire-based place of interest. Vissimo is surprisingly hot though as its temperatures are increased due to the heat from its southern islands. Vissimo Island has a small village said to be located in the rocky hills of the East of the Island called the Village of Lost Tunes, the Village is believed to be haunted as noises can be heard coming from it at night even though no one has stepped foot in the village in 20 years. Near the Village of Lost Tunes is the ominous and intimidating, Overgrown Mansion. Said to have once been home to an incredibly rich Musicolo, the Mansion fell silent when numerous monsters raided the Mansion, the whereabouts and condition of the Musicolo who lived there are unknown although the monsters now reside there as well. To the north is the Harp Peninsula a small, skinny island that got its name from its angelic appearance as a light fog runs across the entire island leaving only the peaks of the mountains easily visible, what's more is that the Harp in the name refers to the pleasant and soothing sounds that originate from within the fog although their origin is unknown. Finally In the South-West lies the Rattling Steam Pits. A bunch of water holes that constantly dry up in the day due to the extremely hot ground around them. This steam normally is slow and calm although occasional jets crack through the ground creating elevators to the areas above.
Village of Lost Tunes
Overgrown Mansion
Harp Peninsula
Rattling Steam Pits
Rhystic Island
The Center Island of the Red Eye Isles, Rhystic Island formed from a massive volcano sprouting out of the sea and this volcano makes up about 90% of Rhystic Island's land mass. Rhystic Island's key feature is the Orchestral Volcano which has been known to erupt quite frequently and has numerous lava rivers across it due to cracks in the surface. The Volcano is inhabited by numerous monsters that can survive in the heat and it is one of the locations for the Instruments of Harmony. On the Volcano is a place called the Temple of Fires which is said to have an ancient treasure buried deep within, although only the strongest explorer could ever hope to reach said treasure. Along the rim of the island is the Burnt Jungle, this Jungle somehow is constantly able to survive despite being frequently set ablaze by the Volcano, the ground is surrounded in ash and soot. Finally along the Volcano is an odd set of stairs known as the Marimba Climb, each stair plays a key, indicating they were purposely built by something.
Orchestral Volcano
Temple of the Fires
Burnt Jungle
Marimba Climb
Dergo Island
The Southern of the three Islands of the Red Eye Isles, Dergo Island is known to have a small group of fisherman on its south coast who catch and sell a rare fish known as the Rainbow Cheep-Cheep that occasionally has been sighted near where they fish, the Pareme Docks. In the West of the Island lies the bizarre, Neon Jungle, a Jungle comprised of lights, electronics and robotic trees. It is unknown who built it although the Jungle sustains itself on natural energy to survive. Near the center of the island is the Marching Cave, a cave known by the Musicolo of Dergo Island for its constant sound of marching and has been described as a hypnotizing melody that has caused several Musicolo to go missing. Finally along the Eastern Coast of Dergo Island is the Duet Coast which gets its name from the numerous groups of two on the coast from rocks and creatures so features and even the grass and sand itself.
Pareme Docks
Neon Jungle
Marching Cave
Duet Coast
Froziano Island
Possibly the most unusual island of the Melodius Islands, Froziano Island is the North-East most island and is surprisingly mostly covered in Ice. It has several glaciers floating around its coast including one known as the Chime Glacier which has many icicles hanging from it which make various tunes in the winds that blow through. Around the North of the Island are the Percussion Glaciers which when stepped on produce various sounds of percussion instruments, the largest of which appears to make the same sound as a Bass Drum. On the mainland itself there was once a village of Musicolo who worshipped a mysterious artifact, contact with them was lost many years ago and it is feared the artifact has turned them into something else, the Musicolo would mourn their lost ones at the Graveyard of Bells, where large bells would ring a low-key sound throughout the night. On the icy landscape near the Graveyard of Bells is the Phantom Castle, a mysterious and ominous location that is said to appear and disappear at will, no one is sure if the legend is true or not as most Musicolo are too afraid to investigate the island.
Percussion Glaciers
Chime Glacier
Graveyard of Bells
Phantom Castle
Other
The following descriptions are for the location below said description.
The mysterious and ominous, Mechazz Island supposedly appeared out of nowhere and no one appears to visit or leave the island. While the island looks perfect in every way sailors and water creatures from around the area have described hearing machinery and gears crunching when going near the island. Many Musicolo believe the island to be the work of a demon.
TBA
Accordian Seas
Ruins of Bass
Baut Whirlpool
Conduction Tower
Sky Keep
Bosses
Boss
Location
Level
HP
Power
Defense
Speed
Strung Viper
Bridge of Port Crescendo
3
60
32
24
10
Goombell
Forest of Winds Outpost
8
48
19
20
16
Tri-Face*
Geometric Cavern
10
100
60
32
12
Slide Beetle
Forest of Winds Grove
12
84
45
40
21
Praying Bowntis
Geometric Outcrop Coast
12
104
72
27
24
Mazooth
Forest of Winds Elder Tree
14
136
55
33
18
Biddyboe
Stones of Hollow Secret Passage
14
95
38
18
15
Tamborantula
Forest of Winds Web Chamber
16

100 Main Body

32 per leg (8)

60
28
25
Bowser 1st Time
Valley of Strings Base
15
150
80
40
15
Trumpant Chief Guard
Raindrop Desert Fortress
16
140
66
50
32
Trumpant Queen*
Harmonius Mountain Trumpant Nest
20
200
90
64
28
Cataphone
Hills of the Horns
21
112
46
26
24
Whistler Dog
 Cave of Flutes
21
215
70
53
26
Chordra
Relic Pleateau
22
90 per Head (3)
105
66
19
Uniola
Lonely Beach
23
260
78
78
35
Trollo*
Under the Strung Bridge
25
300
110
80
40
First Mate Bass
Splintered Fortress Holding Cells
24
110
50
45
33
Captain Treble
Splintered Fortress Tactics Room
26
150
75
56
48
Tonitrui 1st Time
Shattered Archipelago Gate
27
480
45
50
50
Humpbass Whale
Shattered Archipelago Boardwalk
28
800
130
80
10
Amphorses
Shattered Archipelago Whirlpool Entrance
26
80 each (6)
58
63
60
Rocktopus*
Shattered Archipelago Whirlpool Basin
30

400 Main Body

30 per leg (8)

140
120
58
Floohemute
Village of Lost Tunes City Hall
31
512
126
100
32
King Floo
Overgrown Mansion Bedroom
33
490
150
115
64
Fluttering Pipes
Harp Peninsula
34
32 each (16)
88
96
70
Hypno Piper*
Overgrown Mansion Roof
35
550
160
150
90
Flaming Horn
Rattling Steam Pits Main Pit
35
400
105
112
78
Ukeleleon
Burnt Jungle Vineway
35
240
150
94
110
Bongaconga
Burnt Jungle Clearing
36
580
98
114
92
Spimpani
Marimba Climb Arena
37
470
112
100
84
Bowser 2nd Time
Marimba Climb Peak
36
600
160
80
75
Mariggler
Marimba Climb Peak
37
680
155
75
102
Xylter Children
Orchestral Volcano Magma Dome
28
120 each (7)
95
90
90
Xylter Bird*
Orchestral Volcano Peak
40
750
190
180
115
Albumatross
Pareme Docks Shiphouse
41
812
210
126
106
Bass Hive
Neon Jungle Hive Entrance
40
1500
0
1000
50
Hi Hat Guards
Marching Cave Tower
32
50 each (15)
50
46
140
Cymbal Knights
Marching Cave Fortress
35
300 each (3)
100
102
150
Queen of Drums*
Marching Cave Pit
45
1000
225
200
136
Classicromancer
Chime Glacier Dome
46
200
230
190
147
Trombat
Graveyard of Bells Entrance
47
600
125
138
135
Bowser 3rd Time
Phantom Castle Entrance
48
1500
240
160
94
Trombat Lord*
Phantom Castle Crypt
50
1400
250
200
159
Banjo-Tron
Mechazz Factory Entrance
51
1500
225
210
155
Snarminator
Mechazz Factory Security Room
52
1750
240
180
165
Mecha Sax
Mechazz Factory Airbase
54
1800
210
195
175
J.A.Z. Machine*
Mechazz Factory Core
55
2000
280
225
185
Roargan
Accordian Seas Deep
57
1900
250
210
148
Kreepboard
Ruins of Bass Colosseum
57
1400
280
176
200
Harshsichord
Ruins of Bass Thron Room
57
1650
275
244
174
Keynote King*
Keynote Chasm Cannon Room
60
4000
300
220
212
Voca Chief
Conduction Tower Basement
62
3900
390
276
234
Tonitrui 2nd Time
Conduction Tower Control Room
65
4200
450
300
250
Vae Ictus
Sky Keep Throne Room
65
5000
500
300
275
???
Ruins of Sky Keep
68
10000
515
450
300
Bros. Attacks
The Bros. Attacks return as a feature for the battle system in Mario & Luigi: Fabled Melody. Bros. Attacks have their own mini-tunes that act as the music while button prompts line up with key notes in the tunes. Mario and Luigi learn a variety of Bros. Attacks, with 17 Bros. Attacks for each Bro, most are learnt through leveling up through the game although a handful are learnt automatically through the game's storyline.
Taught Bros. Attacks are given by the Gigi and Merri at various intervals in the game and their attire changes according to which Bros. Attack they are teaching Mario and Luigi.
| Bros. Attack | Bro User | Level Learnt | Description |
| --- | --- | --- | --- |
| Stomp Bros. | Mario | Start | Causes the Luigi to launch Mario into the air causing him to crash down on an enemy causing massive damage. If perfect this attack causes a tremor, hurting the other enemies, it doesn't work on Spikey Enemies though. If the player has Goomba assistants they will also be launched by Luigi and although they inflict less damage than Mario will help in the attack overall. |
| Charge Bros. | Luigi | Start | Mario hurls Luigi off his hammer from far away, Luigi spins while flying towards the enemies, on impact he deals lots of damage to every enemy with more damage done to enemies closest to the point of impact. If perfected this attack can knock over enemies although it doesn't work on Shielded Enemies. If the player has Chargin' Chuck assistants they will charge in after Luigi inflicting damage on random enemies. |
| Hammer Bros. | Mario | Lv4 | Mario and Luigi link their arms behind their backs and begin spinning rapidly with their other arms holding their hammers out. They ram into the enemies during this phase causing the enemies to suffer damage from multiple hits. If perfected the hammers are thrown at the end of the spin and return to the bros. If the player has Koopa Troopa assistants, the Koopas will hide in their shells and spin around as well, bouncing off the bros hammers inflicting even more damage. |
| Digger Bros. | Luigi | Lv4 | In this attack, the Mario spins Luigi rapidly before Luigi burrows underground feet first, he eventually bursts out of the ground inflicting damage on the enemy targeted, launching the enemy into the sky. If perfected Luigi will launch a bunch of rocks out with him, damaging the other enemies. If the player has Monty Mole assistants, they will also attack the other enemies depending on how many assistants the player has. |
| Sky Shot Bros. | Mario | Lv10 | Mario launches Luigi into the air with his arms and then runs following Luigi who pulls out his hammer and begins performing back-flips, upon hitting the ground, Luigi's hammer launches Mario skyward causing him to perform a massive jump from which he rockets down at high speed causing a lot of damage to the target. If perfected this attack will cause Mario to catch alight on the way down, burning the enemy. If the player has Paratroopa assistants, they will also attack the other enemies depending on how many assistants the player has. |
| Driller Bros. | Luigi | Lv10 | Luigi holds out his hammer and Mario swings his, causing Luigi to rapidly spin in place, eventually jumping into the air and burrowing underground, the player controls Luigi as he digs to reach the enemies, once reaching them, bursting out of the ground dealing damage to everyone. The enemy targeted from this attack will be launched up with Luigi who will repeatedly hit it while still spinning. If perfected this attack will cause Luigi to lose his hammer at the peak of his jump, after realizing his hammer is missing it lands on another enemy damaging them. If the player has Dry Bones Assistants, they will hold the enemies close together allowing Luigi to hit all enemies repeatedly, how many enemies are held together depends on how many assistants the player has. |
| Fireball Bros. | Mario | Taught | Mario charges up a large Fireball and launches it at the targeted enemy, Luigi and Mario then interval between hitting the Fireball back into the enemy with their hammers, if the enemy falls the fireball will target the closest enemy. If this is perfected then on the final swing, Mario will launch the Fireball into the sky causing it to crash down on all the enemies inflicting lots of damage and burning all of them. If the player has Podoboo Assistants they will tail the Fireball causing even more damage although don't need to be hit by the hammers like the Fireball is. |
| Thunderstrike Bros. | Luigi | Taught | Luigi summons a small orb of lightning Mario then balances the orb of lightning on his hammer while Luigi strikes various poses, each pose adding more energy to the orb as it gradually increases in size. Finally after it reaches its maximum capacity Luigi slams the Orb of Lightning off Mario's Hammer and into all the Enemies. If perfected aside from the attack leaving any surviving enemies paralyzed, it will also allow Mario and Luigi to attack again. If the player has any Amp Assistants they will circle the Orb of Lightning as it is charged and will inflict additional damage after the initial orb. |
| Pulse Bros. | Mario | Lv17 | Mario & Luigi begin performing a snake dance that starts out slow but gradually gains speed, as they dance on specific beats the will release a blast of energy at the targeted enemy dealing damage, the faster the dance the stronger the energy blasts. If perfected, when the bros. get to max speed they spin around together generating huge blasts that hit all enemies. In addition, if the player has any Cobrat Assistants they will join in the dance attacking the enemies directly throughout the battle. |
| Shadow Bros. | Luigi | Lv17 | In this attack, Luigi dons a mysterious black body suit and hides behind Mario's Shadow, Mario then walks over to the enemies and Luigi leaps out from behind striking an enemy and then hiding in one of their shadows. The enemies will look in confusion but once they stop looking Luigi can strike again. If perfected, Luigi will actually duplicate multiple versions of himself to strike all enemies as once. If the Bros. have any Shadow Assistants they will perform additional strikes on the enemies while the enemies are confused. |
| Catapult Bros. | Mario | Lv24 | Mario and Luigi load themselves into a Catapult, this launches them into the air, while in the air they perform various techniques that equate to substantially increasing their ground pound powers, the bros. then land on the enemies dealing massive damage and possibly a status effect. If perfect the Status effect is guaranteed and the Mario Bros. have increased POW for the next turn. In addition if the Bros. have any Rex Assistants they will also join in on the catapult and together everyone forms a ball causing more damage, the more Rex Assistants, the great the damage inflicted. |
| Spike Bros. | Luigi | Lv24 | Luigi dons a Spiny Helmet and Mario dons a Spiny Shell on his back, the two bros. then roll up in a ball and charge into the enemies, they then charge back into the enemies and repeat this a few times. If perfected enemies will be Tripped and if the player has any Spiny Assistants they will roll up into smaller spiny balls that will trail behind the bros. inflicting additional damage. |
| Bowling Bros. | Mario | Lv30 | The bros. run away from the enemies to a far distance and then charge at the enemies while jumping over each other, once they get close enough, they roll up into balls and slam into the enemies knocking them over and dealing significant damage. If performed perfectly this attack will call out Strike and deal 10x more damage, in addition if the player has any Buzzy Beetle Assistants they will help the bros. by following after them dealing more damage. |
| Rocket Bros. | Luigi | Lv30 | In this attack the two bros. jump very high up in the air and Mario launches Luigi from his hands even higher. Luigi then flutters for a few seconds pulling off a couple of poses before rocketing down towards the enemies, as he rockets downwards Luigi can catch alight by correct button timing. Luigi crashes into the enemies dealing huge damage overall, if this attack is done perfectly Luigi will burn the enemies. If the player has any Bullet Bill assistants they will trail Luigi on the way down dealing additional damage. |
| Flare Bros. | Mario | Taught | Mario summons giant fireballs which he pelts at the enemies to deal damage, as he continues to attack the fireballs become hotter and hotter dealing more damage with each hit. If perfected the Final Fireball will cause an explosion dealing massive damage to all enemies. In addition if the Bros. have any Fire Bros. assistants they will join in as well to help the bros. deal more damage. |
| Bolt. Bros. | Luigi | Taugh | Luigi sends a small spark up into the air, once it reaches the peak of its flight it bursts into a ball of energy and follows Luigi who rans past and over enemies causing the ball to inflict damage. Eventually Luigi performs an L-Missile through the enemies causing the ball of energy to explode releasing a powerful electrical shock. If perfected this explosion will guarantee the enemies become paralyzed, in addition if the Bros. have any Thunder Bros. assistants they will surround the enemies and pelt Thunderballs at the enemies dealing minor damage. |
| Gravity Bros. | Mario | Lv35 | Mario and Luigi grab a pair of enemies and begin swinning them around rapidly, they then slam the enemies into each other before launching them upward, while in the air the bros. can launch them even higher with their hammers. If perfected standard enemies will be ejected from the battle. If the player has any Slurple Assistants they will suck up other enemies on the battlefield into the air to provide additional targets for the bros. |
| Meteor Bros. | Luigi | Lv35 | Mario launches Luigi extremely high up with his hammer, cauising Luigi to become squished like a ball, as he falls Luigi can orientat himself to maximize damage, once he crashes he deals massive damage to all enemies. If perfected Luigi will also bring out his hammer and begin swinging around causing even more damage to the enemies. If the player has any Cragmaargh Assistants they will rocket down behind Luigi dealing additional damage and potentially burns. |
| Freeze Bros. | Mario | Taught | Mario charges up a large ball of ice which he holds above his head, Luigi then knocks the ball of ice into the enemies with his hammer, causing damage and possibly freezing the enemies. If perfected this attack guarantees to freeze the enemies and also will cause the ball to explode on impact releasing smaller snowballs to hit the enemies. If the player has any Cooligan Assistants they will follow the Ice ball charging into random enemies. |
| Terra Bros. | Luigi | Taught | Luigi charges up his Electric Power and strikes the ground causing the ground in front of him to launch up into the air, inficting damage on the target. If perfected this attack launches small shards of rock that deal critical damage to all other enemies. In addition if the player has any Thwimp Asssistants they will crash down on the enemies as well. |
| Copy Bros. | Mario | Lv39 | Mario pulls out a bag full of Double Cherries and throws them in the air, the Bros. catch and duplicate while in the air, once they all land they run a bit back and charge in single file, jumping on the various enemies. If perfected the last copy to attack will perform a ground pound causing additional damage to its target as well as damage to all other enemies in the form of a shock wave. In addition if the player has any Metal Blob Assistants they will attach to each bro as the bros. jump turning them into Metal Mario & Metal Luigi causing them to inflict more damage. |
| Starlight Bros. | Luigi | Lv39 | Mario & Luigi pull out Superstars and activate their invincibility powers. The two bros. charge into the enemies and then launch into the sky with all the enemies. The bros. then summon giant rainbow stars to rain on the enemies causing damage to each target through each direct star and lesser damage from the explosion of each star. If this move is perfected the final Star will be created by both Bros. and be far larger, this star will then crash down on all the enemies launching them back into the ground dealing damage twice as well as explosive damage. If the player has any Brolder Assistants they will fuse with the stars and orbit around all the enemies, once all stars have been launched they will then charge into the enemies inflicting greater damage. |
| Flying Bros. | Mario | Lv44 | Mario & Luigi pull out Para-Wings and attack them to their backs, they then fly up high and then ground pound on the enemies. As they rise up and are falling down the player needs to press the buttons in sync with the music to keep the bros. flying up or falling faster. If this attack is done perfectly, the bros. will trip the enemies allowing for addition attacks. If the bros. have any Lakitu assistants, they too will fly up with the bros. and then drop Spiny Eggs on the enemies. |
| Rammer Bros. | Luigi | Lv44 | The bros. line up side-by-side and lift out part of the ground creating a shield. The bros. then charge at the enemies, running so fast that if they perform this attack perfectly it will send small enemies flying. The bros. drop the shield on the enemies inflicting additional damage. If the Bros. have any Ramram assistants they will follow on after the bros. inflicting additional damage and also breaking enemy shields. |
| Megaton Bros. | Mario | Lv48 | The Bros. ingest a pair of Mega Mushrooms causing them to grow to giant sizes, the Bros. then perform a giant version of the original Splash Bros. attack from Mario & Luigi: Superstar Saga, the attack follows the same movements although requires more button prompts and flows with a tune. If perfected the Bros. perform the advanced version of the Attack instead, resulting in massive Damage. If the Bros. have any Propelli Assistants they will join Mario on the dive section of the attack. |
| Spook Bros. | Luigi | Lv48 | The Bros. ingest a pair of Boo Mushrooms causing them to turn into Boos, they then begin spinning around rapidly causing them to charge into their enemies, as they spin faster their bodies spread out wider allowing them to attack more enemies at once. If perfect Mario and Luigi will become a disk shape and spin against all the enemies at once dealing massive damage and cutting through shields. If the Bros. have any Circling Boo Buddies Assistants they will create outer rings to the spinning circle and inflict proportional damage. |
| Chain Bros. | Mario | Lv53 | The Bros. form an arm link and use it to lift an enemy onto their arms and launching it into the sky causing them to take extremely high damage upon landing. If perfected the bros. will quickly launch all enemies into the sky, in addition if the bros. have any Chain Chomp assistants they will bite onto the targetted enemy dealing considerably more damage. |
| Dancing Bros. | Luigi | Lv53 | The Bros. charge up a mysterious energy and then run back away from the enemies and then dash at them extremely quickly, as the bros. run towards the enemies performing various dance moves. Once they reach the enemies they jump in the air striking a pose, unleashing the powerful energy dealing damage to all enemies and possibly inflicting a random status, this random status is guaranteed and greater damage is dealt if the bros. pull off the attack perfectly. In addition if the player has any Treb & Bas Assistants they will join in dancing behind Mario & Luigi dealing further damage and possibly scaring normal enemies away. |
| Blizzard Bros. | Mario | Taught | Mario hops on top of Luigi who balances his brother as Mario channels the power of the cold. Mario absorbs the cold energy around him and once he has absorbed all the energy possible, jumps from Luigi's hands and unleashes a devastating blizzard that may freeze the enemies, this is guaranteed if done perfectly and also hits all enemies. If the player has any Brrs they will join in the blizzard attacking increasing its power and duration based on how many there are. |
| Quake Bros. | Luigi | Taught | Mario uses a Double Cherry creating duplicates of himself which pull out a massive rubber band, Luigi then runs away from the enemies into the rubber band, once he has run as much as possible he is launched back at the enemies, and charges into the ground with such force that it causes a fissure to open up causing damage to the enemies caught in the fissure, if this is performed perfeclty not only will the fissure hit all enemies but spikes will break from the fissure to deal further damage to the enemies. If the player has any Spike assistants they will roll their spike balls along the fissure hitting random enemies. |
| Cannon Bros. | Mario | Lv60 | The bros. pull out a bunch of Double Cherries causing them to duplicate themselves into 10 Marios and 10 Luigis. From there they run back from the enemies and pull out a Cannon, they then jump into the cannon and after the cannon loads to fire, they are launched out in the reverse order they jumped in. The player must press each Bros. button as they hit the enemie, if done perfectly the Cannon will get up and become sentient and charge into all the enemies dealing additional damage. In addition if the player has any Banzai Bill Assistants they will fuse with the Bros. in the cannon causing the bro launched to deal more damage. |
| Crowd Bros. | Luigi | Lv60 | Luigi pulls out a large number of Double Cherries and uses all of them on himself creating an army of Luigis, the two bros. then run back from the enemies and Mario pulls out his hammer, as the Luigis run past Mario, the player must press Mario's button to launch the Luigis into the enemies at which the player must press Luigi's button to deal a good chunk of damage. If done perfectly each Luigi will catch on fire from the launch and possibly burn the enemies. In addition if the player has any Fliprus Assistants they will join in between Luigis dealing additional damage. |
| Thermal Bros. | Mario | Taught | Mario raises both his hands in the air, one begins charging a Fireball while the other charges an Iceball, as Mario increases the mass of both balls of energy Luigi walks up behind him and pulls out his Hammer, Mario then combines the two together creating a Thermaball while Luigi levers his Hammer back, Luigi then hits the ball causing it to launch at the enemies with high velocity. Upon impact if the attack was performed perfectly the enemies will be burnt or frozen solid, if not than there is only a chance they will. In addition if the Bros. have any Fire Bros. or Ice Bros. Assistants they can power up the Thermaball even moreso causing it to inflict greater damage. |
| Metal Bros. | Luigi | Taught | Luigi coats Mario and himself in a layer of earth and then summons a Lightning bolt that strikes them both turning them into Metal Mario and Metal Luigi. The Bros. then charge at the enemies knocking them over with great power, if the attack is done perfectly the bros. will create seismic waves with their running dealing additional damage. Also if the player has any Metal Blob Assistants they will add their mass to Metal Mario and/or Metal Luigi causing them to deal more damage with each charge. |
Enemies
A variety of enemies both returning and new comprise of the main creatures Mario & Luigi will face along their way through the Melodius Islands.
Enemies
Goomba
Goomba Commando
Gombhorn
Gombhorn Hunter
Gombhorn Chief
Flowmba
Goomba Tower
Gombhorn Tower
Green Koopa Troopa
Red Koopa Troopa
Blue Koopa Troopa
Trumpa Troopa
Tromba Troopa
Tuba Troopa
Hornatroopa
Drumbo Troopa
Hammer Bro.
Fire Bro.
Ice Bro.
Thunder Bro.
Boomerang Bro.
Chomp Bro.
Para Bro.
Sumo Bro.
Bow Bro.
Drumstick Bro.
Fluter Bro.
Red Shy Guy
Blue Shy Guy
Yellow Shy Guy
Shadow Guy
Fly Guy
Banjo Guy
Electar Guy
Basstar Guy
Dry Bones
Rattle Bones
Xylo Bones
Marimbones
Accornax
Bagpinax
Orgarrnax
Thwomp
Big Thwomp
Thwimp
Whomp
Pianomp
Drumomp
Chain Chomp
Drum Chomp
Timpa Chomp
Bongo Chomp
Bullet Bill
Banzai Bill
Bullet Horn
Oboe Bill
Bassoon Bill
Wheelharp Bill
Monty Mole
Wealthy Mole
Heavy Mole
Mighty Mole
Kalimba Mole
Bellowphone Mole
Pipe Tree
Singing Pipe Tree
Sharpsicord Pipe Tree
Holophonix Pipe Tree
Koopa Paratroopa
Harpic Paratroopa
Harpitar Paratroopa
Lakitu
Lakiharp
Lakithunder
Lakiano
Lakigan
Lakiphone
Spiny
Dark Spiny
Spinute
Spininet
Spinillo
Boo
Podoboo
Chilly Boo
Big Boo
Broozer
Hushaboo
Meloboo
Technoboo
Amp
Big Amp
Synth Amp
Neon Amp
Cobrat
Flare Cobrat
Strinbrat
Cellobrat
Guibrat
Harbrat
Shadow
Lake Shadow
Lunar Shadow
Shadoomba
Shada Troopa
Shaditu
Shaggler
Wiggler
Toxic Wiggler
Claviggler
Cymbaggler
Tamboriggler
Volick
Red Crescendor
Blue Crescendor
White Dimuve
Black Dimuve
Altal Bot
Thraltal Bot
Heavtal Bot
Nutal Bot
Deatal Bot
Metalore Bot
Folkoat
Rockitar
Rockorum
Rockical
Rockano
Red Cheep-Cheep
Yellow Cheep-Cheep
Spiny Cheep-Cheep
Porcu-Puffer
Stormy Cheep-Cheep
Steleep-Dreep
Xyleep-Cheep
Bongeep-Bongeep
Paneep-Fleep
Urchin
Orgchin
Big Orgchin
Bob-Omb
Red Bob-Omb
Para Bomb
Retro Bomb
Timer Bomb
Cannon Bob-Bomb
Ninji
Purple Ninji
Sleepy Melody Ninji
Blockstepper
Marching Tune Blockstepper
Hot Pepper Blockstepper
Tubastepper
Basstepper
Batonstepper
Trombostepper
Pipestepper
Piranha Plant
Fire Piranha Plant
Nipper Plant
Bellper Plant
Tripler Plant
Piranha Creeper
Taiko Creeper
Stalking Piranha Plant
Trombo Piranha Plant
Piranha Walker
Chimanha Walker
Walking Orches
Brass Orches
Wooden Orches
Para-Wooden Orches
Percussion Orches
String Shooter Orches
Piccileo
Saxanther
Bagpiger
Vocaheads
Ampli-Vocaheads
Ampli
Ampli Swarm
Tringle
Bellibird
Chimate Bird
Mad Musciolo
Infected Musicolo
Brass Musicolo
Horn Musicolo
Stone Horns
Stone Strings
Stone Keys
Stone Drums
Stone Pipes
Stone Bells
Kazonkey
Whistonkey
Acconkey
Fire Kazonkey
Fire Whistonkey
Fire Acconkey
Bagponkey
Toutrangle
Green Trumpet Cobrat
Green Trombone Cobrat
Green Tuba Cobrat
Blue Maracagas
Red Maracagas
Steamaker
Buzzy Beetle
Bolty Beetle
Bongo Beetle
Snaring Beetle
Bass Beetle
Taiko Beetle
Steely Beetle
Chargin' Chuck
Bongo Chuck
Trumpeter Chuck
Ukelele' Chuck
Maraca' Chuck
Snifit
Fire Snifit
Ice Snifit
Trumpet Snifit
Tuba Snifit
Horn Snifit
Vocal Snifit
Flute Snifit
Laser Snifit
Bullet Snifit
Blooper
Stone Blooper
Calabooper
Fire Blooper
Mama Blooper
Blooper Jr.
Marimbalooper
Xyblooper
Balafooper
Gonglooper
Glooper
Flurry
Spikey Flurry
Bagpipe Flurry
Saxa Flurry
Horn Flurry
Tweeter
Hornter
Organter
Jelectro
Giant Jelectro
Clapperlectro
Tamborlectro
Jellybeam
Giant Jellybeam
Clapperbeam
Lava Lotus
Frost Lotus
Electro Lotus
Spike Lotus
Screamer
Howler
Brass Ghoul
Wooden Ghoul
Leather Ghoul
Trombat Youngling
Trombat
Trombat Lord
Trombat Grand-Lord
Fire Drum Worhsipper
Fire Oboe Worshipper
Fire Sax Worshipper
Neonoomba
Neona Troopa
Bright Chomp
Flash Bros.
Rainbow Cheep-Cheep
Rainbow Porcu-Puffer
Steelotree
Titanotree
Aluminitree
Cupid Harpers
Cupid Pianists
Dancing Boos
Cellolancer
Violarcher
Basshammer
Violinight
Waldrum
Walgong
Bongeal
Drumeal
Trumphant
Tromphant
Tubaphant
Horphant
Blue Slurple
Pink Slurple
Purple Slurple
Brass Slurple
Magmaargh
Sandmaargh
Frostmaargh
Cragmaargh
Drumbaargh
Cymbaargh
Guitaargh
Cybeaargh
Desert Tooth
Magma Tooth
Frost Tooth
Key Tooth
Pipe Tooth
Xylo Tooth
Vocal Tooth
Horn Tooth
Blue Magikoopa
Red Magikoopa
Green Magikoopa
Yellow Magikoopa
White Magikoopa
Black Magikoopa
Siren Magikoopa
Beat Magikoopa
Rhythmic Magikoopa
Conducto Magikoopa
Eerie
Scary Eerie
Pianeerie
Organeerie
Reznor
Ice Reznor
Uncooligan
Blue Cooligan
Red Cooligan
Ice Cooligan
Trumpooligan
Hornooligan
Synthooligan
Beatbooligan
Spearidus
Hammerdus
Doctordus
Drumdus
Horndus
Didgerdus
Raindus
Xylodus
Metal Blob
Copper Blob
Gold Blob
Silver Blob
Platinum Blob
Honk Blob
Bell Blob
Pipe Blob
RB Motley Bossblob
GP Motley Bossblob 
YW Motley Bossblob
Tuba Motley Bossblob
Taiko Motley Bossblob
Oboe Motley Bossblob
Brolder
Iron Brolder
Diamond Brolder
Marabrolder
Castabrolder
Boss Brolder
Tamboss Brolder
Ka-Thunk
Bell Ka-Thunk
Chime Ka-Thunk
Bully
Ice Bully
Cellully
Bassully
Bald Klepto
Gold Klepto
Cymbalepto
Mad Piano
Mad Organ
Mad Harpsicord
Mad Keyboard
Mad Xylophone
Purple Ramram
Red Ramram
Blue Ramram
Saxaram
Oboram
Tubaram
Hot Foot
Cold Foot
Melody Foot
Terra Foot
Yellow Nitpicker
Blue Nitpicker
Yellow Capnap
Red Capnap
Banananap
Bellnap
Beehoss
Iron Beehoss
Hornhoss
Riffhoss
Dinopet
Dinobone
Dinoba
Dinohorn
Dinophone
Dinonet
Dinolute
Dinoccilo
Gustor
Cyclustor
Propelli
Jetelli
Circling Boo Buddies
Spiky Boo Buddies
Fused Boo Buddies
Orchestra Boo Buddies
Jazz Boo Buddies
Rock Boo Buddies
Pop Boo Buddies
Folk Boo Buddies
Treb & Bas
Harp & Pia
Ita & Dru
Apho & Tru
Green Cactilli
Red Cactilli
Blue Cactilli
Black Cactilli
Robox
Robolf
Silver Robolf
Cyberolf
Rail Jailer
Rail Chief
Charocal Charger
Charcoal Burner
Charcoal Blitzer
Rail Trumpeteer
Rail Guitarist
Charocoal Pianist
Charcoal Synthist
Rail Chief Drummer
Rail Chief Vocalist
Charcoal Blue Burner
Green Spike
Blue Spike
Fire Spike
Drummer Spike
Brr
Fire Brr
Wind Brr
Vocal Brr
Blazat
Blue Blazat
Trumpa Blazat
Tria Blazat
Inferog
Black Inferog
Drum Inferog
Taiko Inferog
Pebble Frog
Dancing Pebble Frog
Disco Pebble Frog
DJ Pebble Frog
Spookle
Spooklester
Horn Spooklester
Cymbal Spooklester
Flute Spooklester
Babble
Blitz Babble
Bashful Babble
Bloated Babble
Bully Babble
Baron Von Babble
Bubble Babble
Blue Cataquack
Red Cataquack
Brass Cataquack
Wodden Cataquack
Strollin' Stu
Soarin' Stu
Keyboard Stu
Harmonica Stu
Fliprus
Icy Fliprus
Marimbrus
Xylorus
Mechar Shark
Crystar Shark
Tubar Shark
Guir Shark
Choppah
Spiked Choppah
Fluttah
Clarrah
Piccah
Obbah
Pupdozer
Shelldozer
Xylodozer
Celldozer
Glamdozer
Hansdozer
Grandozer
Bassdozer
Twirlip
Fire Twirlip
Stone Twirlip
Chime Twirlip
Clapper Twirlip
Rex
Blue Draglet
Red Draglet
Dragloon
Charcoal Dragloon
Trumplet
Drumglet
Trombloon
Taikloon
Stingby
Stingby Warrior
Hornby
Fluteby
Stingby Knight
Stingby Paladin
Bassoonby
Saxaphonby
Prongo
Giant Prongo
Prongo Tower
Orchaprongo
Relicrow
Laser Relicrow
Neon Relicrow
Timpani Relicrow
Horn Relicrow
Violin Relicrow
Giant Relicrow
Keynote
Shield Keynote
Keynote Warrior
Keynote Archer
Fire Keynote
Ice Keynote
Keynote Knight
Keynote Cannon
Parakeynote
Treblnote
Bassnote
Keynote Guard
Keynote Mage
Pumpki
Giant Pumpki
Rotting Pumpki
Bellki
Rusted Bellki
Robonet
Laser Robonet
Electric Robonet
Conkdor
Longdor
Trombodor
Cellodor
Bassodor
Violidor
Xylodor
Marimbodor
Evleye
Charcoleye
Frosteye
Buzzye
White Dicemond
Red Dicemond
Glass Dicemond
Horn Dicemond
Jester Jack
Grand Duke
Bellster Jack
Song Duke
Porcupo
Steel Porcupo
Bagcupo
Brass Porcupo
Clawclapper
Clawstanet
Clamborine
Clawiangle
Rambam
Stone Rambam
Ice Rambam
Iron Rambam
Electar
Electass
Galactar
Galactass
Orchada
Metal Orchada
Rock Orchada
Grand Orchada
Assistants
Assistants will join Mario at the end of a battle if they perform their Rhythm-based attacks well enough. The chance of getting an assistant depends on the rarity of that assistant as well as how well the player performs a particular attack during their battles.
Perfect - 100% for Assistant
Awesome - 80% for Assistant
Great - 50% for Assistant
Good - 25% for Assistant
Ok - 10% for Assistant
Poor - 0% for Assistant
Using certain Bros. Attacks will spend these assistants, although alternatively the player can use the Assistants in attacks known as Assistant Attacks that have all the available assistants the Bros. have with them attack in rhythm with the battle itself.
Assistant Type
Convertable Enemies
Goomba

Goomba
Goomba Commando
Gombhorn
Gombhorn Hunter
Gombhorn Chief
Flowmba
Goomba Tower (Up to 8)
Gombhorn Tower (Up to 8)

Chargin' Chuck

Chargin' Chuck
Bongo Chuck
Trumpeter Chuck
Ukelele' Chuck
Maraca' Chuck

Koopa Troopa

Green Koopa Troopa
Red Koopa Troopa
Blue Koopa Troopa
Trumpa Troopa
Tromba Troopa
Tuba Troopa
Hornatroopa
Drumbo Troopa

Monty Mole

Monty Mole
Wealthy Mole
Heavy Mole
Mighty Mole
Kalimba Mole
Bellowphone Mole

Paratroopa

Koopa Paratroopa
Harpic Paratroopa
Harpitar Paratroopa

Dry Bones

Dry Bones
Rattle Bones
Xylo Bones
Marimbones

Podoboo
Amp

Amp
Big Amp
Synth Amp
Neon Amp

Cobrat

Cobrat
Flare Cobrat
Strinbrat
Cellobrat
Guibrat
Harbrat

Shadow

Shadow
Lake Shadow
Shadoomba
Shada Troopa
Shaditu
Shaggler

Rex
Spiny

Spiny
Dark Spiny
Spinute
Spininet
Spinillo

Buzzy Beetle

Buzzy Beetle
Bolty Beetle
Bongo Beetle
Snaring Beetle
Bass Beetle
Taiko Beetle
Steely Beetle

Bullet Bill

Bullet Bill
Bullet Horn
Bassoon Bill

Fire Bros.
Thunder Bros.
Slurple

Blue Slurple
Pink Slurple
Purple Slurple
Brass Slurple

Cragmaargh

Magmaargh
Sandmaargh
Frostmaargh
Cragmaargh
Drumbaargh
Cymbaargh
Guitaargh
Cybeaargh

Cooligan

Uncooligan
Blue Cooligan
Red Cooligan
Ice Cooligan
Trumpooligan
Hornooligan
Synthooligan
Beatbooligan

Thwimp

Thwomp
Big Thwomp
Thwimp
Whomp
Pianomp
Drumomp

Metal Blob

Metal Blob
Copper Blob
Gold Blob
Silver Blob
Platinum
Honk Blob
Bell Blob
Pipe Blob

Brolder

Brolder
Iron Brolder
Diamond Brolder
Marabrolder
Castabrolder

Lakitu

Lakitu
Lakiharp
Lakithunder
Lakiano
Lakigan

Ramram

Purple Ramram
Red Ramram
Blue Ramram
Saxaram
Oboram
Tubaram

Propelli
Circling Boo Buddies

Circling Boo Buddies
Spiky Boo Buddies
Fused Boo Buddies
Orchestra Bood Buddies
Jazz Boo Buddies
Rock Boo Buddies
Pop Boo Buddies
Folk Boo Buddies

Chain Chomp

Chain Chomp
Drum Chomp
Timpa Chomp
Bongo Chomp

Treb & Bas

Treb & Bas
Harp & Pia
Ita & Dru
Apho & Tru

Brr

Brr
Fire Brr
Wind Brr
Vocal Brr

Spike

Green Spike
Blue Spike
Fire Spike
Drummer Spike

Banzai Bill

Banzai Bill
Oboe Bill
Wheelharp Bill

Fliprus

Fliprus
Icy Fliprus
Marimbrus
Xylorus

Ice Bros.
Shy Guy

Red Shy Guy
Blue Shy Guy
Yellow Shy Guy
Shadow Guy
Fly Guy
Banjo Guy
Electar Guy
Basstar Guy

Hammer Bro.

Hammer Bro.
Boomerang Bro.
Chomp Bro.
Para Bro.
Sumo Bro.

Wiggler

Wiggler
Toxic Wiggler
Claviggler
Cymbaggler
Tamboriggler

Cheep Cheep

Red Cheep-Cheep
Yellow Cheep-Cheep
Spiny Cheep-Cheep
Porcu-Puffer
Stormy Cheep-Cheep
Steleep-Dreep
Xyleep-Cheep
Bongeep-Bongeep
Paneep-Fleep

Ninji

Ninji
Purple Ninji
Sleepy Melody Ninji

Urchin

Urchin
Orgchin
Big Orgchin

Blockstepper

Blockstepper
Marching Tune Blockstepper
Hot Pepper Blockstepper
Tubastepper
Basstepper
Batonstepper
Trombostepper
Pipestopper

Snifit

Snifit
Fire Snifit
Ice Snifit
Trumpet Snifit
Tuba Snifit
Horn Snifit
Vocal Snifit
Flute Snifit
Laser Snifit
Bullet Snifit

Blooper

Blooper
Stone Blooper
Calablooper
Fire Blooper
Mama Blooper
Blooper Jr.
Marimbalooper
Xyblooper
Balafooper
Gonglooper
Glooper

Tweeter
Jellybeam

Jellybeam
Giant Jellybeam
Clapperbeam

Trombat

Trombat Youngling
Trombat
Trombat Lord
Trombat Grand-Lord

Bully

Bully
Ice Bully
Celluly
Bassully

Blazat

Blazat
Blue Blazat
Trumpa Blazat
Tria Blazat

Pebble Frog

Pebble Frog
Dancing Pebble Frog
Disco Pebble Frog
DJ Pebble Frog

Strollin' Stu

Strollin' Stu
Soarin' Stu
Keyboard Stu
Harmonica Stu

Stingby

Stingby
Stingby Warrior
Hornby
Fluteby
Stingby Knight
Stingby Paladin
Bassoonby
Saxaphonby

Conkdor

Conkdor
Longdor
Trombdor
Cellodor
Bassodor
Violidor
Xylodor
Marimbodor

Porcupo

Porcupo
Steel Porcupo
Bagcupo
Brass Porcupo

Clawclapper

Clawclapper
Clawstanet
Clamborine
Clawiangle

Rambam

Rambam
Stone Rambam
Ice Rambam
Iron Rambam
Trivia
This is the 6th Entry in the Mario & Luigi franchise but the first Non-Handheld one of all of them (excluding ports)
This is the first time Starlow is not a helper for the Bros. instead Allegro plays this role as she has extensive knowledge on the creatures of the Melodius Islands
This is the first game since Bowser's Inside Story to not feature Bowser as one of the Main Villains
Vae Ictus is the first Main Villain in the Mario & Luigi series to have a two-worded name excluding titles such as Elder Princess Shroob
Mario & Luigi: Fabled Melody features the most Bosses to date of a Mario & Luigi Game

It also features the most Plot-Centric Items
It also features the most Bros. Attacks

This game's original concept was to be a crossover between Mario & Luigi and Theatrhythm Final Fantasy although this was dropped as it was decided that the two wouldn't blend as well as they did in Super Mario RPG, although Square Enix still had a hand in the game
The bosses; Ukeleleon and Banjo-Tron are references to the characters Yooka & Banjo from Yooka-Laylee and Banjo-Kazooie respectively