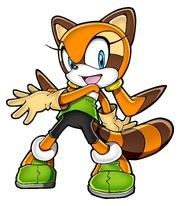 Marine the Raccoon is a character from the Sonic series. She has made a single appearance in Sonic Rush Adventure and we haven't seen anything of her since.
Apparances
Marine makes an appearance in Sonic Heroes 2 as a playable character as part of Team Big, going one stage further than in Sonic Rush Adventure.
Marine appears as a VIP character, meaning she can sometimes be found in the audience and the player is rewarded for spotting her.
Gallery
Navigation Templates
Playable Characters
Base game:







Post-release:














Non-Playable Characters