Marina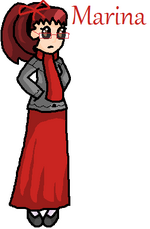 This girl is so totally the best, like, everyone likes her and stuff!
GENERAL INFO

GENDER

♀

Female
SPECIES
Human
CURRENT STATUS
Alive
BIRTHPLACE
Fantenville
PERSONAL INFO

CLASS
Heroine
MISCELLANEOUS INFO

CANON APPEARANCES
VOICE ACTOR(S)
Marina Rosetta is a playable character from Fantendo Adventure and it's sequel. Marina has been shown to be very kind and very friendly too.
Personality
Marina is a very kind character. Her bio suggests everyone likes her indicating a friendly personality. She is very caring and loyal. She looks after Opal in Brochi's Story.
Appearance
Marina has a long red skirt, a grey coat and a long red scarf. Her hair is a maroon-red and she has crimson glasses. She has a black head-band with a red bow in her hair and she has her hair tied back with a black ribbon.
Relationships
TBA
Deaths
Angel's Story
Marina was bitten before the rest of Ursula's group made it into the building. She turned and conered them in an office, leading to the rescue of Angel and Eva. She was later put down by Fae as they escaped the building.
Brochi's Story
Marina was Opal's babysitter while her parents where away, she took Opal with Brochi to the fields outside where she was reunited with her sister Ursula. After an accident in the sewers Ursula suffered from a head wound and eventually died, Marina put her down and burried her but refused to leave her grave site. Marina's solidified body is later seen in the basement of Nevaeh's house, prompting the others to quickly leave.
Brock's Story
Eva's Story
Hayden's Story
Jorge's Story
Marina's Story
Nicholas' Story
Pablo's Story
Rebelle's Story
Rick's Story
Locky's Story
Sam's Story
Sora's Story
Steli's Story
Tom's Story
Tucker's Story
Tyler's Story
Yellow's Story
Trivia
Gallery
Community content is available under
CC-BY-SA
unless otherwise noted.