Marie did not originate from fanon, and more information can be found on their respective wiki(s). You may read more about her on the following wiki(s):
Marie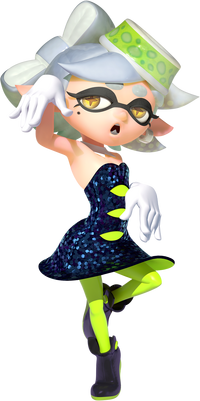 Marie, doing her signature sign-off pose.
GENERAL INFO

NICKNAME(S)
GENDER

♀

Female
SPECIES
Inkling
CURRENT STATUS
Alive
AGE
(Young) Adulthood
BIRTH LOCATION
Inkopolis (current)
Calamari Region (childhood)
ALIGNMENT
Good
PERSONAL INFO

RELATIONSHIPS
CLASS
Pop Idol
WEAPONS
Charger
MISCELLANEOUS INFO

CANON APPEARANCES
VOICE ACTOR(S)
Marie is a character from Splatoon. Together with her cousin Callie, the two form a pop idol duo known as the Squid Sisters. Marie is more quiet and sassy compared to Callie.
She and Callie also appears to be the granddaughters of Cap'n Cuttlefish, as well as recruits for Cuttlefish's new Squidbeak Splatoon against the Octarians. Marie's alias is Agent 2.
During the events of Splatoon 2, Callie had been abducted and, unbeknownst to her, been brainwashed. Marie decided to recruit a young Inkling to help her rescue Callie, and even got Sheldon to provide for weapons.
Appearance
Marie appears to be a tall Inkling with a more sultry and tired face. Marie has milk white tentacles with green tips, tied in a bow on the right side of her head, with the ends appearing out of her left side. She also has a large bang that points towards her right. Marie has large, downturned eyes with gold irises and goldenrod pupils, shaped like a four-pointed star. Her eye markings end in two small, eyelash-esque points, and her eyebrows are oval-shaped. Marie appears to have a mole on her right cheek. Compared to regular Inklings, Marie's ears are longer, more narrow and upturned. These ears are adorned with shiny, light silver earrings.
Marie wears a sleeveless black outfit with a reflective texture, as if it were covered in sequins. This outfit also ends in a short skirt (with a green underside), and has three pink markings that resemble the cuts seen on grilled squid. With this outfit, Marie also wears black shorts, green tights, large white gloves and a neck accessory akin to a shirt collar. Marie also wears black leather shoes with green soles and a green, ring-shaped button on the outer side of the shoe's ankle section. Marie's hat, which she wears on the left side of her head, appears to be green and white, as well as ring-shaped, resembling a Calamari ring.
During Splatfests, Marie's normally green accessories become the color of the team she's representing.
As a child, Marie wore more traditional Japanese clothing. Her tentacles were also much shorter, to the point that her forehead is more pronounced. Her early outfit appears to be a completely black Yukata kimono, with only a white polka dot on the bottom, wrapped with a lime green obi sash. She also wore black zōri sandals with it, which had purple thongs. Marie also wore an accessory that appears to be a smaller version of her hat on her left tentacle.
One Splatfest artwork featuring a child Marie had her in a different kimono, being white with a chartreuse and navy clam pattern, and her ring accessory being dark purple with a green tint.
As Agent 2, Marie wears a green outdoors cap with an orange logo, as well as a wite mouth mask, and what appears to be a green shirt.
Personality
Marie appears to be quieter and not as excitable as her cousin Callie, and usually only gives a half-smile, if at all. She can be a little sarcastic from time to time, and a little prone to complaining, but is usually in a good mood. Overall, Marie is laid-back and friendly. Marie is also good at impressions.
She isn't a fan of overly-thrilling activities, and can even be somewhat lazy. She also doesn't seem to like tomatoes.
When anticipating a special announcement (such as a Splatfest theme), Marie appears to be repeating herself in excitement.
Marie's preferred weapon type appears to be the Charger, and likely uses a Hero Charger as Agent 2.
Game Appearances
Marie appears as a playable character. Her other form, Agent 2, is also playable.
Marie appears as a playable character in Mario+Splatoon: Kingdom Splat. she uses the Splat Charger as her weapon.
| | |
| --- | --- |
| Speed | Acceleration |
| Handling | Traction |
| Weight | Size |
Marie appears as an unlockable playable character in Mario Kart 9 as one of the eight guest characters. She appears alongside Callie as a representative of the Splatoon series, essentially replacing the Inklings that were playable in Mario Kart 8 Deluxe. She is unlocked by coming in first place overall on the Bell Cup in 200cc class.
amiibo
| | | |
| --- | --- | --- |
| | An amiibo figure of Marie exists! For more info about this amiibo, see this page. | |
Trivia
Together with Callie's name, Marie's name forms "Calamari", which is some type of squid dish, and also is the Italian word for "squids".
Gallery
Splatfest Artwork
Concept Artwork
Names in Other Languages
Language
Name
Meaning
Japanese
ホタル
Hotaru
From Hotaru-ika (Japanese for Firefly squid)
Spanish
Tina
Feminine name, Spanish for tub. With Callie's name (Mar), it forms Martina.
French
Oly
Together with Callie's name (Ayo), it forms a pun on aioli.
German
Limone
From limone (lime), referring to her main color.
Italian
Marina
From marina (marine). With Callie's name (Stella), it forms stella marina (starfish).
Navigation Templates
Playable Characters
Assist Characters
Obstacles
Other Characters
Alolan Grimer · Amul · Ann Takamaki · Big Urchin · Blizzy · Bravoman · Buzz-Buzz · Cutiefly · Don-chan · Dragoneel · Fierce Deity · Gil · Happy Mask Salesman · Judge · King · Kissy · K.K. Slider · Litwick · Lloyd · Mappy · Mareanie · Mii · Missile · Morgana · Perry · Pidgit · Pooka · Rabbid Luigi · Rabbid Yoshi · Red Baron · Ribbon · Rowlet · Runner · Ryuji Sakamoto · Sandy · Smasher · Rusty Slugger · Servbot · Sima Zhao · Swanna · Tarosuke · Timmy Nook · Toadsworth · Tommy Nook · Tron Bonne · Valkyrie · Wonder Momo · Ziggy
Collectibles

Trophies

Stickers

Boolossus · Boo Mario · Bowser · Captain Toad · Cat Peach · Chain Chomp · Cloud Mario · Fire Mario · F.L.U.D.D. · Koopa Clown Car · Mega Mushroom · Mario · Penguin Mario · Peach · Propeller Mario · Rock Mario · Toad · Toadette · Waluigi
Birdo · Boo Buddies · Blooper · E. Gadd · Fuzzy · Metal Form · Waluigi · Whomp

Candy Kong · Lord Fredrik

9-Volt · Fauster

Ball and Chain · Deku Leaf · Majora's Mask · Mipha

Abra · Drifloon · Spinarak

Katrina · Mr. Resetti

Adam Malkovich · Arachnus

Nightmare · Noddy · Prank

Mr. Chicken

Back Shield · Centurion · Eggplant Wizard

Disco Kid · Doc Louis · Donkey Kong · Giga Mac · Glass Joe · King Hippo · Little Mac · Von Kaiser

Blue Falcon · Captain Falcon · Pico · Rick Wheeler · Wild Goose

Louie

Pyra

Franklin Badge · Negative Man

Apollo Justice · Franziska von Karma · Miles Edgeworth · Larry Butz · Judge · Phoenix Wright

Dr. Wright · Hammer Slam Bowser
Devil · Dr. Wright · F-Type · Rusty Slugger · Zethia
Community content is available under
CC-BY-SA
unless otherwise noted.