Marco Rossi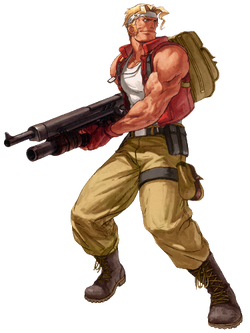 Marco in Neo Geo Battle Coliseum
PERSONAL INFO

CLASS
Major in the PF squad of the goverment forces-Company 1 squad commander
WEAPONS
Gun
Knife
Grenades
Heavy Machinegun
Rocket Launcher
Flame Shot
Shotgun
Laser Gun
Iron Lizard
Super Grenade
Enemy Chaser
Drop Shot
Two Machine Guns
Zantetsu Sword
Thunder Shot
Bloody Deadly Vomit (As a Zombie)
Small Uzi (As a Monkey)
His Head (As a Mummy)
Wide, Bell-Shaped Barrel Pistol (As Fat)
Fork (As Fat)
His Belt (As Fat)
MISCELLANEOUS INFO

CANON APPEARANCES

Metal Slug: Super Vehicle-001 (1996)
Marchrius Dennis Rossi is the main protagonist of Metal Slug franchise, he debuted alongside Tarma Roving in the 1st Metal Slug game as playable characters.
Appearance
Marco has blonde hair with a large bang in front and black eyes. His military gear is a white headband, a white sleeveless shirt, red vest, and brown pants. Usually he wears black wristbands, but some artwork has with with black gloves.
Game Appearances
Marco represents Metal Slug alongside Eri Kasamoto, Fio Germi, Mars People and Nova.
Marco appears as a Pair Unit teaming up with Eri Kasamoto.
Marco appears as one of the characters from the Default Roster.
Gallery
Navigation Templates
Characters