"Wow, this sure looks like a marshmallow! Wait, I was looking at myself in a mirror."
—
Mallow
Mallow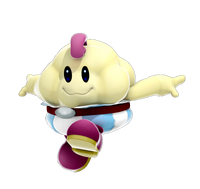 Mallow, Prince of Nimbus Land.
GENERAL INFO

GENDER
♂ Male
BIRTHPLACE
Nimbus Land
MISCELLANEOUS INFO

CANON APPEARANCES

Super Mario RPG: Legend of the Seven Stars (1996)
Mallow is a cloud creature and a party member in Super Mario RPG. A prince of Nimbus Land, Mallow's attacks are mostly based on weather. In most games Mallow is best friends with Geno and replaces T.T in some games. His base is a cloud with a pink and purple like clothing.
Like Geno, Mallow remained absent for many years after Super Mario RPG. He reappeared in Super Mario Legends: Saga of Evil for the Nintendo Wii in 2007. He has most recently appeared in Super Mario World: Wii as a playable character, as well as Geno. In most games Geno and Mallow are always playable together and it is hard to explain how they met each other. Mallow appears also in Mario Dual as a unlockable character.
Star Team Heroes
He's one of the victims of the Kirthar's Snap Finger.
Gallery
Navigation Templates
Template:DMK Template:ESSBNav