Magolor is not from Fantendo. However, this article may include related fan ideas.

These external sources may have official, more accurate information:

This article is free to edit. Please follow the article standards and respect good-faith contributions.
Magolor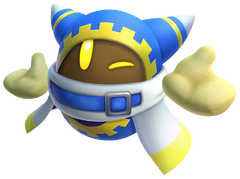 GENERAL INFO

GENDER
♂ Male
SPECIES
Halcandrian
AGE
Unknown
BIRTHDAY
Unknown
Magolor is the alien that was first found on the Lor Starcutter, the Galleon-like starship which crashed during the opening sequence of Kirby's Return to Dream Land. He is understood to be the captain of the ship and serves as a supportive character for most of the game, asking favors out of Kirby and tending to it.
Kirby and company decided to help Magolor out by offering to retrieve all the pieces that had fallen off the ship during the crash, while he stays behind to tend to what remains of it. Throughout the game, Magolor will inform the player when they have unlocked doors in his ship after they have acquired a specific number of Energy Spheres.
Appearances
Magolor is a playable character alongside Kirby, Meta Knight, and Riftina.
Kirby and The Legendary Labyrinth
Magolor is set to be a playable character in this game.
Magolor reappears in this game as a non-playable, supporting character, who reprises his role as a merchant in Team Kirby Clash Deluxe. Magolor has a new design in this game, which is somewhat similar to his appearance in Kirby's Return to Dreamland, but with a different color scheme. Magolor runs the Shoppe, which has new items that he has collected for his shop, like Revival Tomatoes, Outfits for the playable characters and Kirby's Copy Abilities, Emblems, and even Jars of Stardust.
Star Team Heroes
He's one of the victims of the Kirthar's Snap Finger.
Magolor appears as a secret character. He is unlocked by playing at least 1 City Trial match on each starter City map.
Stat Modifiers: +2 Charge, +2 Boost, -2 Defense, -2 Glide
Special Ability: Mini Starcutter - Magolor's Machine will transform into a miniature Lor Starcutter (though still quite large compared to most machines), granting him a significant boost his stats, especially defense and gliding ability.
Magolor appears as an Assist Trophy.
Gallery