Magikarp is not from Fantendo. However, this article may include related fan ideas.

These external sources may have official, more accurate information:

This article is free to edit. Please follow the article standards and respect good-faith contributions.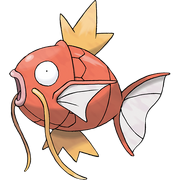 Magikarp is a Water-type Pokémon species that resembles a fish. It is said by few black market merchants that it's the most powerful Pokémon of the sea. However, unfortunately, it's one of the weakest Pokémon with one of the smallest amount of Moves it can learn by Level-Up. But a Magikarp can evolve quickly into a Gyarados, a very strong and big Pokémon. It is a Generation I Pokémon.
Locations
A Magikarp can be found everywhere in any body of water. The Pokémon Trainer gets a Magikarp easily by facing this body of water and use an Old Rod. Magikarps can also be found with Good Rods, but they won't get caught by Super Rods.
There's a Pokémon Center in Kanto having a man inside which sales a Magikarp for 500 Poké. He says it's a very strong Pokémon, but when bought, the cat came out the sack. The salesman won't let you sell the Magikarp, nor he lets you buy another one.
In Sootopolis City in Hoenn, both Magikarps and Gyaradoses can be found just by surfing on the water. Stronger Magikarps can be found in the Resort Area at the island, close to Sinnoh. There are Magikarps even of level 100, making Magikarp the Pokémon with the highest level rate found in the wild.
On Marvelous bridge in Unova there's a man that tells you to buy the amasing Magikarp for 500 prize money.After you by it, he say that there's no returns.However, since there's only a super rod and higher level pokémon are from water, this is the only way to get a Magikarp without giving up one in a/an older game.
Moves
Magikarp learns only 3 moves. Its first move is Splash. This move actually does nothing, making it the weakest move ever. The second one is Tackle. This attacks targets, but isn't that strong. Magikarp sometimes learns Flail, a stronger move which is stronger when the target is weaker. These three moves aren't that good, but it could be fatal when the user's at level 100.
Although most Magikarps only have these three attacks, on special events Magikarps have been given out with moves such as Hyper Beam and Hydro Pump.
Gallery
Artwork
Sprites
Trivia
National Pokédex



← #128: Tauros


#129: Magikarp

#130: Gyarados →