Mächtig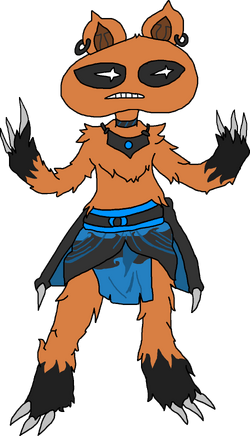 Mächtig, the righthand man of Köing
GENERAL INFO

NICKNAME(S)

Tide

GENDER
♂ Male
SEXUALITY
⚢ Lesbian
SPECIES
Beorn
CURRENT STATUS
Alive
AGE
28
BIRTHDAY
Not Important
HEIGHT
 ???
WEIGHT
 ??? lbs
BIRTHPLACE
Starship Zeon
ALIGNMENT
Neutral
PERSONAL INFO

RELATIONSHIPS

???

CLASS
High Guard
LIKES

Boare, Being Powerful, Fighting

DISLIKES

Vindozz, People with Ice Powers, The Raduli

WEAPONS
Strength, Galvan Plate
MISCELLANEOUS INFO

CANON APPEARANCES

??????
Mächtig is a new character introduced in The Quaznic Fantendoverse (his New Fantendoverse counterpart is likely one of the now-dead Beorns that lived on Zeon) as Köing's right-hand man to enforce and destroy those who threaten the safety and sanctity of Starship Zeon.
Description
Mächtig is a tall, strong orange Beorn with pointed ears that are clipped with black earrings. He has wider eyes that have comet shaped pupils. He wears a black and blue necklace and a Galvan Plate necklace that allows him to tap into his Hydrokinesis powers. He has long sharp claws and wears a one strap tunic around his waist, fastened with a blue and black belt. His highlights in his fur are black.
Personality
Aggressive like most of the Beorns in the Quaznic Fantendoverse, Mächtig is easily the most destructive and aggressive out of the Beorns on Starship Zeon, although his earrings help keep his temperament in check. If removed, Mächtig is a dangerous and uncontrollable fighter that not only has immense raw physical power but intense water-based powers that can level even the most rigid opponents.
When not in battle, Mächtig is oddly quiet and reserved. He does whatever Köing asks him to, usually with a smirk on his face. Although Mächtig is far more powerful than Köing, Mächtig would never consider overthrowing him, partially because of his love for him.
Backstory
TBA
Powers and Abilities
Mächtig has immense strength, well beyond the average Beorn. He can rip a concrete block with his bare hands as well as punch a hole 20 feet deep rather easily. His raw physical power is restrained with the earrings around his ears, but even with them on he could easily annihilate Beorn Reapers created by The Threat.
Thanks to the Galvan Plate on his chest, he is able to utilize Hydrokinesis to a absurd level, creating water out of thin air and using it to attack. His signature attack, Subaqueous Whip, is a whip created of densely packed water, almost 100 gallons of it. There are drawbacks to his Hydrokinesis, however, namely that it can destroy the atmosphere around him, making it hard to breathe even for him, as well as being a great strain on his body.
Appearances
TBA
Relationships
Mächtig is Köing's right hand man and does whatever Köing tells him to. Although Mächtig is far more powerful than Köing, he has no plans to overthrow him and is faithful to his leader. Mächtig has a crush on Köing that overpowers his common sense sometimes, and he will do anything for him.
Trophy Information
TBA
Gallery
Trivia
Mächtig has no real counterpart in the New Fantendoverse because his likely was killed when Zeon exploded.
The Galvan Plate does not activate his latent powers, but rather gifts a person magical powers by more scientific means.
If you are going to comment on this page, please read this first.
Do not post comments unrelated to the page itself. Comments are fine, as long as you actually provide a comment to the actual page itself and not some random, completely trivial thing that has nothing to do with the page in question. If you are going to comment, post something related to the page itself.
Community content is available under
CC-BY-SA
unless otherwise noted.