Lunatic Entertainment
Type of Company
Video Game/Movie Company
Founder(s)
Somarinoa
Founded at/in
1995 (Anchorage, Alaska)
Headquarters
Healy, Alaska
Area(s) Served
North America
Owner(s)
Somarinoa
No. of Employee(s)
2
Lunatic Entertainment is a game and movie company founded by Somarinoa initially founded in 1995, though it remained unnamed until 1996. While it primarily creates original works, it also has produced a number of fangames as well.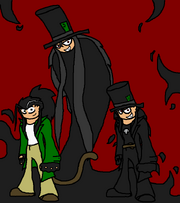 The company uses two mascots: Loki Steinbach and Glupe, the company's two most commonly-reoccurring characters. The company's logo in each game may vary between three versions - one featuring Loki (most commonly used in the more darker-themed games), one featuring Glupe (most commonly used in the more light-hearted games), and one featuring both (especially noticeable in Spree).
Due to issues involving censorship, Lunatic Entertainment content on Fantendo is on semi-hiatus for an indeterminate amount of time. It can be found being updated on other sites, however - primarily on Creativity Wiki. The only pages that will be updated at this time are Long Story for 2015 and planned content for 2016, The Folklands.
Fan Games
Names that have been redacted (blocked off with █ characters) are games that are mature in content and therefore will not be officially listed here. However, they can be found on the Creativity page.
Nintendo Series
Metroid
Super Mario Bros.
The Legend of Zelda
Pokémon
Blizzard Series
Warcraft
Capcom Series
Mega Man
Resident Evil
D3 Series
Earth Defense Force
Konami Series
Silent Hill
Silent Hill: Devil's Pacifism
Midway Series
Mortal Kombat
Namco Series
Klonoa
Sega Series
Sonic the Hedgehog
Supermassive Games
Miscellaneous Games
Starcraft (canceled due to Blizzard game copyrighting the name; occasionally looked back fondly on, may continue production)
Original Games
Galactic Expanse Metaseries
The Galactic Expanse is also commonly referred to as the Kyklos Mythos, due to the name given to the Milky Way Galaxy throughout the entirety of the series, which is the Kyklos Galaxy.
████ ███ ███ ███ ████?!
Hybrid
Invasion from the Macrocosm
Shipwreck
Alien Dinosaur Trophy Hunter Series
Conquest Series
Diakatan Series
Immortal Greed Series
Master of Survival Series
Mega Somarinoa Series
Scourge Series
The Vuunega Chronicles
Urth
They Rise
Seriesless Games
These games may eventually become series but are currently one-shots.
Alternate Bionics Just Elongate Oroborous' Alpha-Dextrous Janglomaton Feature, Killing Legionous Eradication Androids Of Infinite Hyperdrive Diamonds (Filled Liquid Kryptonian Neutrons By Negating Malfunctioning Atomic Energies) - Quantum Pouncing Orobouros from Jean 2000 - Deadly Jean Fuel Killers Hide Secret Horrors From Kardeidus deo, Wailing Planet Xenomorphic Monstrosities 3: Shadow of a Walrus]]
Artist Fantasy
Beetle
Biota
Catch the—! ...Guy. (Released Late 2009)
Choice
DEMOlish
Doctorate War
Dude Manbro and the Macho Crusade
Fighter's Union
████████
Girls' Night Out!
God Eraser
Grown
Kevin Poacher, MD
Killer & Sass
Mimickiller
Murder, She Wrote
No More Heroes
Oe Kaki: The Wacom of Fate
Penniless Knight
Real Polite Gentlemen
███████!
Slicer's Debate
Stasis: Fettered
Teatime for Transients
Trundle & Bunk in the Kingdom of Dreams
We Are All But Animals
Where Is Your God Now?
Wrestlevania
Third Party Assistance
Lunatic Entertainment has worked alongside other outside game producers on games. These games are listed below.
Danger Driver (canceled due to creator's death)
Ghark the Turtlemancer (permanent hiatus due to Development Hell)
Masters of Chaos 3
Pokémon Online
Movies
Murder Kingdom series
A series of mostly unrelated slasher films involving various gimmicky slasher characters who are named after various animals.
The Annelid
The Bear
The Scavenger
The Urchin
Star ██████ series
A series you will never, ever see on here. It, however, has an emphasis on story not usually seen in its genre and is laced with off-the-wall nerdy humor.
Jeddy Mind Tricks
Star ██████ Episode 1: The Phantom Man ███
Star ██████ Episode 2: Attack of the Moans
Star ██████ Episode 3: Revenge of the Stiff
Star ██████ Episode 4: A Nude Hope
Star ██████ Episode 5: The Empire █████ Whack
Star ██████ Episode 6: Return of the Jeddy
Employees
| Employee Name | Job |
| --- | --- |
| Thor Steinbach | CEO, Game Director, Developer, Enemy & Character Design |
| Scott Root | Music |
Community content is available under
CC-BY-SA
unless otherwise noted.