This page was created by KingEvilWaffle.
I kindly ask you, <insert your name here>, to not edit this page, or you will have to face the anger of the wiki's admins.
Lumbreeze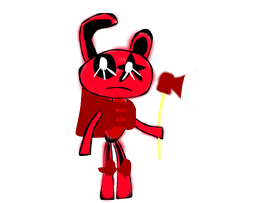 Lumbreeze, lumberjack hero.
GENERAL INFO

GENDER
♂ Male
CURRENT STATUS
Alive, happy to help
BIRTHPLACE
Beorn Woods (Earth)
PERSONAL INFO

CLASS
Lumberjack

MISCELLANEOUS INFO

CANON APPEARANCES
Lumbreeze is a lumberjack Beorn, and the main protagonist of Beorn Woods .
Description
Lumbreeze is a red Beorn, he carries a backpack and an axe. He also has three lines coming from his pupils, one of his eyes is a star shape. He has kneepads as well.
His most notable feature is one bunny ear and one bear ear.
Personality
The protective guardian of the forest critters, Lumbreeze is one lumberjack not to mess with, he's got the attitude!
He also sometimes defends the forest animals at Beorn Woods from danger.
Info
A happy lumberjack at Beorn Woods, Lumbreeze, one day, witnessed Queen Sectonia fly off with the animals of the woods, so he, along with Rick, went to rescue them.
After defeating Sectonia and her protégés, Lumbreeze and Rick now protect the animals from danger.
Powers and Abilities
Lumbreeze's choice of weapon is mighty axe, used for whacking foes.
Relationships
Lumbreeze is good friends with Rick
Forest Animals
Lumbreeze and Rick protects the animals from danger.
Trivia
He's the first one of KEW's Beorn characters not to be a Terran Beorn.
Community content is available under
CC-BY-SA
unless otherwise noted.