Lumarry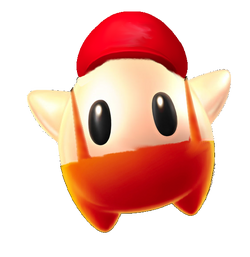 PERSONAL INFO

CLASS
Partner
Sport Star
Minigame Host
Lumarry is a Luma, and first partner of Mario's in Paper Mario and The Treasure of Ancients. He is a sport star, and is involved in minigame Runnin' Star. His card can be bought in Jollowood.
Attacks
| Attack | Flower Points Needed | Effect | To Attack | Move Ranks |
| --- | --- | --- | --- | --- |
| Jump | None | Lumarry makes a short jump on enemy, similar to Mario's jump. Can't be used on spiked enemies. | Press A right before touching enemy. | Initial |
| Dash | None | Lumarry runs into enemy, and kicks them. Can't be used on flying enemies. | While he start to run, press A to make him faster. When he is near enemy, press B to make him kick enemy. | Initial |
| Water Bottle | 3 | Lumarry throws a water bottle to Mario, healing his 10 HP. Sometimes, it can heal 15 HP. | Simply press A. | Super Rank |
| Star Spin | 5 | Lumarry spins near enemies, and attack them. | Press B. After first spin, you can press A to make him spin again. | Ultra Rank |
Appearances:
Not much has been revealed, but is said that he will play a simalar role to YoshiEgg Reconcillation.
Lumarry appears in the game as a part of YoshiEgg Nook's story. In the story, Lumarry comes to Laser Tagged to hide from a group of Parassailants. He gives YE the Star Spin power and he and YE team up to defeat the Parassailants. Then, a Launch Star appears, and he and Lumarry decide to team up to continue adventuring through space.
Trivia
After his debut, Lumarry has appeared in many fantendo adventure games.
He seems to be friends with Ace Venturboo
Lumarry was originally going to be an unlockable playable character in YoshiEgg & Bloop: A Crack in Time, but was scrapped for unknown reasons. A box in the party menu is still left open for where he should have been. Hacking by players would open the box, revealing a silhouette of Lumarry.
Gallery:
Community content is available under
CC-BY-SA
unless otherwise noted.