Luise くん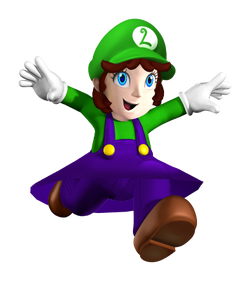 Luise, as she appears in

New Super Mario Kun

.
PERSONAL INFO

RELATIONSHIPS
CLASS
Heroine
WEAPONS
Hammer
Luise is a cousin of Mario and the Sister of Luigi, and the younger twin sister of Maria. She debuted in New Super Mario Kun, and has since featured in many various fanon games as either a side or even main character, plus becoming quite a popular character due to her uncommon gender. She is often the Japanese feminine form of Luigi くん.
Personality
Like Luigi, Luise is a little scared of ghosts.
She usually finds Waluigi the meanest cheater on the world, an opinion where everyone might agree with it and Waluigi himself will never admit. Instead, he says Luise is a cheater, which most people disagree with that opinion.
Game Appearances
Japanese Cousin
Luise debuted in New Super Mario Kun as an unlockable character. She must be bought for three Star Coins when collected all the Star Coins of the Shortcut Worlds. She was also able to do a Green Missile attack instead of a Spin Jump.
Unlockable Character
Luise is an unlockable character in New Super Mario Kun 2 She is also part of the plot, like Maria, and she is only playable if you buy her at the Character Shop.
Gallery
Trivia