This article is part of the Medieverse. Surely you're not looking for the original Lucius?
Lucius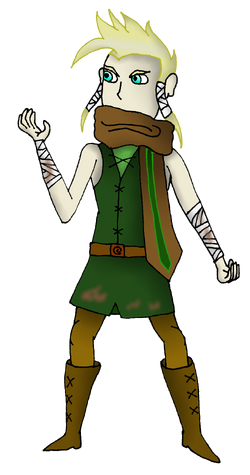 GENERAL INFO

GENDER
♂ Male
SPECIES
Human
CURRENT STATUS
Alive
AGE
27
BIRTHPLACE
Swamps
MISCELLANEOUS INFO

SERIES
Medieverse
CANON APPEARANCES

TBA
Lucius is a character in the Medieverse who takes a major role in the story.
History
A mysterious person who lives in the swamps of Regno. He has been raised by parents who were very in contact with the Earth and hated the people on the inside of Regno, thus they moved to the swamps and had a baby that they named Lucius. The boy was a wanderer in the swamps and didn't involve himself too much with Regno. It was only when soldiers invaded the swamps and killed his parents he became more alert.
Physical description
Lucius stands taller than most of the people in Regno. He has blonde hair, almost platinum even, which is styled like a mohawk and has sidde bangs wrapped in bandages. He has  a peachy skin with green turquoise eyes. He wears a brown scarf around his neck, covering his mouth, which has a green stripe on the outside. He wears a green tunic which is held together with some stitches and has a brown belt. He wears brown pants and darker brown boots. His shirt is sleeveless, revealing the bandages wrapped around his arms.
Personality
Being raised as he is resulted in Lucius being a rather introverted person. He likes the nature and often wanders in it by himself. He dislikes people who are out of touch with the nature, blaming them for the destruction of the Earth. He is an analyzer, first thinking of tactics and such before delving into something. He is patient and floaty, but when it comes to it, also very serious and commited.
Abilities
Described as a man of extraordinary talent, he has the ability to read in multiple languages, as well as a deep understanding of botany, philosophy and natural history. He is similar to a shaman, often experimenting with new kinds of potions and antidotes that might even can cure the plague, but at least has made something that prevents him from getting the plague.
Relationships
Sakeena
Aurora
Trivia