Please do not edit without my permission, unless it is a spelling error, grammar error or any other minor error.
Please realise that all information on this page is false and that it will almost certainly never happen
Any improvements that could be made are appreciated.
Please enjoy Lucazs,

<insert your name here>
Lucazs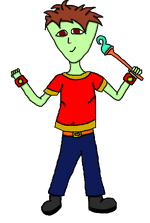 Lucazs in Moonlight Racing.
GENERAL INFO

GENDER
♂ Male
CURRENT STATUS
Alive
AGE
13
BIRTHDAY
2007
ZODIAC
♈ Aries
PERSONAL INFO

WEAPONS
Sceptre
MISCELLANEOUS INFO

CANON APPEARANCES
Lucazs is a Main Protagonists in an the fan-fic, Eternal Dusk. His first game appearence was in Moonlight Racing along with his sister, Micha.
Appearance
Lucazs has short brown hair and brown eyes. He has pale skin. He wears a red top and blue trousers. He also has black trainers and has a orange belt. He also has red wristbands.
Weapons
Lucazs wields a sceptre, which he can make anything come out of.
Appearences
Moonlight Racing (2013)
Super Smash Bros. Demigod (2013) - Lucazs appears in Fantendo DLC.
Unconfirmed Game (2013) - Game will involve Micha, Lucazs, Finn, Corey and Alexis.
Gallery
Community content is available under
CC-BY-SA
unless otherwise noted.