This article refers to the character of Lucas from MOTHER 3. For other instances of the name Lucas, see Lucas (disambiguation).
Lucas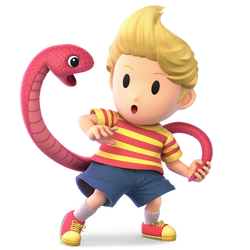 Lucas in Super Smash Bros. Ultimate.
GENERAL INFO

GENDER
♂ Male
AGE
13
BIRTH LOCATION
Nowhere Islands
PERSONAL INFO

RELATIONSHIPS

Claus: Brother

Flint: Father

Hinawa: Mother

CLASS
Main Hero
WEAPONS
PSI/variety of urban weapons
Lucas (Japanese: リュカ Ryuka) is the 13 year-old protagonist of Mother 3, a game in the EarthBound/Mother series. He has the gift of PSI, powerful psychic powers, and his signature PSI move is PK Love. Lucas is from the small Tazmily Village located in the Nowhere Islands, and he is the son of Flint and Hinawa and the twin brother of Claus. His journey in Mother 3 officially begins when his mother, Hinawa, passes away due to a Drago Fang (later revealed to be a Mecha Drago), causing great grief to not only him, but to Tazmily Village entirely. In Chapter 3 of Mother 3, he ultimately saves Salsa, Wess, and Kumatora's lives by summoning a Drago to rid them of Fassad and some Pigmasks, and is then thrust into the role of main protagonist in Chapter 4, where he ventures to Club Titiboo to find the mysterious bassist who may (and turned out to be) be Duster. Then, after going through several perils to stop the Pig Army and pull the Seven Needles, saving his village and, ultimately, his world.
Appearances
In Mother 3.5, Lucas's own willpower altered a miniscule fraction of his genetic makeup, enabling him to release the Seven Needles without causing the ultimate destruction Porky Minch had intended.
Main article: Lucas (Calamity)
Lucas returns as a playable veteran character in Super Smash Bros. Calamity with an all new moveset, with PK Ground being his down smash, Offense Up as his neutral special, and PK Freeze as his side special.
He's one of the victims of the Kirthar's Snap Finger.
amiibo
| | | |
| --- | --- | --- |
| | An amiibo figure of Lucas (Mother) exists! For more info about this amiibo, see this page. | |
Gallery
Navigation Templates
Playable Characters
Assist Characters
Obstacles
Other Characters
Alolan Grimer · Amul · Ann Takamaki · Big Urchin · Blizzy · Bravoman · Buzz-Buzz · Cutiefly · Don-chan · Dragoneel · Fierce Deity · Gil · Happy Mask Salesman · Judge · King · Kissy · K.K. Slider · Litwick · Lloyd · Mappy · Mareanie · Mii · Missile · Morgana · Perry · Pidgit · Pooka · Rabbid Luigi · Rabbid Yoshi · Red Baron · Ribbon · Rowlet · Runner · Ryuji Sakamoto · Sandy · Smasher · Rusty Slugger · Servbot · Sima Zhao · Swanna · Tarosuke · Timmy Nook · Toadsworth · Tommy Nook · Tron Bonne · Valkyrie · Wonder Momo · Ziggy
Collectibles

Trophies

Stickers

Boolossus · Boo Mario · Bowser · Captain Toad · Cat Peach · Chain Chomp · Cloud Mario · Fire Mario · F.L.U.D.D. · Koopa Clown Car · Mega Mushroom · Mario · Penguin Mario · Peach · Propeller Mario · Rock Mario · Toad · Toadette · Waluigi
Birdo · Boo Buddies · Blooper · E. Gadd · Fuzzy · Metal Form · Waluigi · Whomp

Candy Kong · Lord Fredrik

9-Volt · Fauster

Ball and Chain · Deku Leaf · Majora's Mask · Mipha

Abra · Drifloon · Spinarak

Katrina · Mr. Resetti

Adam Malkovich · Arachnus

Nightmare · Noddy · Prank

Mr. Chicken

Back Shield · Centurion · Eggplant Wizard

Disco Kid · Doc Louis · Donkey Kong · Giga Mac · Glass Joe · King Hippo · Little Mac · Von Kaiser

Blue Falcon · Captain Falcon · Pico · Rick Wheeler · Wild Goose

Louie

Pyra

Franklin Badge · Negative Man

Apollo Justice · Franziska von Karma · Miles Edgeworth · Larry Butz · Judge · Phoenix Wright

Dr. Wright · Hammer Slam Bowser
Devil · Dr. Wright · F-Type · Rusty Slugger · Zethia

Community content is available under
CC-BY-SA
unless otherwise noted.