Lubba is not from Fantendo. However, this article may include related fan ideas.

These external sources may have official, more accurate information:

This Character's article is free to edit. Please follow the article standards and respect good-faith contributions.
"
You
've been through a lot lately, huh? Maybe you should take a little break for a while.
"
—
Lubba in Super Mario Galaxy 2
Lubba
GENERAL INFO

GENDER
♂ Male
SPECIES
Luma
MISCELLANEOUS INFO

VOICE ACTOR(S)

Scott Burns
Lubba is a Luma who appears in Super Mario Galaxy 2 as an NPC and captain of the Starship Mario. He is a large purple Luma and, much like Rosalina, leads a group of Lumas.
Lubba may appear in the upcoming game Rosalina and the Cosmic Spirit.
Friends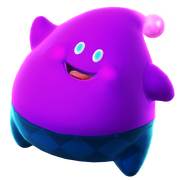 Apperances
Batter-Up Lubba
Lubba appears as a playable character in Mario's Batter-Up Baseball, and here are his stats:
Team name: None
Alternative colorations: None
Speed: 4/10
Batting: 3/10
Pitching: 5/10
Fielding: 6/10
Player 2 for Once
He appears in Stevie the Chain Chomp as a character for Player 2.
Mario Kart: Double Dash!! 3
Lubba makes an appearance as a heavyweight racer in Mario Kart: Double Dash!! 3. His partner is Rosalina.
Navigation Templates
New Super Mario Galaxy 2
Galaxies
World 1:

Grassy Greens Galaxy

|

Fiery Freeze Galaxy

|

Drill Deep Galaxy

|

Stony Galaxy

|

Bowser Jr.'s Maze Complex
World 2:

Honey Hell Galaxy

|

Yoshi's Galaxy

|

New Nostalgia Galaxy

|

Purple Well Galaxy

|

Bowser's Frozen Frontier
World 3:

Long Shot Galaxy

|

Turning Twist Galaxy

|

Cosmic Cavern Galaxy

|

Rolling Rampage Galaxy

|

Bowser Jr.'s Haunted Hideaway
World 4:

Lava Lake Galaxy

|

Downside Up Galaxy

|

Glare Desert Galaxy

|

Wet Falls Galaxy

|

Bowser's Fortified Fortress
World X:

Luigi Bit Galaxy

|

Delfino Galaxy

|

Shell Well Galaxy

|

Boss Battle Galaxy

|

Comet Observatory Finale Galaxy
Characters
Mario | Luigi | Yoshi | Lubba | Princess Peach | Rosalina | Luma (species) | Toad Brigade | Lumalee
Power Ups
Cloud Flower | Fire Flower | Ice Flower | Rock Mushroom | Bee Mushroom | Red Star | Spring Mushroom | Mega Mushroom | Mini Mushroom