Lord Fredrik
ロード・フレドリック Rōdō Furedorikku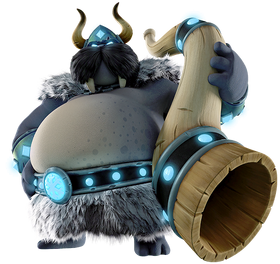 PERSONAL INFO

CLASS
King of the Snowmads
WEAPONS
Ice Horn
Lord Fredrik, the Snowmad King, or simply Lord Fredrik, is the main antagonist and final boss of the Wii U game, Donkey Kong Country: Tropical Freeze. He is the leader of a group of vikings called Snowmads. Fredrik and his army were responsible for invading Donkey Kong Island and freezing it over, effectively claiming the island as their turf.
Appearances
While Lord Fredrik has not made an actual appearance in Super Mario Bros.: Legend of the Chaos Star, he was given a mention by Cranky Kong in the eleventh chapter. In the latter's usual Fourth Wall-breaking antics, Cranky went on to claim that he was fully aware of everything that would transpire in the story, stating that it had a "stupid-looking" final boss which, in his mind, made both Lord Fredrik and Tiki Tong seem original by comparison.
Gallery
Trivia
Due to Lord Fredrik's uncanny resemblance to King K. Rool, it is often speculated by fans that that the former was designed as an homage to the latter.