Locky Lorean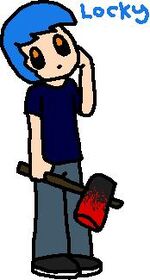 Locky
GENERAL INFO

NICKNAME(S)

Mr. Please Stop Talking About Dangan Ronpa.

GENDER
♂ Male
SPECIES
Human
CURRENT STATUS
Alive
AGE
15
BIRTHDAY
1998
— Locky
Locky Lorean (also known as Lurky by some) is one of the main characters in Fantendo Adventure. He is a 15 year old Fantendian and a very proud one. He has a pet dog named Hagane. His weapon is the Gut Buster.
History
"

Gotta love how those zombies are slow as snails. Oh sorry, I didn't meant to offend you,

Shaniqua

.

"

— Locky
"Oh god, I have to be god damn unlucky, like I witnessed three of my friends died and I couldn't do absolutely nothing to save them."


— Locky
In Angel's Story, Locky meets Angel and Eva in Chapter 3, along Elise, Brock, Rick and Jorge. Brock dies and bites Eva and Eva eats Jorge leaving Locky mentally unstable, when Elise and Angel leave the group Locky and Rick find a Dog to witch he names Hagane. Hagane isn't very well and sadly dies, the death of Hagane breaks Locky and he goes insane, he murders Rick so he won't suffer and then commits suicide via hanging himself from a tree.
Appearance
Locky is a tall, he has blue hair and his eyes are orange. He  has a dark blue T-Shirt and a slightly lighter pants.
Relationships with other characters
Angel
Brandon
Brochi
Brock
Elise
Eva
Rick
Sam
Sora
Steli
Tom
Tucker
Yellow
Gallery
Community content is available under
CC-BY-SA
unless otherwise noted.