Litle P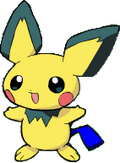 Litle P is a 7-year old blue-tailed Pichu (Sometimes considered a Shiny Pichu) and one of the titular characters in the Litle P and Sandslash Series.
Probably his most distinguishable feature is his speech impediment, pronouncing the L and R sounds as W's.
Personality
Litle is very naive and clueless, but it is often hinted this may just be an act. He also has a very wild nature, which leads him to trouble.

He is also very admiring of those older than him. Sandslash is an example of that. Although the two fight, Litle P feels safe around his brother, and aspires to be like him.
He is a fan of the Super PokeDude Show.
Abilities
Like most Pichus, he has the ability to create electricity, although he electrocutes himself. When he unleashes electricity in large amounts, like when he uses Thunderpunch, he can knock himself out.
He has also been shown to be very "floaty", as he jumps fairly high and is said to be light. This is somewhat proven, as he is a lightweight in Litle P Kart.
Relationships
Litle P is very friendly, and, to the annoyance of some, considers almost everybody his friends. There exist some exceptions, however.
Family
Enemies
Detective P
Detective P is Litle P's Alter-Ego, which he uses to solve mysteries. Usually, these are useless things that most people just make up. According to Sandslash, he rigs up about half of them himself.
Theme
Gallery
A full gallery of all artwork of Litle P.
Trivia
Community content is available under
CC-BY-SA
unless otherwise noted.