Strafe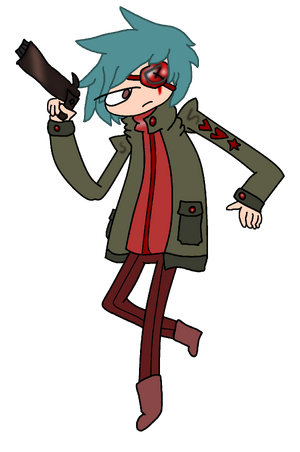 The Freed Clone
GENERAL INFO

GENDER
♂ Male
CURRENT STATUS
Alive
AGE
19 in Clone Years
BIRTHDAY
2015
BIRTHPLACE
Noah
PERSONAL INFO

RELATIONSHIPS
MISCELLANEOUS INFO

CANON APPEARANCES

???
Listless Strafe is a clone of Strafe. He is seemingly the first of many clones of Strafe and took over Noah while placing the blame on the original Strafe, forcing him to head back to Noah with Reese and Sakeena Kamel's help to take him on. He takes orders from Lock and is unaware that he is a clone.
Description
Listless Strafe wears a red uniform under a green military jacket. The green military jacket has it's rank in red as opposed to gold. He has the same hair and eye color as Strafe, although one is covered with an eye patch with an X over it. The covered eye also has a scar running down it.
Personality
Listless Strafe is less friendly than the original Strafe and responds directly to only one authority: Lock. He will do anything to get what Lock or he wants. He is not aware that he is a clone, believing Strafe to be the mirror copy of him.
Appearances
???
TBA
Trivia
While Strafe incorporated more blue into his design, Listless Strafe uses more reds, possibly to show the differences between the two or showing his affiliation with Lock, who also uses reds in his design.
He is the second Strafe clone overall, preceded by Koyn Kisunagu. In the New Fantendoverse, he is currently the only known clone of Strafe but it is implied that there are more.
Gallery
---