Lip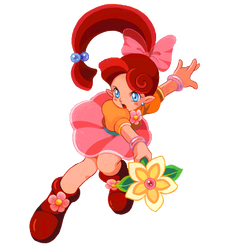 Lip from Panel de Pon
GENERAL INFO

GENDER

♀

Female
SPECIES
Fairy
CURRENT STATUS
Alive
BIRTHPLACE
Popples
PERSONAL INFO

RELATIONSHIPS

Cordelia (mother),
Furil (SNES replacement)

CLASS
Princess/Queen
WEAPONS
Lip's Stick
MISCELLANEOUS INFO

CANON APPEARANCES

Panel de Pon (1995)
Captain Rainbow (2008)
Lip is the name of the fairy of flowers that originally appeared in the Japan-only Panel de Pon, which became the series of Puzzle League. She rarely makes any official Western appearances.
Lip comes from a fairy world known as Popples. In her original debut, a sorcerer named Thanatos put every denizen of Popples under a nasty spell that causes all fairies to fight each other, making it easy for him to take over the land. Coincidentally, Lip was unaffected due to her special flower-like wand, the Lip's Stick. Lip is set on a quest to undo this spell to her fellow fairies and form a team to confront Sanatos and his minions.
However, after Thanatos is defeated, it turns out that this was a test planned out by Lip's mother Cordelia, a goddess and queen of the fairies. Corderia wants to know is Lip is capable enough to become the next queen of the fairies, and after Lip defeated her, Cordelia feels that Popples would be in good hands if Lip ruled the land.
Gallery