Linkle is not from Fantendo. However, this article may include related fan ideas.

These external sources may have official, more accurate information:

This article is free to edit. Please follow the article standards and respect good-faith contributions.
Linkle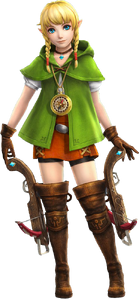 Hyrule Warriors Legends artwork
GENERAL INFO

GENDER

♀

Female
SPECIES
Hylian
CURRENT STATUS
Alive
BIRTHPLACE
A town inhabited by many Cucco
ALIGNMENT
Good
PERSONAL INFO

WEAPONS
Dual Crossbows
MISCELLANEOUS INFO

CANON APPEARANCES

Hyrule Warriors Legends (2016)
Linkle is a female Hylian and a playable character in Hyrule Warriors Legends. Linkle was originally created to be the little sister of Link in the original Hyrule Warriors, but ultimately went unused until its 3DS port/sequel.
Linkle is an incredibly fast and nimble character, who wields two crossbows. She is also able to attack enemies with various kicks, with her signature attack being the Spin Kick, which is similar to Link's Spin Attack. Some of Linkle's kicks are infused with a fire.
Physical Appearance
Linkle has short blonde hair with two braided twin tails spiralling down over her ears. She has pale skin, and somewhat resembles Link, having a similar - but more feminine - facial structure and glaring blue eyes. She wears a green tunic with a hood, as well as a white shirt and orange skirt underneath said tunic. She also wears black shorts under her skirt.
Prominently, Linkle wears two large brown boots that seem to be made of a sturdy leather. She also wears a large compass around her neck and brown gloves.
Game Appearances
Linkle is a playable character in Hyrule Heroes. She fights with her crossbow. Her guard stat is not very good, and she is not very powerful, but her speed makes up for it.
Linkle is a playable character in Zelda x Super Smash Bros., just like every other character in Hyrule Warriors. She has 8 total palette swaps.
Gallery