Li'l Judd is not from Fantendo. However, this article may include related fan ideas.

These external sources may have official, more accurate information:

This article is free to edit. Please follow the article standards and respect good-faith contributions.
Li'l Judd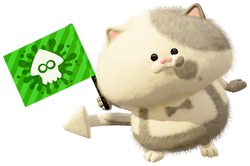 A closer look at Li'l Judd.
GENERAL INFO

GENDER
♂ Male
SPECIES
Cat
MISCELLANEOUS INFO

CANON APPEARANCES

Splatoon 2 (2017)
"Okay, I'll be the first to admit he's adorable, but from what we've been able to observe, he's gunning for Judd's spot as premier Turf War judge like a bloodthirsty tiger crouching in the jungle underbrush. The details of his origins are still shrouded in mystery, but rest assured our research on this fuzzy subject will continue."

—
Splatoon Official tumblr
Li'l Judd is a tiny kitten from the Splatoon series, and one of the few land mammals shown in the franchise. He's essentially a tiny version of Judd and accompanies the older cat as a Turf War referee, usually on the side of the opposing team.
Despite his adorable appearance, Li'l Judd has a burning desire to take over Judd's role as premier Turf War referee. Like Judd, his origins are somewhat unknown.
Physical Appearance
Li'l Judd can be described at a tinier, fuzzier version of Judd, being a kitten and all. As such, Li'l Judd is also plump, has an arrow-shaped tail, and his patterns also resembles a tuxedo and a bow tie, albeit in a lighter shade of gray. The biggest difference is that Li'l Judd has small, black beady eyes, instead of the yellow eyes Judd has.
Appearances
Li'l Judd appears in Nintendo & Fantendo Play: Dodgeball! as part of the Red Faction, the team consisting of Nintendo characters.
Gallery
Names in Other Languages
Language
Name
Meaning
Japanese
コジャッジくん


Co Judge-kun

Little Mr. Judge (「コ」 ko represents either 「子」 ko- [child], or 「小」 ko [little or young])
Dutch
Justus jr.
Community content is available under
CC-BY-SA
unless otherwise noted.