Lark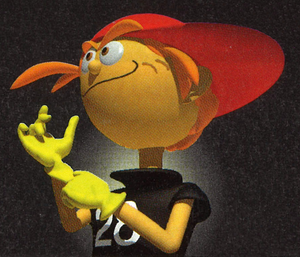 Lark in his casual clothing
GENERAL INFO

GENDER
♂ Male
SPECIES
Human
MISCELLANEOUS INFO

CANON APPEARANCES

Pilotwings 64
Lark is one of the six playable characters of Pilotwings 64, representing for the lightweight class. He's a courageous fellow that moves fast, but is easily affected by the wind, due to his small size. He's the male counterpart of Kiwi. He's named after the lark, a species of bird.
Lark bears a striking resemblance Nester, mascot of the Nintendo Power magazine, who made a few appearances and even had his own game. They're often regarded as the same person due to that, but this is currently conjecture.
Appearance
As mentioned before, Lark looks similar to Nester. Lark is a yellow-skinned person with strands of light orange hair popping underneath his headgear. His casual clothing consists of a red cap, a black t-shirt marked with the number 28, blue jeans, red and white sneakers and yellow gloves, while in his flight gear, his cap and shirt are replaced with a white flight helmet and a white vest, respectively. Lark also wears knee pads, shoulder pads and jet pack straps, connected with a red plate, also marked with 28.
Fanon Appearances
Lark appears for the first time in over 21 years in the television series, the Stories of New Tendo City. In the series, he has gained a surname, Cumulus, and is depicted as a high school student alongside several of the younger Nintendo characters. His dream is to learn how to fly someday, and as such he looks up to fellow classmate, Marcus McCloud's father, Fox, who he sees as a great pilot. He is best friends with Kiwi, and is often found harrassing Goose, one of his classmates quite often. He's also seen often trying to scare Kiwi, but often gets slapped. He is notable for being a thorn in Chief of Police Officer Jenny's side, mainly due to his attempts to hangglide off of tbe roof of a skyscraper more than once. In addition, Nester is depicted as his older brother in the series.
Gallery