Signups can be found here

Release Date
Lapis Legends is a Expansive Umbrella Game. It has over 50 Playable Fighters. It will be available for Pre-Order on 6/12/19 for the Nintendo Switch mini.
TABLE

OF

CONTENTS


please expand to see all the page contents
Basic need to know
ELEMENTS AND RANKS
Elements
Elements

Ranks
Other Ranks
Roster
There are over 50 playable fighters in the game, each with their own special ability. Some fighters can only be unlocked when doing specific requirements such as winning a curtain amount of Batles against someone or Getting to a certain point in the Story Mode.
Character Data
Image + Name
Info



Unten is/was the Savior/Hero on the planet Zeon. Even to this day he is still a Hero. He first appeared in Fissure (2014). He has gone through a process known as Xenyis which made him way stronger.

---

TBA

Moveset




| | | | |
| --- | --- | --- | --- |
| Electrokinesis | Unten is capable of limited-use eletricity, which he could recharge by eating food or using a conduit like Fanti. Unten could charge his kicks or punches with this ability as well. | Beorn Flip | Unten flips into the air and then slams down on the ground. This gives him quite a bit of distance and knocks opponents pretty far away from him when the attack is done correctly. |
| Spin Lunge | Unten spins into the air with his fists into the air, with him being on average able to spin about three times to deal damage. With his fists electrically charged, he can do additional damage. | TBA | TBA |

Learnable Moves




TBA
Level 1
TBA
TBA
Level 2
TBA
TBA
Level 3
TBA

Costumes




| Costume | Name | Price | New Moves | Game |
| --- | --- | --- | --- | --- |
| "Unten is ready for the pool with his ring floatie and his free neck. He gets to finally relax." | Summer Splash Unten | 1,000 Fantendollars | Kinetic Electricity Float | |
| "Unten is just a dude who really loves snowboarding! His backstory is pretty similar to the main Unten's, but with a whole lot less trauma." | Snowboarder Unten | 2,000 Fantendollars | Dreaded Drifts | |

 




Urayne






Despite being a Pokémon Urayne is actually a fighter and not bust some boring soul-like object. He specialises in nuclear type attacks.

---

TBA

Moveset




| | | | |
| --- | --- | --- | --- |
| TBA | TBA | TBA | TBA |
| TBA | TBA | TBA | TBA |

Learnable Moves




TBA
Level 1
TBA
TBA
Level 2
TBA
TBA
Level 3
TBA

 



A magnificent and majestic canine, Caesar leads armies with wordless dignity. His mere presence is enough to inspire and guide troops through battle.

---

TBA

Moveset




| | | | |
| --- | --- | --- | --- |
| TBA | TBA | TBA | TBA |
| TBa | TBA | TBA | TBA |

Learnable Moves




TBA
Level 1
TBA
TBA
Level 2
TBA
TBA
Level 3
TBA

 
Story Mode


Lapis Legends: Nightborn Fighters is the Story Mode for Lapis Legends. It takes place in the NightRift Relm where A mysterious villain has taken Fighters from near and far and out them into one place.
Multiverse Mashup


Lapis Legends:Multiverse Mashup is the Classic Mode to Lapis Legends. Unlike Smash. It has more than one boss that you can fight. In this mode you can use Fighters such as Mario or Luigi instead of just using Unten.
Souls
Souls are collectible items used to Power Up Fighters, similar to Spirits from Super Smash Bros. Ultimate.
You can see there info Here
Divine


Pokémon
Pokémon are similar to Souls. They have different abilities than Souls as well
Items
Stages
| Stage | Info |
| --- | --- |
| Rosario River | A river known for its rose-colored atmosphere, making it the perfect spot for a date. |
Build-A-Beorn
Similar to Build-A-Nyan from Yo-Kai Watch 3, this lets users fully customize a Beorn. They are also allowed to change its Skills as well.
Read More here
Cooking
After reaching Chapter 2 in the Story Mode. Players are allowed to cook things to be used in battle later.
Image + Name
Info



Realistic Cooking Pot

Level 1


Lets You Cook Realistic Meals

---




Realistic Burger

Realistic Lettuce + Realistic Cheese + Realistic Meat + Realistic Bun
Image + Name
Info



TBA

Level 2


Lets You Cook tasty meals

---

Yellskitchen




Yo-Kai Burger

TBA
Yo-Kai Minigame
For more details check Here
Ancient Tomes
Ancient Tomes are very powerful items granting users access to new abilities such as Unten's Untenapdia which grants him the ability to change his costumes. There are three types of Tomes. Ability;Teaches Users a new Move or Skill, Miscellaneous:Unlocks Something Fun, And Location:This unlocks new areas for players to explore in.
List Of Ancient Tomes
There are 73 Different Tomes that make a debut in this game. So far 7/73 have been revealed.
| Picture | Name | Effect | Type | Location |
| --- | --- | --- | --- | --- |
| | Book of Shadows | Gives more HP To Dark Types | | TBA |
| | Chocopedia | Lets you befriend Chocobos | | TBA |
| | Untenapedia | Lets you change Unten's costumes | | Given to Unten By Xavier Bluzen |
Crafting
DLC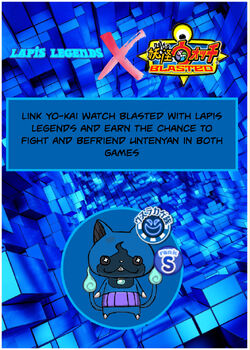 If you connect Yo-Kai Watch Blasted With Lapis Legends you will be able to unlock a new chapter to "NightBorn Fighters" called "Untenyan's Quest.
Removed Features
Read More here
Trivia
This Is the First Entry of Lapis Legacy
"'" © Nintendo / © Nightcap Devs / © Sega / © HAL Laboratory / © Mojang / © Level 5 / © Toroko / © XYZEntertainment / © Gungho
If you are going to comment on this page, please read this first.
Do not post comments unrelated to the page itself. Comments are fine, as long as you actually provide a comment to the actual page itself and not some random, completely trivial thing that has nothing to do with the page in question. If you are going to comment, post something related to the page itself.
Community content is available under
CC-BY-SA
unless otherwise noted.