Lady Petunia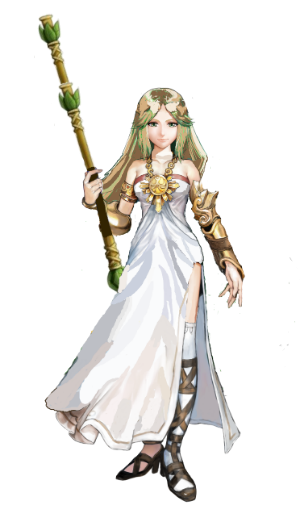 Artwork of Lady Petunia
GENERAL INFO

GENDER

♀

Female
SPECIES
Human
MISCELLANEOUS INFO

CANON APPEARANCES
Lady Petunia is the queen of Decrudo Land in the Clicky video game series. She looks over the land, making sure everyone is happy and healthy, although this is regularly interrupted by the evil residents of Tiksi. She is a sign of hope and peace for the residents of Decrudo Land.
Appearance
Lady Petunia has short brown hair with specks of green in it. Instead of a crown, the rulers of Decurdo Land wear a necklace, in which Lady Petunia has around her neck. Her necklace resembles the sun which looks over Decrudo Land, keeping it safe. She wears a white, loincloth dress, the Queen's Gauntlets and straped boots. In her hands, she holds her staff which has leafs on it, resembling life.
Game Appearances
Lady Petunia made her debut appearance in the video game Clicky. She was kidnapped by Gonna, the leader of the evil Tiksi Town, and hidden in Gonna's Weather Tower which was situated in the sky on the stolen Mr. Climate's Haven.
Trivia
Community content is available under
CC-BY-SA
unless otherwise noted.