Krystal (Star Fox) is not from Fantendo. However, this article may include related fan ideas.

These external sources may have official, more accurate information:

This character's article is free to edit. Please follow the article standards and respect good-faith contributions.
Krystal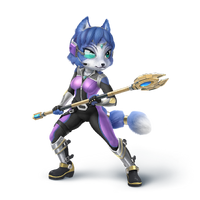 Krystal, the blue Vixen
GENERAL INFO

GENDER

♀

Female
SPECIES
Blue Fox
CURRENT STATUS
Alive
BIRTHDAY
11 BLW
PERSONAL INFO

RELATIONSHIPS
WEAPONS
Krystal's Staff
MISCELLANEOUS INFO

CANON APPEARANCES

Star Fox Adventures
Krystal is a main character in the Star Fox series. She is the most recently recruited member of the Star Fox team and serves as Fox McCloud's love interest. She first appeared in Star Fox Adventures for the GameCube. She is a telepathic blue vixen and wields a staff.
Fanon appearances
In this Star Fox: The Final Assault, Krystal is a playable character, along with Fox, Falco, Slippy, Miyu and Fay. She is a mediocre pilot at an Arwing, but on-foot she´s fast and strong. She doesn´t use her staff anymore, but she uses several guns and melee weapons new to the Star Fox team. Her personality is similar to the one she had in Star Fox: Assault but a bit more insightful, as shown in her conversations with Fox and the team. However, she does have moments of envy when Fay flirts with Fox, and even a thirst for revenge, when she learns about how Cerinia was really destroyed. In the end of the game, she gets a Medal of Honor from General Peppy Hare, along with her teammates, and she even accepts Fox´s proposal of marriage.
Krystal appears on Super Smash Stadium as an Assist Trophy character, functioning much like she does in Ultimate. However, from 1980 to 2006, she was a playable character.
Gallery