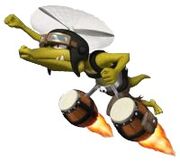 Kopter first appeared in Donkey Kong Country 3: Dixie Kong's Double Trouble as a generic villain that would run around certain levels and with his blades he could acheive flight.
After a long absence, Kopter returned in the Wii game Donkey Kong: Barrel Blast, where he was a playable character.
Appearances
Kopter appears as a secret character in the Wii multiplayer boxing game Donkey Kong Knockout. He has good reach but average stats, he rivals Lanky Kong. His special move is to fly over foes and attack from behind. To unlock Kopter you must use Kremling characters 50 times in multiplayer mode.
Kopter appears as a playable character in the multiplayer Wii racing game Donkey Kong Racing. He appears as part of the Kremling category.