The Koopa Troop is the name given to the army led by King Bowser Koopa and their never ending chore to try and take over the Mushroom Kingdom.
High-ranking members
Other notable members
Troops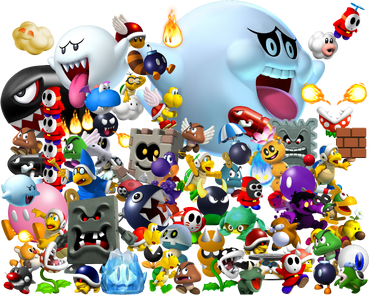 The troops are Bowser's underlings that regularly appear as enemies throughout the Mario series, such as Goombas and Koopa Troopas.
Appearances
The Koopa Troop appears in the Pathverse, as the inhabitants of the Koopa Kingdom. The Koopa Kingdom was formed in the First Age, as the Koopa's did not want to be a part of the Devotee kingdom. The Koopa Kingdom remained mostly isolated throughout the rest of the ages, occasionally trading with the other nations until the Fifth Age, when King Bowser launched an attack on Devotee Castle and successfully claimed control of the Devotee kingdom.
Mario Singalong Superstar!
The Koopa Troop make their debut in the Mario Singalong! Series at the start in Mario Singalong Superstar! where they kidnap Princess Peach and the Toads under the command of Bowser. They return in Mario Singalong Country! and perform the same role.
Gallery