Koopa Link (game)
Developer(s)
Pokeyfan49
AgentMuffin
Publisher(s)
Platform(s)
Display
Genre(s)
Roguelike/Dungeon Crawler
Release Date(s)
2016
Mode(s)
1 Player, 2-4 Players
Age Rating(s)
E
Koopa Link
is a game by
AgentMuffin
(t∣b∣c)
and
Pokeyfan49
(t∣b∣c)
for the
Display
. It is a crossover between the
Mario
and
Zelda
universes, and plays like a top-down
Legend of Zelda
title.
In the game, Link must complete many treacherous randomly-generated dungeons and defeat bosses from both universes. He also uses a powerful talisman to transform into Koopa Link, giving him all the abilities of a Koopa Troopa.
Story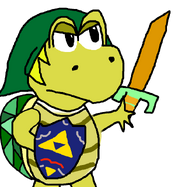 Bowser
has suffered one too many defeats at the hands of
Mario
and
Luigi
, so he has decided to move on to greener pastures. He and his
Koopa Troop
chance upon the land of
Hyrule
, where a powerful magician named
Ganon
lives. Bowser and Ganon join forces, and Hyrule is plunged into chaos.
The only person who can save the day is Link. Seeing the challenge that unfolds ahead of him, he is quite intimidated. However, this is before an old, wise Koopa by the name of Koopa Koot gives Link a strange amulet.
Gameplay
The game has various modes of play. Story Mode has Link advance through 20 randomly-generated dungeons which vary in theme, length, difficulty, and terrain. In every fifth dungeon, Link must fight a boss. The bosses are chosen in a randomly selected fashion, bar Dungeon 20 which always features Bowser & Ganon as a tag-team final battle. In addition, bosses cannot be battled more than once in a single playthrough.
Many dangerous traps and enemies await Link in the dungeons. Most prominent are Bowser and Ganon's combined forces, who appear in most of the rooms. Some of the enemy characters from both series have equivalents: for example, Boo and Ghini are often found together. When two equivalents are in the same room, they can team up to perform a Linked Attack.
Enemies
Enemy Pairs
Goomba and Octorok
Broozer and Darknut
Swooper and Keese
Dry Bones and Stalchild
Magikoopa and Wizzrobe
Boo and Ghini
Objects
| Object | Description |
| --- | --- |
| Chest | It's a treasure chest. There's probably something good in it! |
| Brick Block | These brown blocks, well, block your path. If only you had a spinning shell of some sort to hit it with. That would probably break the thing. |
| Question Block | Not unlike a Brick Block. There's probably an item inside of it, but you can't just hit it with your sword to break it open. |
Items
Bosses
Gallery
Community content is available under
CC-BY-SA
unless otherwise noted.