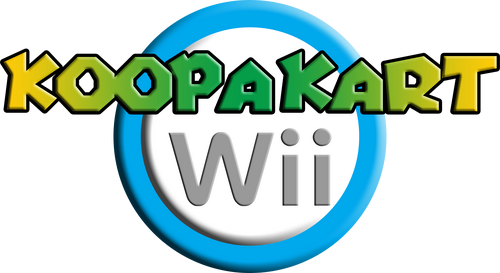 Koopa Kart Wii is the sixth installment in the Koopa Kart series and the third installment to be made by HammerBro101 Incorporated. It was released on June 10, 2010 for Japan, June 11, 2010 for Europe, June 24, 2010 for Australia, and June 27, 2010 for America. As with Koopa Kart DS, it previously used Nintendo Wi-Fi Connection, but as of May 19, 2014, it now uses HammerBro101 Nintendo Wi-Fi Connection. This is the second Koopa Kart game to have online play, the first being Koopa Kart DS. Unlike the previous Koopa Kart games, Koopa Kart Wii has sixteen racers on each course instead of twelve.
Items
Koopa Kart Wii introduces three new items: the POW Block, Mega Mushroom, and Lightning Cloud, which are replaced by the Gold POW Block, Super Mega Mushroom, and Lakithunder Cloud as of Koopa Kart 7.
| Item | Description | Placements |
| --- | --- | --- |
| POW Block (New Item) | The POW Block from the Mario series is a brand new Koopa Kart item in Koopa Kart Wii! Activate it, and you will send a soundwave to everyone in front of you that will spin them thrice and make them drop their items after just under five seconds. You can avoid this dangerous item if you're airborne, and starting a wheelie will allow you to weaken the effect to a single spin. The POW Block will soon be dropped from the next installment and replaced with a upgraded variant. | 7th-12th |
| Lightning Cloud (New Item) | New to Koopa Kart Wii, the Lightning Cloud gives you a speed boost, but if you hold onto it for ten seconds, you will shrink down and lose all of your speed. To get rid of this thing, you'll need to bump into another racer. Don't get used to this item, because you will say goodbye to the Lightning Cloud once the next installment comes to replace this item with a different variant. | 4th-9th |
| Mega Mushroom (New Item) | The Mega Mushroom makes its Koopa Kart debut in Koopa Kart Wii! This humongous fungus grows your kart to a massive size, allowing you to flatten your opponents like a pancake. You are still vulnerable to Stars, Lightning, and Bullet Bills, so be careful! You'll be sad to see the Mega Mushroom being replaced with an upgraded variant after this game. | 5th-11th |
| | Returning from Koopa Kart DS, the Blooper will blind everyone in front of you and make their vehicles harder to control. You can remove the ink if you get a speed boost. | 5th-12th |
| | The well-known Bullet Bill transforms you into a Bullet Bill, allowing you to autopilot the track and bowl over any players within your path. | 11th-16th |
| | The Banana will spin you out if you even dare to hit one! You can defend yourself with this item. | 1st-7th |
| | The Triple Banana creates a line of three Bananas that protects you from up to three items. | 1st-4th |
| | Making its triumphant return from Koopa Kart 64, the Banana Bunch creates a line of five Bananas that protects you from up to five items. | 1st-5th |
| | The Green Shell travels in a straight line and bounces off walls. It flips over any kart it hits. You can use this as a means of defense by holding it behind you. | 1st-7th |
| | The Triple Green Shell deploys a line of three Green Shells behind your kart that can be used defensively or offensively. | 3rd-7th |
| | The Red Shell automatically targets the kart in front of you, flipping it over unless it has a means of defense. | 1st-12th |
| | The Triple Red Shell deploys a line of three Green Shells behind your kart that can be used defensively or offensively. | 5th-11th |
| | A classic debuting in Koopa Kart 64, the Fake Item Box hides its color from a distance, only on approaching does it turn red. It will flip you over if you hit it. You can hold it behind your kart like a Banana, but you won't be able to block items. Hopefully, this will be the last Koopa Kart game where this happens, as it will be reinvented for the better starting from the next installment. | 1st-7th |
| | The mischievous Boo item allows you to turn invisible and steal an item from another player. It allows you to avoid other items and even gain an off-road advantage. Prepare to say goodbye to the Boo, because you will never see it again after this entry. | 7th-13th |
| | The dreaded Blue Spiny Shell targets the racer in 1st place and dives onto it, tossing it upwards with an explosion. Starting from this installment, you can use a Mushroom to avoid the explosion. | 5th-11th |
| | The Poison Mushroom makes its triumphant return from Super Koopa Kart, and it's here to stay! This item will shrink you if you run into it, but if you run into it while you're already small, you will return to normal size. | 3rd-7th |
| | The classic Mushroom gives you a speed boost that allows you to ignore off-road terrain that would normally slow you down. use this to make shortcuts. | 2nd-11th |
| | The Triple Mushroom gives you three speed boosts, though you can only use one speed boost at a time. This is your default item in Time Trial mode. | 4th-16th |
| | The Golden Mushroom gives you infinite speed boosts for 7-8 seconds, allowing you to ignore off-road terrain and make huge shortcuts. | 8th-16th |
| | The Star gives you invincibility, allowing you to bowl over players and protect yourself from every single item. The effect lasts for 7.5 seconds. | 9th-16th |
| | The Lightning item will zap everyone except you, slowing them down and making them drop their items. If you're in last place, you will grow back almost instantly. However, if you're in first place, you will be small for a long time. | 12th-16th |
| | The Bob-omb will count down before exploding, tossing any kart upwards and making it drop its items. It isn't a good idea to hold this behind you, because this means disaster for you! | 3rd-8th |
Cups
Nitro Cups
Retro Cups
| Cup | First Race | Second Race | Third Race | Final Race |
| --- | --- | --- | --- | --- |
| | GCN Lakitu Beach | DS Monty Mole Falls | SNES Boo Valley 2 | N64 Koopa Raceway |
| | N64 Penguin Island | GBA Birdo Beach | DS Ricco Driveway | GCN Buzzy Beetle Stadium |
| | DS Desert Dunes | GBA Mario's Airship 3 | N64 Hammer Bro's Jungle Driveway | GCN Koopa Circuit |
| | SNES Koopa Circuit 3 | DS Lakitu Gardens | GCN Hammer Bro Volcano | N64 Mario's Airship |
Vehicles
There are thirty-six vehicles to choose from in Koopa Kart Wii. The vehicles are divided between three size classes, making twelve available to each character, six of which are available from the start for each size class (making the other eighteen vehicles unlockable). Each vehicle has eight stats: Speed, Weight, Acceleration, Handling, Drift, Off-Road, Mini-Turbo, and Items.
Speed: How fast the vehicle is at its top speed. With a higher speed stat, the vehicle will go faster. Directly correlated with the Items stat and negatively correlated with acceleration.
Weight: How heavy the vehicle is. With a high weight stat, heavy vehicles can push around light vehicles by ramming them. This stat also affects the angle at which vehicles jump, with heavier vehicles jumping at a lower angle. Finally, heavier vehicles bounce less upon landing.
Acceleration: How quickly the vehicle reaches its top speed from a non-moving position. Negatively correlated with speed.
Handling: How tight the vehicle is normally able to turn. Usually opposes drift and/or speed.
Drift: How tight the vehicle is able to turn while drifting. Usually opposes handling and opposes off-road.
Off-Road: How much speed the vehicle retains when it goes off-road. A low off-road stat will cause a near standstill for the vehicle. Similarly, a high off-road stat will cause the vehicle to slide less on ice. Opposes the drift stat. Vehicles with an off-road stat of 40 or higher can drift off-road.
Mini-Turbo: How long a mini-turbo will last.
Items: The likelihood of getting powerful items. A higher items stat makes the vehicle more likely to get powerful items. Directly correlated with the speed stat.
Karts
| Stat | Speed | Weight | Acceleration | Handling | Drift | Off-Road | Mini-Turbo | Items | Description | Method of Unlocking |
| --- | --- | --- | --- | --- | --- | --- | --- | --- | --- | --- |
| Standard Kart Small | 41/80 | 29/80 | 48/80 | 48/80 | 51/80 | 40/80 | 45/80 | 30/80 | The Standard Kart Small is the slowest and lightest Standard Kart, but makes up for those two stats with Acceleration, Handling, Drift, and Mini-Turbo. | Available from the start. |
| Booster Stroller | 27/80 | 27/80 | 56/80 | 64/80 | 37/80 | 54/80 | 59/80 | 18/80 | The Booster Stroller handles very well and accelerates quickly, but it is rather light and is the slowest kart in the game. | Available from the start. |
| Miniature Muscle | 53/80 | 32/80 | 29/80 | 32/80 | 64/80 | 27/80 | 64/80 | 59/80 | The Miniature Muscle is one of the heavier small vehicles. | Available from the start. |
| Tarantula Trekker | 34/80 | 24/80 | 64/80 | 56/80 | 59/80 | 45/80 | 54/80 | 24/80 | The Tarantula Trekker features good Acceleration and Handling, but moves slowly and is the lightest kart in the game. You just have to do well for all 50cc Retro Cups for this kart. | Receive at least a 1 star rank for all 50cc Retro Cups. |
| Monster Romper | 46/80 | 35/80 | 43/80 | 43/80 | 29/80 | 64/80 | 40/80 | 48/80 | The Monster Romper is the heaviest small vehicle in the game, featuring decent Speed and good Off-Road, costing its drift. All you have to do is unlock a Fast Staff Ghost. | Unlock an Expert Staff Ghost in Time Trials. |
| Bullet Speeder | 60/80 | 29/80 | 35/80 | 29/80 | 43/80 | 24/80 | 29/80 | 62/80 | The Bullet Speeder lives up to its name and is the fastest small vehicle in the game, though its high speed costs it its other stats. | Win the Mirror Blue Spiny Shell Cup. |
| Standard Kart Medium | 46/80 | 45/80 | 40/80 | 43/80 | 45/80 | 35/80 | 40/80 | 43/80 | The Standard Kart Medium is as balanced as you get, with all of its stats being around average. | Available from the start. |
| Classic Limousine | 37/80 | 43/80 | 59/80 | 54/80 | 54/80 | 40/80 | 51/80 | 29/80 | The Classic Limousine will give you a fast accelerating and well handling ride with below average Speed. | Available from the start. |
| Star Wing | 57/80 | 51/80 | 21/80 | 29/80 | 59/80 | 24/80 | 59/80 | 64/80 | The Star Wing will make you a star if you use it, because it features good Speed, Weight, Drift, and Mini-Turbo. | Available from the start. |
| Carriage Kart | 34/80 | 45/80 | 51/80 | 59/80 | 32/80 | 48/80 | 54/80 | 27/80 | The Carriage Kart is a horse carriage without the horses. This kart handles well and reaches its top speed quickly, but moves slow and doesn't drift that well. | Win the 150cc Spiny Shell Cup. |
| | 50/80 | 40/80 | 35/80 | 37/80 | 21/80 | 54/80 | 35/80 | 56/80 | The Turbo Shark is basically what you'll get if you turn Jaws into a kart. This ocean ride features good Speed and Off-Road, though with poor Drift. You'll win the 50cc Spiny Shell Cup for this kart, won't you? | Win the 50cc Spiny Shell Cup. |
| | 64/80 | 48/80 | 27/80 | 24/80 | 37/80 | 21/80 | 24/80 | 67/80 | The Formula Racer is one of the fastest vehicles in the game. Fast and heavy? Yes. But can it cut a corner? Not so much. | Unlock twenty-four Expert Staff Ghosts in Time Trials. |
| Standard Kart Large | 48/80 | 59/80 | 37/80 | 40/80 | 40/80 | 35/80 | 35/80 | 50/80 | The Standard Kart Large is the fastest and heaviest Standard Vehicle, with its other stats being around average. | Available from the start. |
| | 39/80 | 64/80 | 48/80 | 54/80 | 18/80 | 43/80 | 45/80 | 32/80 | The Sand Driver is a very heavy vehicle that can easily push around lighter vehicles, though it's rather slow and has poor Drift. However, it makes up for those weaknesses with Acceleration and Handling. | Available from the start. |
| Wave Flyer | 62/80 | 59/80 | 16/80 | 21/80 | 48/80 | 18/80 | 48/80 | 60/80 | The Wave Flyer is a fast and heavy metal car that is a callback to the 1970s. It also features good Drift and Mini-Turbo to help overcome the poor Handling and Acceleration. | Available from the start. |
| Ghost Catcher | 55/80 | 67/80 | 29/80 | 35/80 | 35/80 | 29/80 | 27/80 | 40/80 | The Ghost Catcher is the heaviest vehicle in the game and is fast, though its other stats are below average. | Win the 50cc Yellow Shell Cup. |
| | 69/80 | 56/80 | 21/80 | 17/80 | 27/80 | 16/80 | 16/80 | 72/80 | The Albino Alligator is the fastest vehicle in the game and is decently heavy, but it costs Acceleration, Handling, Drift, Off-Road, and Mini-Turbo. Do well in all 150cc Retro Cups to earn this super-cool race car. | Receive at least a 1 star rank for all 150cc Retro Cups. |
| | 53/80 | 62/80 | 27/80 | 29/80 | 56/80 | 24/80 | 56/80 | 45/80 | The Dragoncoupe looks like a dragon, and you will get to ride this awesome kart if you win the 150cc Blue Spiny Shell Cup. | Win the 150cc Blue Spiny Shell Cup. |
Bikes
| Stat | Speed | Weight | Acceleration | Handling | Drift | Off-Road | Mini-Turbo | Items | Description | Method of Unlocking |
| --- | --- | --- | --- | --- | --- | --- | --- | --- | --- | --- |
| Standard Bike Small | 39/80 | 21/80 | 51/80 | 51/80 | 54/80 | 43/80 | 48/80 | 27/80 | The Standard Bike Small features good Acceleration, Handling, Drift, and Mini-Turbo, at the cost of being the slowest and lightest Standard vehicle. | Available from the start. |
| | 53/80 | 24/80 | 32/80 | 35/80 | 67/80 | 29/80 | 67/80 | 56/80 | The Yoshi Drifter lives up to its own title, featuring the best Drift and Mini-Turbo in the game while also being fast. | Available from the start. |
| Mini Chopper | 25/80 | 18/80 | 59/80 | 67/80 | 40/80 | 56/80 | 62/80 | 17/80 | The Mini Chopper features the best Handling in the game, but it is also the slowest vehicle in the game. | Available from the start. |
| Hisser | 32/80 | 17/80 | 67/80 | 60/80 | 62/80 | 48/80 | 57/80 | 21/80 | The Hisser is a snake-themed bike with the best Acceleration in the game, but it is also the lightest vehicle in the game. Win the 150cc Blue Shell Cup for this accelerating snake. | Win the 150cc Blue Shell Cup. |
| | 43/80 | 24/80 | 45/80 | 45/80 | 32/80 | 67/80 | 43/80 | 46/80 | The Birdo Basher is a well balanced bike with the best Off-Road in the game, though it compromises its drift. You'll have to play Time Trials on eight different courses to ride this bike. | Play Time Trials on eight courses. |
| Chomp Handler | 48/80 | 27/80 | 40/80 | 40/80 | 45/80 | 35/80 | 37/80 | 59/80 | The Chomp Handler features decent Speed, though its other stats are around average. This will be your prize for winning the Mirror Spiny Shell Cup. | Win the Mirror Spiny Shell Cup. |
| Standard Bike Medium | 43/80 | 37/80 | 43/80 | 45/80 | 48/80 | 37/80 | 43/80 | 40/80 | The Standard Bike Medium is a well balanced bike with around average stats. | Available from the start. |
| Hang On Motorcycle | 55/80 | 37/80 | 24/80 | 32/80 | 62/80 | 27/80 | 62/80 | 51/80 | The Hang-On Motorcycle is the textbook definition of inside drift. This bike features good Speed, Drift, and Mini-Turbo, but its other four stats are quite low. | Available from the start. |
| Chocolate Scooter | 32/80 | 32/80 | 54/80 | 62/80 | 35/80 | 51/80 | 56/80 | 24/80 | The Chocolate Scooter is a tasty outside drift bike with delicious Handling, Acceleration, Off-Road, and Mini-Turbo. However, it is not so sweet with its Speed, Weight, or Drift. | Available from the start. |
| Off-Road Chopper | 41/80 | 35/80 | 45/80 | 51/80 | 29/80 | 62/80 | 45/80 | 35/80 | The Off-Road Chopper lives up to its name and has good Off-Road and Handling. You'll have to win the 100cc Blue Spiny Shell Cup for this outside drift bike. | Win the 100cc Blue Spiny Shell Cup. |
| | 62/80 | 40/80 | 29/80 | 27/80 | 40/80 | 24/80 | 27/80 | 64/80 | The Stealther is a really fast bike, but all of its other stats are much lower. You'll need to do well on all 100cc Wii Cups to get this vehicle. | Receive at least a 1 star rank for all 100cc Wii Cups. |
| | 48/80 | 43/80 | 37/80 | 40/80 | 24/80 | 56/80 | 37/80 | 54/80 | The Whale Watcher satisfies both Speed and Off-Road, though its Drift is really poor. You'll need to win the Mirror Blue Shell Cup for this inward drifting bike. | Win the Mirror Blue Shell Cup. |
| Standard Bike Large | 46/80 | 54/80 | 40/80 | 43/80 | 43/80 | 37/80 | 37/80 | 48/80 | The Standard Bike Large is the fastest and heaviest of the Standard Bikes, but compromises its Off-Road and Mini-Turbo. | Available from the start. |
| Wave Runner | 60/80 | 54/80 | 18/80 | 24/80 | 51/80 | 21/80 | 51/80 | 57/80 | The Wave Runner has a combination of good Speed, Weight, Drift, and Mini-Turbo, making it a very versatile inside drift bike. | Available from the start. |
| Tatanga Bike | 37/80 | 59/80 | 51/80 | 56/80 | 21/80 | 45/80 | 48/80 | 29/80 | The Tatanga Bike features good Acceleration and Handling, but low Speed and Drift. This outward drifting monster is the heaviest bike in the game, so use the Weight to push lighter vehicles. | Available from the start. |
| | 50/80 | 48/80 | 29/80 | 32/80 | 59/80 | 27/80 | 59/80 | 43/80 | The Floating Heart is an attractive outside drift bike with good Speed, Weight, Drift, and Mini-Turbo. This bike will fall in love with you if you win the 100cc Blue Shell Cup. | Win the 100cc Blue Shell Cup. |
| | 67/80 | 56/80 | 24/80 | 18/80 | 29/80 | 18/80 | 18/80 | 70/80 | The Sword Speeder is the fastest and second heaviest bike in the game, though its other stats are low. This inside drift bike can be unlocked with twelve Fast Staff Ghosts. | Unlock twelve Expert Staff Ghosts in Time Trials. |
| | 43/80 | 51/80 | 43/80 | 48/80 | 17/80 | 56/80 | 40/80 | 54/80 | The Stallion has poor Drift, but makes up for it with its decent Handling and good Off-Road. If you win the Mirror Yellow Shell Cup, you can use this cool lookin' outward drifting bike! | Win the Mirror Yellow Shell Cup. |
Racers
Small Racers
| Racer | Description | Availability | Method of Unlocking |
| --- | --- | --- | --- |
| | Koopa Troopa, the star of the Koopa Kart series, handles the best out of all the characters and makes his vehicles heavier. | Default | Available from the start. |
| | Paratroopa features bonuses in Speed, Weight, Acceleration, and Handling, and he has the highest stat bonuses out of any character in the game. | Default | Available from the start. |
| | Shy Guy features bonuses in Acceleration and Drift to make vehicles reach their top speed faster and turn better while drifting. | Default | Available from the start. |
| | Goomba boosts his Handling to make his vehicles turn better normally, as well as Mini-Turbo to make their Mini-Turbos last longer. | Default | Available from the start. |
| | Spiny boosts features bonuses in Weight to make his vehicles heavier and Off-Road to make them lose less speed while going off-road. You'll hang out with him if you win the 100cc Yellow Shell Cup. | Default | Win the 100cc Yellow Shell Cup. |
| | Buzzy Beetle boosts her Handling and Drift to make her vehicles turn sharper normally and turn better while drifting. She requires you to unlock sixteen Fast Staff Ghosts to play as her. | Unlockable | Unlock sixteen Expert Staff Ghosts in Time Trials. |
| | Dry Bones, the undead Koopa, not only puts Weight onto his vehicles, but he also gives them Speed. You'll need to unlock eight Fast Staff Ghosts to earn him. | Unlockable | Unlock eight Expert Staff Ghosts in Time Trials. |
| | Galoomba boosts his Speed to make his vehicles go faster, Weight to make them heavier, and Mini-Turbo to make their Mini-Turbos more effective. He can be unlocked by doing well on all 50cc Wii Cups. | Unlockable | Receive at least a 1 star rank for all 50cc Wii Cups. |
| | Monty Mole has a need for Speed... and Off-Road. If you play all thirty-two tracks in Time Trials, you will unlock him. | Unlockable | Play Time Trials on all thirty-two courses. |
| | Popple not only boosts his Acceleration and Drift, but also his Mini-Turbos. You'll unlock him by winning the 100cc Spiny Shell Cup. | Unlockable | Win the 100cc Spiny Shell Cup. |
Medium Racers
| Racer | Description | Availability | Method of Unlocking |
| --- | --- | --- | --- |
| | Wiggler is a well-balanced racer, featuring boosts in Weight, Acceleration, Handling, and Drift. | Default | Available from the start. |
| | The almighty Hammer Bro features Weight and Speed bonuses to make his vehicles heavier and faster. | Default | Available from the start. |
| | Known for starting races in the Mario Kart series, Lakitu features boosts in Speed, Acceleration, and Drift. | Default | Available from the start. |
| | Bowser's son, Bowser Jr., features Weight, Drift, and Off-Road bonuses for his vehicles. | Default | Available from the start. |
| | Fawful provides Speed, Handling, and Off-Road bonuses for his vehicles to make them faster, turn better, an lose less speed when going off-road. He also has an Items bonus to increase his chances of getting powerful items. | Default | Available from the start. |
| Blue Spiny Koopa (New Driver) | Blue Spiny Koopa makes her Koopa Kart debut in Koopa Kart Wii, featuring Speed to make her vehicles faster, Weight to make them heavier, Drift to make them turn better while drifting, and Mini-Turbo to make their mini-turbos last longer. Play Time Trials on twenty-four courses, and you'll unlock her. | Unlockable | Play Time Trials on twenty-four courses. |
| | The infamous Doopliss features boosts in Acceleration, Drift, and Mini-Turbo. Winning the 50cc Blue Spiny Shell Cup should be enough to unlock him. | Unlockable | Win the 50cc Blue Spiny Shell Cup. |
| Lakithunder (New Driver) | Lakitu's older brother, Lakithunder, makes his way onto the track and has a Speed, Handling, and Mini-Turbo bonus. He can be unlocked if you win the 150cc Yellow Shell Cup. | Unlockable | Win the 150cc Yellow Shell Cup. |
| Dimentio (New Driver) | The dimension changing Dimentio, a newcomer to Koopa Kart Wii, features boosts in Weight, Off-Road, and Mini-Turbo. To earn him, you'll need to play Time Trials on sixteen different courses. | Unlockable | Play Time Trials on sixteen courses. |
| | Koopa Kid from the Mario Party series returns with a boost in Mini-Turbo and Off-Road stats. You'll have to do well for all 100cc Retro Cups to unlock him. | Unlockable | Receive at least a 1 star rank for all 100cc Retro Cups. |
Large Racers
| Racer | Description | Availability | Method of Unlocking |
| --- | --- | --- | --- |
| | Ninja Kong is a large racer who boosts Weight, Off-Road, and Mini-Turbo. He won't like it if you step onto his turf. | Default | Available from the start. |
| | Karate Kong boosts his vehicles' Acceleration, Drift, and Off-Road to make his vehicles reach their top speed more quickly, turn better while drifting, and not lose as much speed when driving off-road. | Default | Available from the start. |
| | Bowser, the king of the Koopas, features a boost in Weight to make his vehicles heavier, Acceleration to make his vehicles not take as long to reach their top speed, Handling to make his vehicles turn better, and Mini-Turbo to make them more effective. | Default | Available from the start. |
| | Sumo Kong puts the most Weight into his vehicles, and if you use the Ghost Catcher, he'll have the heaviest vehicle combo in the game. | Default | Available from the start. |
| | Petey Piranha features Speed, Drift, and Mini-Turbo for his vehicles to make them more viable. He also has the highest chance of getting powerful items, and if you use him with the Albino Alligator, he'll have the best Items stat in the game. | Default | Available from the start. |
| | Cackletta puts Speed, Acceleration, and Handling into her vehicles to make them faster, reach their top speed faster, and turn better normally. | Default | Available from the start. |
| Dry Bowser (New Driver) | Dry Bowser handles well compared to the other large vehicles. He'll be one of the first drivers you will unlock, as you'll need to win the 50cc Blue Shell Cup. | Unlockable | Win the 50cc Blue Shell Cup. |
| | King Boo is the hardest racer to unlock, but he's definitely worth the effort due to his Speed, Handling, and Mini-Turbo bonuses. | Unlockable | Receive at least a 1 star rank for all Mirror Cups. |
| Shadow Queen (New Driver) | The Shadow Queen makes her way to the track for the first time, and she has a need for speed! She's worth the effort if you unlock four Fast Staff Ghosts. Use her with the Albino Alligator, and you will have the fastest vehicle combo in the game. | Unlockable | Unlock four Expert Staff Ghosts in Time Trials. |
| Dread Kong (New Driver) | Dread Kong is the king of Off-Road and Mini-Turbo for the large class. Unlock him and show those racers your off-roading skills! | Unlockable | Receive at least a 1 star rank for all 150cc Wii Cups. |
Point Distribution
Unused Content
Unused Racers
Trivia