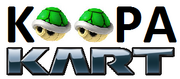 The Koopa Kart Series is a popular series created by
Fingerface Co.
Currently the only consoles games have been released for are the
Wii
,
Wii U
,
DS
and
3DS
. The Koopa Kart Series belongs to Fingerface Co., so do not make any games unless you work with Fingerface Co., have permission, or are just fixing some kind of error.
Games
The original Koopa Kart game was released for the Wii and Wii U. It featured 15 playable enemies, five from each weight category. The game was quite popular, leading to a sequel.
Super Koopa Kart was released for the Wii and Wii U. It featured new enemies, and new items. Another Koopa Kart game was ordered shortly after its creation.
Koopa Kart DS was a game released for the Nintendo DS. The number of playable enemies dropped, but the number of items grew.
A fourth Koopa Kart game has been made for the Nintendo 3DS called Koopa Kart 3D. The number of enemies are the same as they are in the original game.
A Koopa Kart game called Koopa Kart Galaxy was released for the Wii U. It is the fifth installment to the series, and features mainly enemies from the Super Mario Galaxy Series.
A game called Koopa Kart: Double Dash!! was released 3 years after the previous game. It includes 2 characters on karts & Special Items.
A game called Koopa Kart HD has been announced. It will be on the Nintendo HDS. It will feature a New Mission Mode. Boshi is the only new character so far.
Characters
Y= Appeared N= Did Not Appear ?= Unknown
Community content is available under
CC-BY-SA
unless otherwise noted.