Kite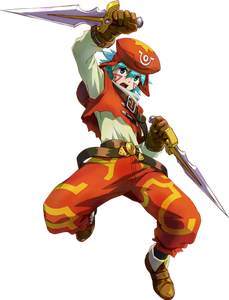 Kite (カイト, Kaito), later known by his earned nickname Kite of the Azure Flame, is the main character of the .hack//Games.
Appearence
Kite's avatar is a young, blue-haired boy dressed mostly in red clothing, with a red hat. His wave symbol consists of two tattoos on his cheeks. Originally his character was dressed in an forest green, but after using the Book of Twilight given to him by Aura he gained a unique red attire, and strange designs on his pants. As a Twin Blade he wields two short swords. His main weapons are level one dual blades called Amateur Blades. Though usually invisible, he carries the Twilight Bracelet on his right arm, which allows him to use his Data Drain and Gate Hacking abilities. The Twilight Bracelet is replaced with a lug nut during .hack//GIFT.
Personality
Kite is a very straight foward character who is devoted to awakening Yasuhiko from his coma. His cheerful personality has won him many friends inside The World. Though polite to strangers he shows a rather witty sense of humor to those he's close with. He is the type of person who will stop whatever he's doing to help somebody who's in trouble. He spends a lot of his time online with his friend and partner BlackRose
Appearances
Kite appears as a Pair Unit teaming up with Haseo.
Gallery
Trivia