King Hippo is not from Fantendo. However, this article may include related fan ideas.

These external sources may have official, more accurate information:

This article is free to edit. Please follow the article standards and respect good-faith contributions.
King Hippo
キングヒッポ Kingu Hippo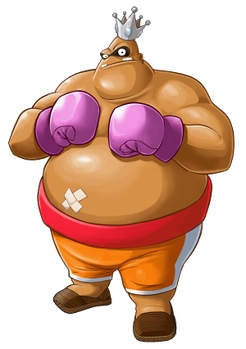 King Hippo, as he appears in the Wii version of Punch-Out!!.
GENERAL INFO

GENDER
♂ Male
SPECIES
Human
AGE
??
HEIGHT
?'?''
WEIGHT
??? lbs
BIRTHPLACE
Hippo Island, South Pacific
NATIONALITY
??
PERSONAL INFO

OCCUPATION(S)
Contender in the WVBA
ABILITIES

Boxing
MISCELLANEOUS INFO

CANON APPEARANCES

Mike Tyson's Punch-Out!! (SNES)
Punch-Out!! (Wii)
Super Smash Bros. for Wii U
Super Smash Bros. Ultimate

NON-CANON APPEARANCES
King Hippo is a recurring character in the Punch-Out!! series, being an opponent Little Mac often faces in his career as a boxer. First appearing in Mike Tyson's Punch-Out!!, King Hippo is unique in that he is completely invincible from normal means of attacking, using his gloves to guard his face and head. His one weakness is when he opens his mouth, which Little Mac can punch to stun him, dropping his pants and exposing his stomach, his weak point. Since his debut, he has become one of the series' most iconic opponents.
King Hippo's statistics are unlisted, with his age, weight, and height always listed as ?s rather than numbers. The only thing that is known about him is he is from Hippo Island, presumably an island he owns or claimed for himself, located somewhere in the South Pacific. This is likely a reference to the growing obesity rates in that area. King Hippo also doesn't speak as of the Wii version of Punch-Out!!, instead only making animalistic roars and grunts.
History
Mike Tyson's Punch-Out!!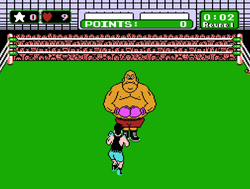 King Hippo first appeared in Mike Tyson's Punch-Out!!, as the #2 ranked opponent in the Major Circuit. At first, he seems to have an impenetrable defense, always blocking jabs and body blows with his gloves, while also throwing jabs and overheads of his own. This contrasts him from the other opponents, where the main strategy was dodging their attacks to counterattack and stun them. Because of this, he is infamous for being a seemingly impossible opponent to defeat for new players.
However, he does have a weakness. As Doc Louis explains between rounds, before he throws an overhead King Hippo will open his mouth. Little Mac must strike him in the face, which causes his pants to drop to the ground and expose his weakness: an x-shaped bandage over his stomach. While he's busy trying to pull his pants up, Mac can throw repeated body blows to damage him. This must be repeated until he is knocked down. Because of his weight, King Hippo will never get back up, and thus always loses by KO.
Punch-Out!! (Wii)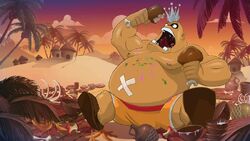 King Hippo returns in the Wii version of Punch-Out!!, this time being the champion of the Minor Circuit. Overall, his tactics and the strategy for beating him is the same: strike him in his open mouth, then punch him in the stomach while he's stunned, though when stunned he can also be hit in the face. His jabs can also be blocked, which also briefly expose his stomach; throwing a hook then can net Mac a star. When King Hippo reaches half health, he will start using a new move called the Hippo Squeeze, throwing his arms forward to squeeze Little Mac. This deals heavy damage and can't be dodged; he must either duck to dodge it or counter him in the stomach just as he comes at Mac for a star. When knocked down, King Hippo will stumble backwards and fall out of the ring, resulting in a KO.
King Hippo is also battled in Title Defense, where Little Mac must defend his belt from all the previous opponents. After losing to Little Mac, King Hippo searches for a way to cover his stomach, using a strainer, a frying pan, and finally settling on a manhole cover, taping it over his weak point. This makes him effectively invincible, though Little Mac can punch the tape off after stunning him. Doing so three times will knock the manhole cover off and land on King Hippo's foot, and the fight resumes as it did in the previous match. However, King Hippo doesn't always open is mouth, and he has new attacks. The Hippo Squeeze is now the Hippo Squeeze 'n' Smash, throwing an overhead smash after the squeeze that must be dodged. He will also open his mouth while rearing his arm back; when hit, he covers it with his glove, and his mouth must be hit again from the other side. Like always, knocking him down results in a guaranteed KO.
Super Smash Bros. for Wii U
King Hippo appears as a Trophy in Super Smash Bros. for Wii U, obtainable at random or by purchasing it from the Trophy Shop.
NSTC: "If King Hippo was the star of Punch-Out!!, his size would completely hide his opponent from view. As it is, this big boxer can be defeated if you can just get him on the ground; he's unable to get back up under his own power. If you get through his defenses, you'll have him dreaming of his home on Hippo Island."
PAL: "Do you think the spectators sitting behind King Hippo can even see Little Mac at all? This fighter's so heavy, he can't even get up onto his own two feet by himself! Knock him down once, and the fight's in the bag. You just need to wear him down, and before you know it, you'll have him on the floor dreaming of his South Pacific home."
Super Smash Bros. Ultimate
King Hippo appears in Super Smash Bros. Ultimate as an Ace-class (★★★) Support Spirit, increasing shield durability when equipped. He takes up one of the Primary Spirit's slots. The Spirit battle is a Stamina battle against a giant King K. Rool.
The King Hippo Spirit uses his artwork from the Wii version of Punch-Out!!
Appearances
King Hippo is represented as two Trophies and Spirits in Super Smash Bros. Charged, one representing his normal appearance, and the other representing his appearance in Title Defense in the Wii version of Punch-Out!!.
His normal Spirit is an Advanced-class Spirit that lets the user's forward smash deal 20% more damage and knockback when equipped. The Spirit battle is a Stamina battle against King K. Rool, who is giant and will use his forward smash (his boxing glove) often, referencing King Hippo himself also having boxing gloves.
His Title Defense Spirit is a Legendary-class Spirit that makes the user's shield 65% larger when equipped. The Spirit Battle is also a Stamina battle against a giant King K. Rool, but he has higher attack power and will use his forward tilt often, referencing the Hippo Squeeze King Hippo uses.
King Hippo

Not much is known about King Hippo, other than he comes from Hippo Island somewhere in the South Pacific. In fact, he looks less like a boxer and more like a carnival sideshow attraction with an adorable little crown for marketing. That doesn't make his offense and defense any less impressive though: in fact, at first, he's completely impenetrable! His belly is his weakness, which he has covered by his hands all the time. The key is to strike him in his gaping maw just before he throws an attack, which causes his pants to fall. He'll be so distracted trying to pull them back up that he leaves his stomach wide open! Also, his weight prevents him from getting up after being knocked down, so that's an instant win for Little Mac. In the Wii version, he even falls out of the ring!


Series Related


King Hippo (Title Defense)

With a large manhole cover taped to his stomach, King Hippo's defense is even more impressive than before! Mac's gloves won't be able to punch through armor like that, but he can break off the tape! Stun King Hippo and punch at the side of the manhole cover, and you'll loosen it. Do it a few more times, and the cover will break off and fall on Hippo's foot, dealing extra damage! Once it's off, aside from being faster, he's not too different. He has a new attack though, called the Hippo Squeeze n' Smash, where he throws a massive squeezing lunge followed by an overhead smash, which must be ducked then dodged. If you're confident in your timing, you can hit King Hippo in the stomach just as he comes at you for a star!


Series Related


Gallery