"Awooooof! (If I knew this was going to be such a scary place, I wouldn't have come along... I'm outta here!)"
—
King, EarthBound
King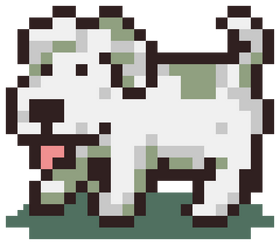 King's in-game sprite from EarthBound
GENERAL INFO

GENDER
♂ Male
SPECIES
Dog
CURRENT STATUS
Alive
AGE
Over 14 years old
BIRTHPLACE
Onett
ALIGNMENT
Good
PERSONAL INFO

RELATIONSHIPS
MISCELLANEOUS INFO

SERIES
EarthBound
CANON APPEARANCES

EarthBound (1994)
King (Japanese: チビ Chibi) is a minor character from EarthBound. A white dog with pale grey spots, King is the loyal pet of Ness and his family, whom he lives with in Onett. King originally joins Ness' party at the beginning of EarthBound to search for Porky Minch's little brother Picky though he eventually runs back home after getting scared, staying with Ness' sister Tracy for the remainder of the game. Due to Ness harbouring PSI powers, including telepathy, he is capable of understanding King's speech, something which normal humans are unable to.
Like the main characters of EarthBound, King can be renamed at the beginning of the game. In addition to the player being able to input their own name, they can also choose a "Don't Care" option to automatically give him one of seven predetermined names: "King", "Peach", "Sparky", "Rex", "Baby", "Rover", and "Misty".
Appearances
King makes a minor appearance in Jake's Super Smash Bros., where he appears alongside Ness in one of his victory animations.