Kine did not originate from fanon, and more information can be found on their respective wiki(s). You may read more about it on the following wiki(s):
Kine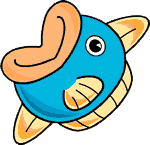 Kirby's Fishy Friend
GENERAL INFO

GENDER
♂ Male
SPECIES
Ocean Sunfish
CURRENT STATUS
Alive
AGE
Unknown
ALIGNMENT
Ally
PERSONAL INFO

RELATIONSHIPS
CLASS
Animal Friend
MISCELLANEOUS INFO

CANON APPEARANCES
"On land, Kine is, well, a fish out of water! In his element, though, he can navigate through the killer currents with ease!"


— Description, Nintendo Power (Volume #72)
Kine is an ocean sunfish that appears as one of Kirby's Animal Friends in Kirby's Dream Land 2 and 3. He extended Kirby's copy ability movesets, however since Kirby's Copy Abilities have gotten more and more fleshed out on their own, the need for Animal Friends in general has diminished and are more relegated to cameos throughout the Kirby series. Kine specialized in underwater travel.
General Information
Appearance
Kine is a giant blue circular ocean sunfish with tan fins. He has a giant orange mouth accented with big, bright orange lips. Kirby is easily able to fit inside his mouth.
Personality
Kine is laid-back and calm, typically a blank slate with an equally blank stare. He is incredibly sensitive and can be brought to tears easily when he becomes upset.
Powers and Abilities
Kine is more suited to underwater travel and can power through large currents with his strong swimming abilities. Kine also allows Kine to inhale and spit out enemies even when submerged underwater. When submerged, Kine will not drift down to the floor, but remain steady in place. Out of water, Kine is a very awkward character to handle.
Kine also changes the movesets of Kirby's copy abilities underwater, giving Kirby more of a upper hand while submerged. Generally these new moves are very much one note.
Appearances
Kine appears as a playable character in Jake's Super Smash Bros. Similarly to how they act in Kirby Star Allies, Rick, Kine, and Coo act as a single character and switch out when performing certain actions. Players primarily take control of Kine whenever they enter water.
Gallery
Trivia
There appears to be a somewhat cruel running gag about Kine in Kirby series in which he is frequently disliked, made fun of, or considered to be useless in some way.
Navigation Templates
Playable Characters
Assist Characters
Obstacles
Other Characters
Alolan Grimer · Amul · Ann Takamaki · Big Urchin · Blizzy · Bravoman · Buzz-Buzz · Cutiefly · Don-chan · Dragoneel · Fierce Deity · Gil · Happy Mask Salesman · Judge · King · Kissy · K.K. Slider · Litwick · Lloyd · Mappy · Mareanie · Mii · Missile · Morgana · Perry · Pidgit · Pooka · Rabbid Luigi · Rabbid Yoshi · Red Baron · Ribbon · Rowlet · Runner · Ryuji Sakamoto · Sandy · Smasher · Rusty Slugger · Servbot · Sima Zhao · Swanna · Tarosuke · Timmy Nook · Toadsworth · Tommy Nook · Tron Bonne · Valkyrie · Wonder Momo · Ziggy
Collectibles

Trophies

Stickers

Boolossus · Boo Mario · Bowser · Captain Toad · Cat Peach · Chain Chomp · Cloud Mario · Fire Mario · F.L.U.D.D. · Koopa Clown Car · Mega Mushroom · Mario · Penguin Mario · Peach · Propeller Mario · Rock Mario · Toad · Toadette · Waluigi
Birdo · Boo Buddies · Blooper · E. Gadd · Fuzzy · Metal Form · Waluigi · Whomp

Candy Kong · Lord Fredrik

9-Volt · Fauster

Ball and Chain · Deku Leaf · Majora's Mask · Mipha

Abra · Drifloon · Spinarak

Katrina · Mr. Resetti

Adam Malkovich · Arachnus

Nightmare · Noddy · Prank

Mr. Chicken

Back Shield · Centurion · Eggplant Wizard

Disco Kid · Doc Louis · Donkey Kong · Giga Mac · Glass Joe · King Hippo · Little Mac · Von Kaiser

Blue Falcon · Captain Falcon · Pico · Rick Wheeler · Wild Goose

Louie

Pyra

Franklin Badge · Negative Man

Apollo Justice · Franziska von Karma · Miles Edgeworth · Larry Butz · Judge · Phoenix Wright

Dr. Wright · Hammer Slam Bowser
Devil · Dr. Wright · F-Type · Rusty Slugger · Zethia
Community content is available under
CC-BY-SA
unless otherwise noted.