Keyhole Gaming
Type of Company
Developer/Publishing Company
Founder(s)
LockyX2 (t∣b∣c)
Founded at/in
Setember 24, 2000. (The Tris Company)
January 1, 2013 (Keyhole Gaming)
Headquarters
Ohio, USA.
Area(s) Served
World.
Owner(s)
Nobody at the moment.
No. of Employee(s)
13
Subsidiaries

KG's Reviews
"The only way to use the key to the realm of the epic games, is on the Keyhole Gaming"
—
The company slogan.
Keyhole Gaming (previously known as "The Tris Company") is a fanon developer/publishing game company founded on September 24, 2000. The company is well known for projects like Super Smash Bros. Charged! and Super Fantendo Squad Go!. The company also has your own club named Club Tris.
Employees
Retired Members
Picture
User
Rank
DyBowser57 (t∣

b

∣c)
Employee
Laser Pikachus (t∣b∣c)
Employee
SuperToadMan56 (t∣b∣c)
Artist
LockyX2 (t∣b∣c)
Ex-Owner, Founder
Consoles
| Logo | Name | Type |
| --- | --- | --- |
| | Nintendo Silver | Home Console |
| | Nintendo Bubble | Portable/Home Console |
Games
Made by Locky
OBS: All games on this section are now abadoned. You can contact the ex-owner, talk page if you want any of those pages.
Capcom vs. Sega: The Battle of the Century
DX Mario Kart
Fantendo Smash Bros. Extreme
Ghost Trick 2
Kirby Battle Royale
Kirby Super Star Supreme
Mario: The Alternate World'
Pikachu's Adventures: The Mystery of Gorigin
Resident Evil: Zero Time
Sonic Advance 4
Super Mario All-Stars DX
Made by Other Users
Glitch*
Glitch 2: The X Files*
Mario Kart '13*
Sega All Star Battle*
Super Mario Jumps*
Super Nintendo Racing*
Super Smash Bros. Explosion*
Movies
More info here.
Anime

Secret of the Keyhole
Events
Keyhole Gaming Awards: A event like Fantendo Awards, but, more focused on characters, games and fan-fictions.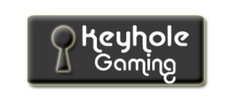 Games
Kirby Super Star Supreme |

Resident Evil: Zero Time

|

Super Mario Jumps

|

Volt 3DS

|

McBoo Returns

|

Fantendo Smash Bros. Extreme

|

Legend of Zelda: Vaati's Revenge
Series
D-Zolt

|

Secret of the Keyhole
Consoles
EXGamer