This character is free to use in fanworks. Unless permission is given by the owner, all other usage of the character will be considered non-canon.
Kest Velaxation

♂

️ Male


⚣

Gay
9'0"
240 lbs
21 years old
Benefactor

Kest Velaxation and Smash Mouth, party animals.

INFO

FULL NAME
Kest Velaxation
POWERS
Heat amplification, Beach manipulation, Party manipulation
BIRTHDAY
5th of August
ALIGNMENT
Self-interest
OCCUPATION(S)
NEET
works as Don Snowball's valet/unwitting getaway driver.
BIRTH LOCATION
Unknown
CURRENT LOCATION
Seattle, Washington

PREFERENCES

LIKES

| | |
| --- | --- |
| Partying, Fun Dip, Being well liked, Magdalene Magog (unrequited) | |

DISLIKES

| | |
| --- | --- |
| Pessimism, Criticism, most other Benefactors | |

APPEARANCES

Kest Velaxation is a Benefactor who escaped his Hive and fled to Earth, his ship being hit by a Ripplite comet that passed over Earth and sent him careening into the pacific ocean. He managed to drag himself out thanks to his newly gained Standing Ripple Smash Mouth and now just tries to have a good time.
Appearance
Kest
Kest is a short and stout benefactor who has traded out his people's usual garb for a garish purple hawaiian shirt, a short yellow skirt he found at a goodwill and those 2008 New Years glasses.
Smash Mouth
Smash Mouth looks similar to an anthropomorphic goblin shark, but with his torso made out of a surfboard and his limbs made from clunky machinery.
History
TBA
Personality
Kest is a laidback self-described 'party animal' who comes across as aloof and uncaring of the world around him, mainly because he is. All he really wants to do is have a good time and is very sick of all this standing ripple gang nonsense that he keeps stumbling into.
Abilities
Kest's abilites primarily come from his Standing Ripple, Smash Mouth.
Walking on the Sun - Smash Mouth sends out waves that slowly heats up the ground in a 40 mile radius, this continuing until it reaches about 100 degrees Celsius. The heat will quickly dissipate if Smash Mouth stops touching the ground. The user can also force Smash Mouth to limit its heat to a lower severity if needed.
Pacific Coast Party - Smash Mouth will create a beach at his location through any means necessary. This is done by manipulating the nearest source of water to create a large pool of water nearby and doing the same for sand, umbrellas, towels and a singular living lifeguard. For safety.
All Star - This activates if both Pacific Coast Party and Walking on the Sun have been activated. Everybody nearby will be filled with a sense of mellowness and a desire to party, overriding their natural senses or self-preservation. Those with strong will power or a resistance to mind-alteration can shake it off.
Getaway Car - Kest's only real combat ability, Smash Mouth will whistle causing a random car in a 10 mile radius to be hijacked, being sent at ludicrous speed towards whoever Kest targets. As the name implies Kest will often then use the car to escape the situation.
Trivia
The main inspirations behind Kest were Garry King from The World's End, the WWE wrestler Adam Rose and generic tourists.
Smash Mouth was designed to be extremely powerful in terms of scale but be extremely tricky to use in actual combat.
Although homosexual, Kest is implied to also be Biromantic via having a crush on Magdalene "Maggie "The Mad God" Magog" Magog
His name is simply "Rest" and "Relaxation" with the initials changed.

Overview
Standing Ripple is a concept in the New Fantendoverse used to refer to projections of fighting spirits created by contact with the metal Ripplite. These fighting spirits are created from the hosts' Aura and general will to fight and host incredible but bizarre abilities. These Standing Ripples name themselves, usually off musical artists, and often do not speak or act on their own, but do follow their host everywhere. They have an arguable consciousness; while they can act on their own when not in combat, they do not seem to be consciously aware of their own actions.
Ripplite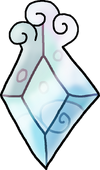 Ripplite is a mineral/metal alloy that can phase light through it to alter it's properties. It is key to being able to produce Standing Ripples. It comes from Vokkskar-created Catalyst Comets that crash into planets. Ripplite can also inversely be used to cut through Standing Ripples. Given it's weak resistance to force, crushing similar to quartzine mineral, it is not good for weapons.
Ocean 11's leader Hammerhead, who has the largest fragment recovered, has used it for monetary gain and on every member of his mob gang.
CHELPRO as corporation has a smaller fragment that they are experimenting with.
Trent Corona has a very small fragment that he uses in the blade of a laser sword known as the Ripple Ripper.
Trivia
Standing Ripples are inspired by the concept of Stands from JoJo's Bizarre Adventure. The name of the concept is even a reference to both the shorthand (Stand) and it's meaning (Ghostly Ripple).

One key difference is that if Standing Ripples interact with the environment, they can be hurt and attacked like a normal character. Additionally, they can be seen by anyone.

Standing Ripples could possibly be seen as a new extension of the music numbers that have been present in both the original Fantendoverse and the new Fantendoverse- where as music punctuated pivotal moments in past stories, now they are literally powering characters.
Coincidentally, Standing Ripples and Stands were both introduced in the third "part" of their respective series' on going narratives- Standing Ripples in Phase 3 of the New Fantendoverse and Stands in Part 3 of JoJo's Bizarre Adventure.
Community content is available under
CC-BY-SA
unless otherwise noted.