Kat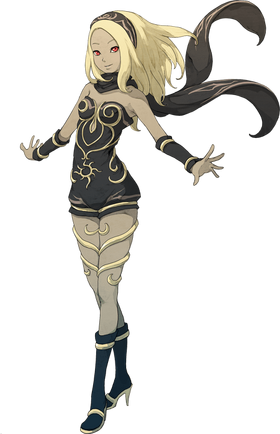 GENERAL INFO

FULL NAME
Alua
NICKNAME(S)

Kat
Gravity Queen
Kitty Kat
Sea Kat
Black Cat

GENDER

♀

Female
AGE
17
BIRTHPLACE
Eto
RESIDING AT
Hekseville
ALIGNMENT
Good
PERSONAL INFO

FAMILY

Dusty (Guardian)

RELATIONSHIPS

Syd (friend)
Raven (friend/rival)
Misai (boss)

OCCUPATION(S)
superhero figure, queen (formerly), maid (non-canon), soldier, undercover student (formerly), miner
MISCELLANEOUS INFO

SERIES
Gravity Rush
CANON APPEARANCES

Gravity Rush
Gravity Rush: The Animation - Overture
Gravity Rush 2
Another Story - Raven's Choice

NON-CANON APPEARANCES

PlayStation All-Stars Battle Royale
PlayStation All-Stars Island (Gravity Rush: Infinite Skies)
Hot Shots Golf: World Invitational
LittleBigPlanet 2
LittleBigPlanet (Vita)
LittleBigPlanet Karting
Destiny of Spirits
Ragnarok Odyssey Ace

VOICE ACTOR(S)

Sanae Kobayashi
Kat (Japanese: キトゥン Kitun) is the main protagonist of the Gravity Rush series developed by Sony Interactive Entertainment Japan's Team Gravity. Kat is an amnesiac girl woken up by a cat-like creature named Dusty (Japanese: ダスティ Dasuti), who grants her the ability to manipulate gravity. Trying to find out more about herself, Kat's sense of justice has her use her newfound abilities as a Shifter to assist others, taking on the role of a superhero and affectionately becoming known as the Gravity Queen to the populace of Hekseville.
In reality, Kat is the former ruler of the kingdom of Eto, located high above her new home of Hekseville at the top of the World Pillar. She fell from her homeland after the Senate Chancellor of Eto, Xicero, attempted to assassinate her, losing her memories in the process.
Physical Appearance
Kat is a fairly tall woman with a tan complexion and blonde hair, red eyes, and light lips. Kat wears a black shoulder-less romper, with matching headband and scarf - each with brown accents decorating them. Coiling around her legs, as well as around her jumpsuit, are golden decorations; on her stomach these golden accents form into a sun-like shape. The same golden accents are present on black braces she wears around her wrists and ankles, and also define her black high-heeled shoes. There are small differences in her outfit between her appearances in Gravity Rush and Gravity Rush 2, such as in the placement of her golden accents.
Kat's Guardian, Dusty, takes the form of a small cat. Like all other Guardians, Dusty is solid black and possesses a cosmic texture over his entire body.
Personality
Kat is a selfless girl with a strong sense of justice that drives her to always help others no matter the danger. However, Kat is courageous but also incredibly intelligent, who prefers to take a more diplomatic approach to issues rather than relying on combat and her abilities to manipulate gravity. Despite that, Kat's determination to do what is right will sometimes cause her to jump into danger without thinking and cause her to make mistakes she regrets.
Despite not having any memories of her past life as Queen Alua, Kat is incredibly up-beat. As she becomes a hero figure to the town of Hekseville, Kat welcomes and genuinely values the praise and attention she gets from others. Similarly, she values the opinions people have and can at times be sensitive to such opinions should they be about her. There are also times that Kat expresses the desire to find a romantic partner, and seems to express some sense of loneliness.
Though not incredibly present within the games, Gravity Rush: The Animation - Overture shows Kat to be a gourmand. Throughout the animation, Kat spends all her money on snacks and even fights a group of Nevi solely to recover a meat skewer, crying over it when she fails to do so. In Gravity Rush 2, some of the unlockable gestures for the player see her eating various foods such as the aforementioned meat skewer, ice cream cones, apples, and doughnuts.
When she was Queen Alua, Kat possessed many of the same qualities as her later self, remaining kind and always wanting to help people even should others disagree with her. Some of the characters who knew her in this life, such as the Dream Guardian, hint that she had been a poor leader and had been described as weak and vulnerable. Contrary to these statements, since becoming a hero to Hekseville, Kat has demonstrated great leadership skills and will often take charge of others willing to help her do what's right.
Appearances
Kat appears as a playable character in Jake's Super Smash Bros. As with in her home series, Kat's moveset revolves around her using her abilities as a Shifter to travel around the stage. However she can only do so for limited periods of time, and she must recover her powers by standing on solid ground.
Gallery
Navigation Templates
Playable Characters
Assist Characters
Obstacles
Other Characters
Alolan Grimer · Amul · Ann Takamaki · Argorok · Arsene · Axe Knight · Big Urchin · Blizzy · Blazing Bat · Blue Pikmin · Bob-omb · Boo · Boolossus · Boom Stomper · BowWow · Bravoman · Budew · Bumper the Badger · Bumpety Bomb · Burnya · Buruccho · Buzz-Buzz · Caeda · Carbuncle · Caterpie · Chao · Cutiefly · Dingpot · Dipple Drop · Don-chan · Dragoneel · Drippy · Drumstick the Rooster · Dusty · Elle Mel Marta · Ellie the Elephant · Enguarde the Swordfish · Expresso the Ostrich · Fierce Deity · F.L.U.D.D. · Fomantis · Fryguy · Genie · Gil · Gohma · Goomba · Gordo · Greenie · Grrrol · Happy Mask Salesman · Hoofer · Hoppip · Javelin Knight · Jenya · Judge · Junior Clown Car · Kab-omb · Kamek · Karate Joe · King · King Dodongo · Kissy · K.K. Slider · Klaptrap · Koopa Paratroopa · Krunch · Litwick · Lloyd · Mace Knight · Majora · Manhandla · Mappy · Mareanie · Masked Dedede · Maya Fey · Mechakoopa · Mecha Kuri · Megaleg · Mii · Missile · Morgana · Mr. Stevenson · Needlenose · Neo Metal Sonic · Ninji · Nitpicker · Nudger · Parry the Parallel Bird · Peashooter · Perry · Piddles · Pidgit · Pirate Goom · Poochy · Pooka · President Koopa · Professor E. Gadd · Proto Piranha · Black Puffle · Purple Pikmin · Rabbid Luigi · Rabbid Yoshi · Rambi the Rhino · Ram Bunkshus · Rattly the Rattlesnake · Red · Red Baron · Red Pikmin · Ribbon · Rock Pikmin · Rowlet · Runner · Ryuji Sakamoto · Sandy · Smasher · Rusty Slugger · Servbot · Sima Zhao · Snapjaw · Squawks the Parrot · Squitter the Spider · Super Sonic · Swanna · Tarosuke · Tatsu · Telly Vision · Thwomp · Timmy Nook · Tiptup · Toadsworth · Tommy Nook · Trident Knight · Tron Bonne · Trucy Wright · Tsukimaru · T.T. · Valkyrie · Virus · Waddle Dee · Wario-Man · White Pikmin · Wind Fish · Winged Pikmin · Winky the Frog · Wonder Momo · Xii · Yarr · Yellow Pikmin · Ziggy
Collectibles

Trophies

Stickers

Boolossus · Boo Mario · Bowser · Captain Toad · Cat Peach · Chain Chomp · Cloud Mario · Fire Mario · F.L.U.D.D. · Koopa Clown Car · Mega Mushroom · Mario · Penguin Mario · Peach · Propeller Mario · Rock Mario · Toad · Toadette · Waluigi
Birdo · Boo Buddies · Blooper · E. Gadd · Fuzzy · Metal Form · Waluigi · Whomp

Candy Kong · Lord Fredrik

9-Volt · Fauster

Ball and Chain · Deku Leaf · Majora's Mask · Mipha

Abra · Drifloon · Spinarak

Katrina · Mr. Resetti

Adam Malkovich · Arachnus

Nightmare · Noddy · Prank

Mr. Chicken

Back Shield · Centurion · Eggplant Wizard

Disco Kid · Doc Louis · Donkey Kong · Giga Mac · Glass Joe · King Hippo · Little Mac · Von Kaiser

Blue Falcon · Captain Falcon · Pico · Rick Wheeler · Wild Goose

Louie

Pyra

Franklin Badge · Negative Man

Apollo Justice · Franziska von Karma · Miles Edgeworth · Larry Butz · Judge · Phoenix Wright

Dr. Wright · Hammer Slam Bowser
Devil · Dr. Wright · F-Type · Rusty Slugger · Zethia
Community content is available under
CC-BY-SA
unless otherwise noted.